A lot of users are unable to launch their game via Steam. When they try to do the same, the following error message pops up.
Failed to start process for <name-of-the-game>
OS Error 4294956486
See the Steam support site for more information
Sometimes, the <name-of-the-game> is not included in the error message.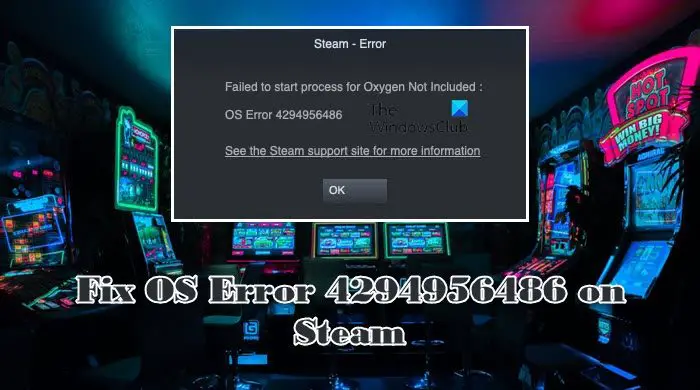 In this article, we are going to talk about this issue and what you need to do after encountering OS Error 4294956486 on Steam.
What causes OS Error 4294956486 of Steam?
OS Error 4294956486 means that files of the apps in action are corrupted, that includes Steam and the game that you were trying to launch. There are various reasons that can cause this corruption, but usually, it happens when you stop an installation in the middle of the process. Also, viruses and malware can corrupt your game. Whatever the case, they can be resolved. Steam has an option to scan and repair corrupted files and we will see how to use the same.
Corrupted files are not the only reason for this issue as it can also be caused due to a third-party app interfering with your process. We are going to use the built-in Windows utility to find out what that app is, so that, you can remove it and fix the problem. Now, let us go to the troubleshooting guide.
Fix OS Error 4294956486 on Steam
If you are seeing OS Error 4294956486 on Steam, check out these solutions to resolve the issue.
Verify Game Files
Force Steam Client to update
Troubleshoot in Clean Boot
Reinstall the game or Steam
Let us talk about them in detail.
1] Verify Game Files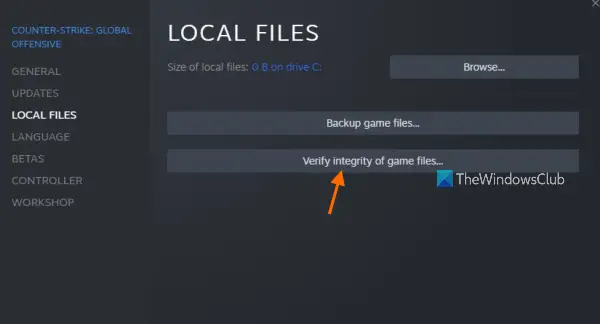 Mostly the error is caused when your game's installation files are corrupted. Fortunately, Steam has an option to scan and repair corrupted game files and we are going to use it here. So, follow the prescribed steps to verify your game files using the Steam launcher.
Open Steam.
Go to Library.
Right-click on your game and select Properties.
Click on Local Files > Verify integrity of game files.
This should resolve the issue for you.
2] Force Steam Client to update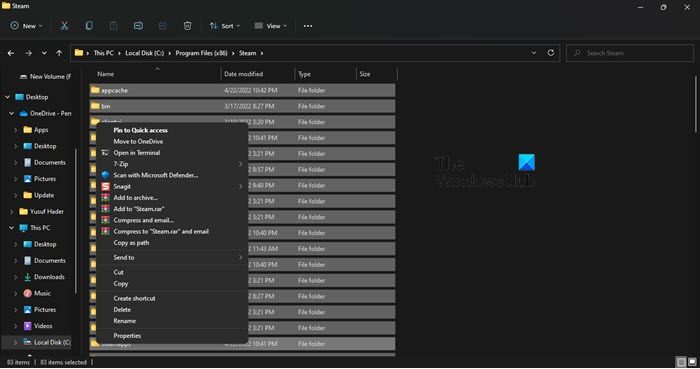 Now that we have resolved corrupted game files, one can not forget about corrupted Steam files. In this issue, the update files got corrupted, so, now your app can be updated automatically. This is a very common issue experienced by Windows users. We are going to delete some files and then force Steam to update.
However, before we delete any file, it is better to check if your Steam update is actually broken. For that, open Steam and click Steam > Check for Steam Client Updates. If this didn't work, follow the prescribed steps.
Close Steam. Next open the Task Manager and see if it's running, in case the app is active, right-click on it and select End Task.
Now, open File Explorer and go to the following location. If you installed Steam on a custom location, go there.
C:\Program Files (x86)\Steam
Now, delete all the content of that folder except Steamapps folder, Userdata folder, Steam.exe.
Finally, reboot your computer, launch Steam, and let it download the update.
Hopefully, OS Error 4294956486 will be resolved.
3] Troubleshoot in Clean Boot
You need to make sure that there is no third-party app interfering with Steam and causing issues. There are a ton of apps that can potentially conflict with Steam and cause issues. Apps such as MSI Afterburner, CPU Tweaker, or any other overclocking app are notorious for causing such issues. You should perform Clean Boot, enable processes one by one, and then find out which one is causing the problem. Finally, remove that app, and your issue will be resolved.
4] Reinstall the game or Steam
If nothing works, then your last resort is to uninstall the game that was giving you the trouble or the Steam Client app and then reinstall them. Reinstalling will work for you if some of the files of the installation media is missing or are corrupted. Installing a fresh copy of the app will not only repair corrupted files but will also install the files that went missing. Hopefully, this will do the trick for you.
How do I fix Steam errors?
Every Steam error code has a meaning to it, so it would be better if you use that search for the solutions. However, the following are some general solutions that you can try.
Restart your computer
Troubleshoot in Clean Boot
Verify Game Files
Move Game Files
Update Steam
Reinstall Steam.
The following are some of the common error codes and messages Steam users are facing.
You can check our website for more guides on different Steam errors.
Can I move Steam to another drive?
Yes, you can easily move Steam games and files to a different drive. It is a simple process, you just need to go to the properties of that folder and then move the files.
Also Read: Backup, Restore, Move Steam games with Steam Library Manager.