A lot of gamers are reporting that they see Error 65546:0while installing a game in Origin. In this article, we will talk about this issue in detail and see what you can do to resolve the problem. So, if you are encountering Origin Error 65546:0 on your Windows computer, go to the troubleshooting guide.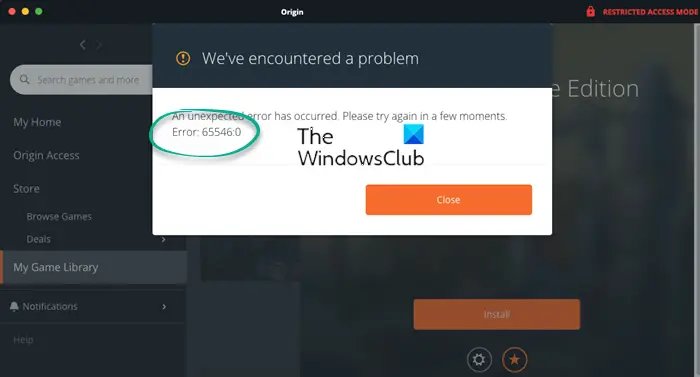 Fix Origin Error 65546:0 on Windows PC
If you are seeing Origin Error 65546:0, try the following solutions to resolve the issue.
Restart Origin
Make sure that the date and time are correct
Allow Origin through Firewall
Reset the Windows Host File
Delete the Origin Cache Data
Troubleshoot in Clean Boot
Disable any VPN or Proxy
Reinstall Origin
Let us talk about them in detail.
1] Restart Origin
First up, try restarting the Origin app. You should not only close the app by clicking on the Cross icon but also open Task Manager, right-click on all the processes related to Origin, and select End Task. Once you have killed all the Origin processes, reopen it and try installing the game that game you the error code in question.
2] Make sure that the date and time are correct
Next up, check the date and time of your system and make sure that it's correct. You should even check the timezone. If the date and time are not correct, search Date and time settings from the Start Menu. Now, select the Time Zone from the drop-down menu and click on Sync now. Finally, check if the issue persists.
3] Allow Origin through Firewall
Maybe the reason why you are unable to download anything from Origin is that your antivirus is mistaking the app for a virus. If you have a third-party antivirus, just whitelist it. However, if you are using Windows Defender Firewall, check the following steps to allow Origin through Firewall.
Search out "Windows Security" from the Start Menu.
Go to Firewall & network protection.
Click on Allow an app through firewall.
Look for Origin. If you can't find Origin, click on Allow another app > Browse > Go to the location of the Origin and add the app > Add.
Allow Origin through both Public and Private networks.
Note: If you can't find Origin's location, just search "Origin" from the Start Menu and select Open file location.
This should do the trick for you.
4] Reset the Windows Host File
Reset the Host File and see if that helps.
5] Delete the Origin Cache Data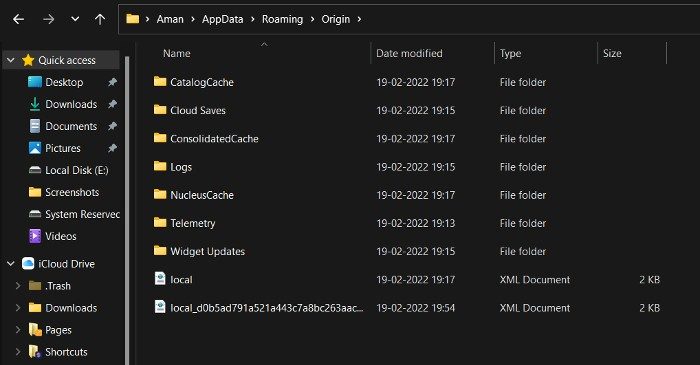 Sometimes, if you have installed Origin after uninstalling it somewhere back in the stream of time, your installation can get corrupted. What you need to do is delete the cache folder and see if it helps. So, open Run, enter the following location, and click Ok.
%AppData%
Now, delete the Origin folder. Finally, restart your system, reopen Origin and see if the issue persists.
6] Troubleshoot in Clean Boot
Maybe the issue is caused because of a third-party application interfering with Origin's process. To find out which app is the cause, we need to perform Clean Boot. Then manually enable processes one by one to find out the culprit. Once you know who the culprit is, just remove it and your issue will be resolved.
7] Disable any VPN or Proxy
You should disable any VPN or Proxy Server that you are attached to as they too can stop Origin from installing the game. So, go ahead and do that, then try redownloading the game. Hopefully, this will do the job for you.
8] Reinstall Origin
If nothing works, then your last resort is to reinstall Origin on your system. To uninstall Origin, follow the prescribed steps.
Open Settings.
Go to Apps > Apps & Features.
Look for Origin.

For Windows 11: Click on the three vertical dots and select Uninstall.
For Windows 10: Select the app and click Uninstall.

Select Uninstall to confirm your action.
After uninstalling restart your computer and re-download the game. Hopefully, this will do the job for you.
How do I fix an Origin installation error?
Usually, Origin installation errors can be resolved by executing the solutions mentioned in this article. We have mentioned everything you need to resolve error code 65546:0 which is an installation error. There are various installation errors in Origin. Therefore, you should use the error code that you see to search for appropriate solutions. We have a guide for some of the most common Origin errors that you can see while playing games.
Do check: 
Why won't Origin install on my PC?
More often than not, Origin or any other app won't install on your system when there is something that's blocking the installation. It's your antivirus that blocks the installation. You should disable the antivirus temporarily before beginning the installation. If that doesn't work, check if the installation package is corrupted. You can download a fresh copy of the software and try installing it. Origin is free and can be downloaded from origin.com.
Also read: Fix Origin Error 196613:0 when downloading or updating.