Today I was trying to install the Office productivity suite on a newly purchased Windows machine but then I came around the issue of "Office Click-to-Run Extensibility Component".
Office Click-to-Run Extensibility Component error
We've had already posted on how to repair or uninstall Office Click-to-Run. I concluded that if I uninstall the Office Click-to-Run Extensibility Component; I would be able to install Office.
lf you're too facing this issue, let me remind you that deleting the Office related registry entries won't help you either in this case, hence don't waste your time in doing so. So what is the solution to this problem? Well, according to this thread, I and many others like me facing the issue, found the answer useful:
Cannot install Office
1. First of all, get the System Ninja freeware tool.
2. Then after installing the above-said utility, go to the System Tools section, and then select App Uninstaller, your window should now resemble the one shown below. In the middle pane where list of software is being populated, you have to look for Office Click-to-run named software having two files with it, selecting it, and click the Uninstall Program(s) button.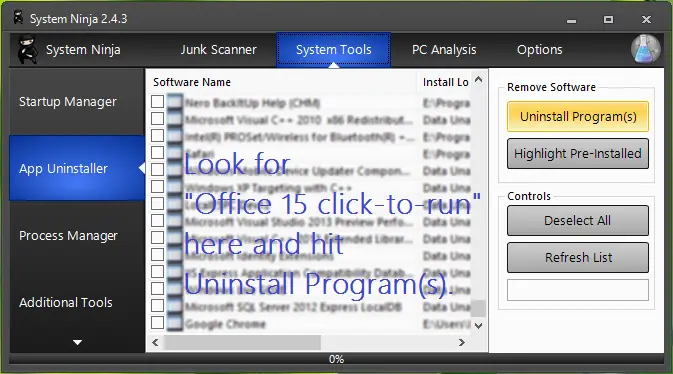 That's it!
Once you have done this, you just need to restart your machine and try re-installing Office 2013 or Office 15 – it should work fine by now.