In the past, we've told you the way to enable or disable the Remote Desktop connection and troubleshoot it when it disconnects frequently. While using this Remote Desktop feature on Windows 11/10, one might encounter a The logon attempt failed error. When you connect the system remotely using another version like Windows 7, it may work perfectly, but with Windows 11/10/8.1, one might get this error.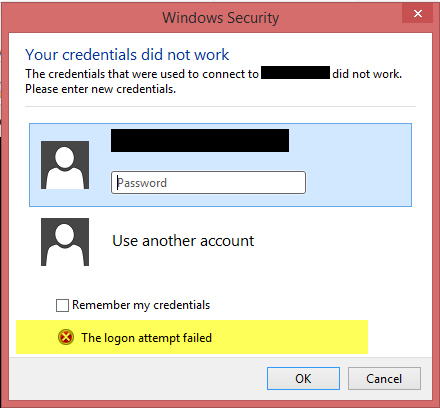 In order to fix this hitch, we first ensured that Windows Firewall was set to turn off. We also tried to use Remote Desktop Modern App, but it made no difference in the situation. This solution mentioned on a Technet thread suggests a method, which can fix this issue.
The logon attempt failed for Remote Connections
1. Press Windows Key + R combination, type Firewall.cpl in the Run dialog box and hit Enter to open the Windows Firewall.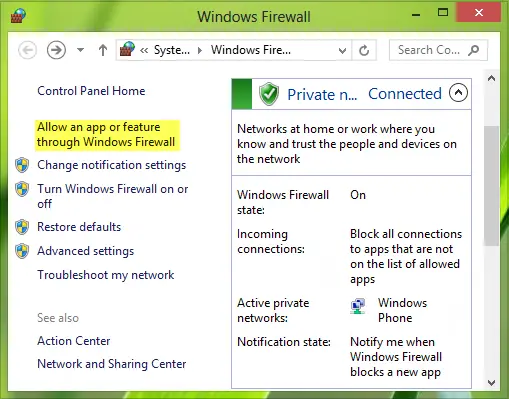 2. In the above-shown window, click on Allow an app or feature through Windows Firewall, you'll get the below-shown window. Click Change settings first then in the Allowed apps and features section, scroll down the list to look for Remote Desktop app and put a check mark against it. Click OK.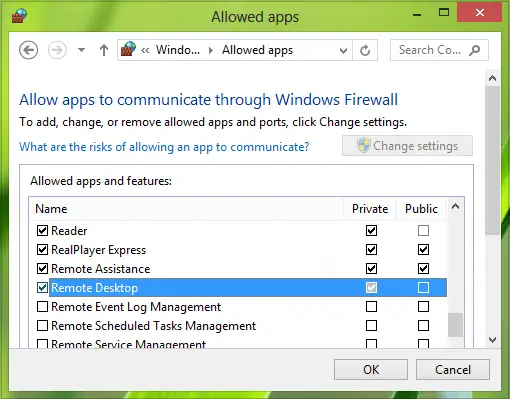 Reboot the machine; your problem should be fixed. However, if your computer is part of a domain, by default you aren't still allowed to save your credentials when you connect to a remote computer. Here is how you can get rid of this problem:
3. Moving on, press Windows Key + R combination, type put gpedit.msc in the Run dialog box and hit Enter to open the Local Group Policy Editor.
4. In the left pane, navigate here:
Computer Configuration -> Administrative Templates -> System -> Credentials Delegation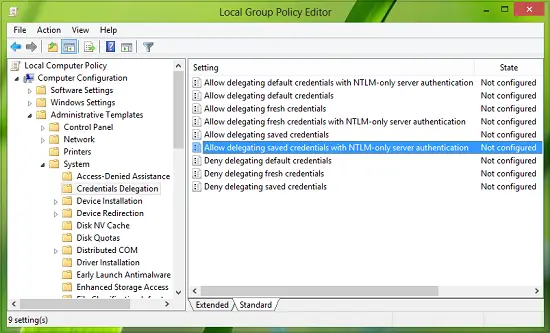 5. Now in the right pane of this location, look for policy setting Allow delegating saved credentials with NTLM-only server authentication and double click on it. Select Enabled and hit Show in the following window: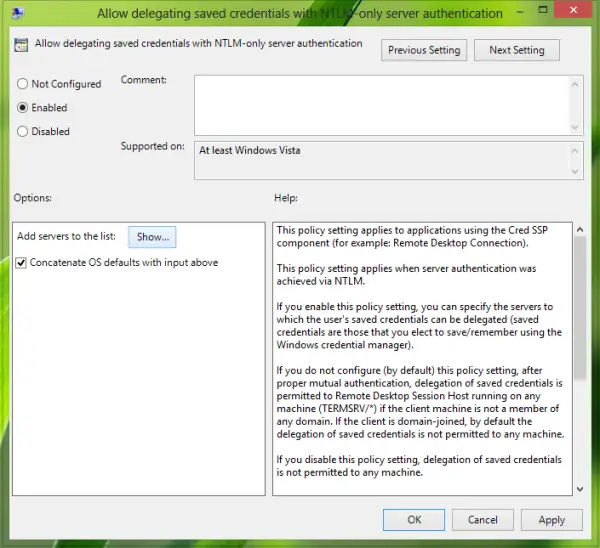 6. Finally, in Show Contents window, put the Value as TERMSRV\Computer Name, where you have to substitute your computer name after TERMSRV\.
Click OK; Apply; OK. Close the Group Policy Editor.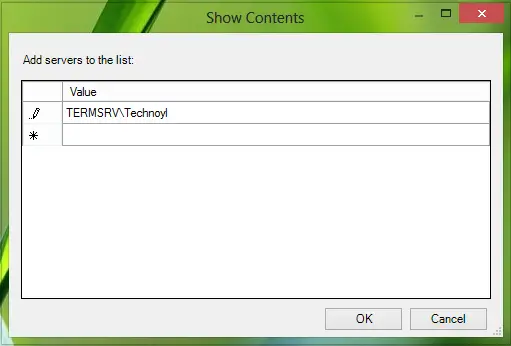 So far, we're done with fixing the issue. All you now need to do is to reboot the machine; your issue should be fixed.
Hope this helps.
UPDATE: Dakota North adds in the comments – TERMSRV/*.* is the correct syntax and it allows all servers.
Related read: Your credentials did not work in Remote Desktop.