This post features solutions to fix Hogwarts Legacy Robotic Voice glitch. Hogwarts Legacy is a single-player immersive role-playing game set before the original Harry Potter stories and isn't mentioned in the books or movies. Recently, users have been complaining about robotic voice glitches in the game.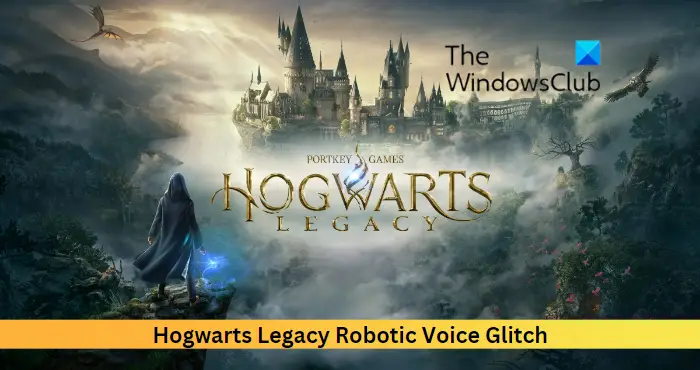 Fix Hogwarts Legacy Robotic Voice glitch
To fix the Hogwarts Legacy Robotic Voice Glitch, update Windows and the game and then restart your PC and see. If that doesn't help, follow these tested fixes:
Check System Compatibility
Scan Game Files
Modify In-Game Settings
Run Hogwarts Legacy as an Admin
Disable any Audio Enhancements
Reinstall the Game
Now let us see these in detail.
1] Check System Compatibility
Before starting with different troubleshooting methods, check if your device meets the minimum requirements. It's possible your device doesn't meet the minimum requirements to run Hogwarts Legacy. The recommended requirements to run the game are:
OS: 64-bit Windows 11/10
Processor: Intel Core i7-8700 (3.2Ghz) or AMD Ryzen 5 3600 (3.6 Ghz)
Memory: 16 GB RAM
Graphics: NVIDIA GeForce 1080 Ti or AMD Radeon RX 5700 XT or INTEL Arc A770
DirectX: Version 12
Storage: 85 GB available space
Additional Notes: SSD, 1080p/60 fps, High Quality Settings
2] Scan Game Files
The game files can get corrupted due to a bug or a recent update. This could also be why the robotic voice glitch keeps troubling you. Verify the game files on your PC and check if the problem is fixed. Here is how it's done:
On Steam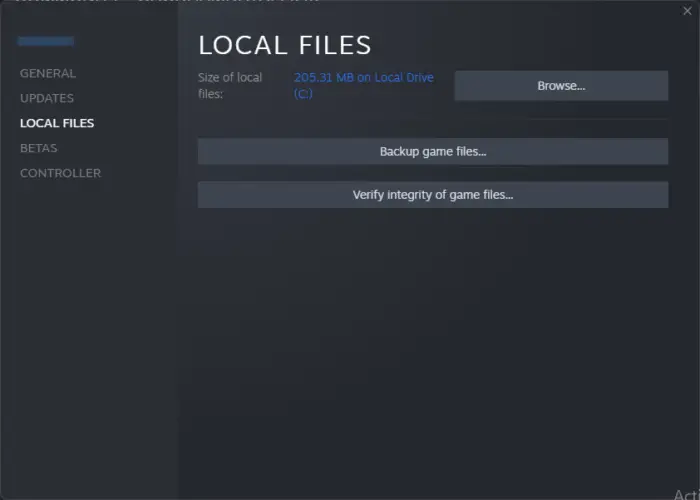 Open Steam and click on Library.
Right-click on Hogwarts Legacy from the list.
Select Properties > Local Files
Then click on Verify Integrity of Game Files.
On Epic Games
Launch the Epic Games client and navigate to Library 
Click on three dots below Hogwarts Legacy.
Select Manage and click on Verify beside Verify Files.
3] Modify In-Game Settings
You may hear robotic voices in Hogwarts Legacy if the audio pitch is increased in the game settings. Lower the audio pitch and see if the error gets fixed. Here's how:
Open Hogwarts Legacy and open the Settings menu.
Navigate to the Audio tab and click on the Pitch Slider option.
Drag the pitch slider to its middle point and click on Ok to save the changes.
Restart the game and see if the robotic voice glitch gets fixed.
4] Run Hogwarts Legacy as an Admin
Running the game as an administrator makes sure the game doesn't crash due to a lack of permissions. To do so, right-click on the Hogwarts Legacy.exe shortcut file on your device and click on Run this program as an administrator.
5] Disable any Audio Enhancements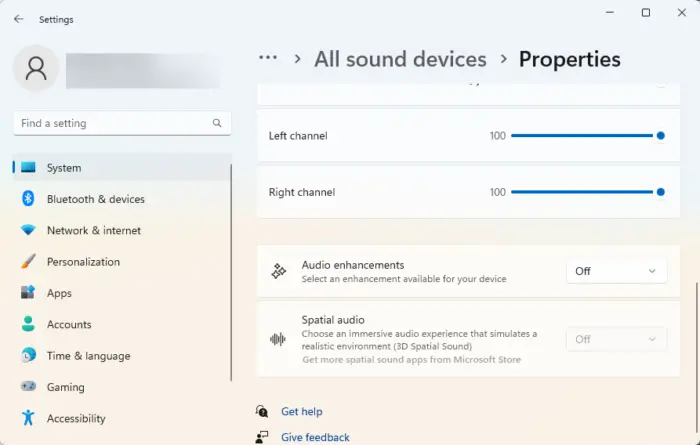 If you have any audio enhancements activated, they can cause issues with the game's sound. Disable any such enhancements and check if the issue gets fixed. Here's how:
Press the Windows key + I to open Settings.
Navigate to System > Sound > All sound devices and select your audio device.
Beside Audio enhancements, click on the drop-down menu and select Off.
6] Reinstall the Game
If none of the workarounds are able to help you, the game's core files might be corrupted. To fix this, remove all files of Hogwarts Legacy from your system, and start installing it again.
We hope this post helps you.
Who does the voices in Hogwarts Legacy?
There are various talented voice actors that bring Hogwarts Legacy to life. Some of them are:
Phineas Nigellus Black:

 Simon Pegg

Player Voice 1: 

Sebastian Croft

Player Voice 2: 

Amelia Gething

Professor Eleazar Fig:

 Nicholas Guy Smith

Professor Matilda Weasley

: Lesley Nicol

Amit Thakkar: 

Asif Ali

Professor Onai: 

Kandace Caine
Why does my mic sound robotic?
Misconfigured settings and an unstable internet connection are blamed for such errors. However, it can be due to a temporary bug/glitch or high memory usage. Try closing all the tabs on your device to free up some memory, as it can help troubleshoot the error.