The Error Code 50058 occurs when something is wrong with your sign-in details on the Office 365 platform, especially with services like Teams, OneDrive, Outlook, etc. The error is annoying as users cannot sign into their services, and folders won't sync until the issue is resolved. In this article, we will cover different solutions to fix error code 50058 in Teams, OneDrive, Outlook, etc. Some users have reported getting this sign-in error message when they leave their office and try to log into MS services using their home computers.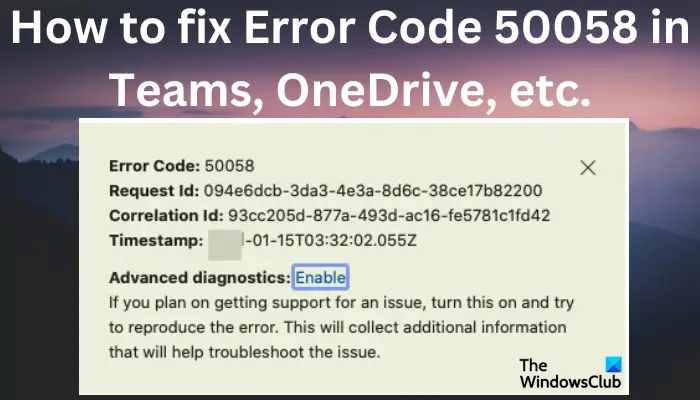 What causes error code 50058 in Teams, OneDrive, etc?
The error code 50058 can occur in various Microsoft service apps. It prevents you from logging into your account or that of your organization. The following are the causes of code error 50058:
The Single Sign-On (SSO) is corrupted or invalid. If you access your account using SSO, it might have issues that may trigger error code 50058.
Your user ID is incorrect. There is the possibility that you are using a different ID to sign it. You might have other account credentials for different MS apps.
You are entering an expired password. If your account has a time limit, you might lose its access after a certain period.
You are using a corrupted profile. If you used to access your account using your organization's credentials, the Windows profile might be corrupted making it unable to sign in to these MS apps.
Having looked at what causes error code 50058, it would be good to see how to correct these issues. Continue reading.
How to fix Error Code 50058 in Teams, OneDrive, etc.
Fixing error code 50058 in Office 365 apps and services is easy with the straightforward solutions we will cover.
Reset your password
Sign out from all SSO apps
Try to clear your credentials on the PC
Try using a new user profile
Let us look into these solutions in detail.
1] Reset your password
Since error 50058 is account password related, the first solution would be to reset the password. You can do it yourself if you are the owner of the account. If the account belongs to an administrator or organization, try to reach out so that they can reset the password, or if they changed the passwords, they would issue a new one.
2] Sign out from all SSO apps
If you use any SSO tools, we recommend you sign out and sign in again. Sometimes, the issue can be triggered by the app itself, and disconnecting and reconnecting can resolve the error code. It's normal for some apps to experience some temporary glitches. Such SSO applications may include Azure, among others.
3] Try to clear your credentials on the PC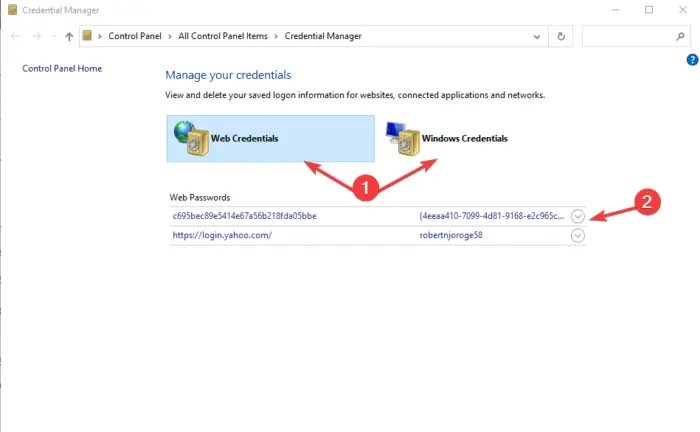 Clearing your credentials on your PC may resolve error code 50058. However, this solution is applicable if you are not facing the same issue when you access the apps on the web. To clear any stored credentials on your PC, follow the steps below.
Type Control Panel on the search box and press Enter.
Go to the User Accounts option and then click Credential Manager or Manage your credentials.
You will see two options; Web Credentials and Windows Credentials. Select each at a time, click on the drop-down arrow next to the Office app, and remove any stored credentials.
After that, go to your PC Settings by pressing Win + I, and then head to Accounts.
Select Email & accounts. Check if the accounts you removed with their credentials are still present. If so, sign out everywhere.
4] Try using a new user profile
Perhaps your account has some issues and trying a new Windows profile might help you understand where the issue is. A new profile comes with clean credentials and caches, so you might access the Office apps and you won't get error code 50058.
You can create a new account in the Windows Settings app. Go to Accounts > Other users > Add account. Enter your Email or phone and then go to Next > Finish. Then, log in to your PC and the affected Office app using the new account. Try to see if the error code 50058 is resolved.
If the issue persists, we recommend contacting the respective customer support for further assistance, as some issues might be specific to your account or computer.
We hope one of these solutions helps you fix error code 50058.
Fix: Microsoft Teams Error code 80080300
What is login error 50058 in Microsoft Teams?
The login error code 50058 in Teams means that the app tried to log in silently, but the user profile couldn't be logged in. The app must start an interactive flow and allow users to sign in. You might need to contact Teams Support to get some help.
How do I fix Incorrect login credentials on Windows?
The best and most secure solution to fix incorrect login credentials is to get the right account details. Alternatively, if you use your computer at home and don't need to protect it with a password, you can disable the login password. Type netlwiz in the search box and press Enter. Uncheck the box next to Users must enter user name and password to use this computer. Apply the changes, and that's it; the next time you start your computer, you won't require a password to access it.
Read: How to recover lost forgotten Windows password?