One of the biggest driving forces that have made Discord as popular as it is how convenient and seamless it has made screen sharing. For those of you who don't know, the screen sharing feature on Discord allows you to share your screen with other people on your servers, be it while playing friends or streaming videos. In this article, we look at how you can fix any screen flickering issues you may face while sharing the screen on Discord.
Fix Discord Screen Share Flickering or Lagging issues
Common causes behind screen flickering issues on Discord include a bad cache, outdated display drivers, or running an outdated version of the app. Let's look at how you patch up any potential causes:
Check permissions and run Discord as administrator
Update Discord on your PC
Delete Discord's cache folder
Switch to Windowed Mode on Discord
Disable hardware acceleration
Update Graphics drivers
Reinstall Discord
1] Check permissions and run Discord as administrator

If you aren't already, then the first thing you should try doing is running Discord as an administrator. Its highly possible for the screen sharing to flicker if you don't run Discord, and the app that you're trying to stream on your server, that way.
Open the start menu or simply search for Discord from the search bar option
Once located, right-click on it and further select More
Select Run as Administrator
2] Update Discord on your PC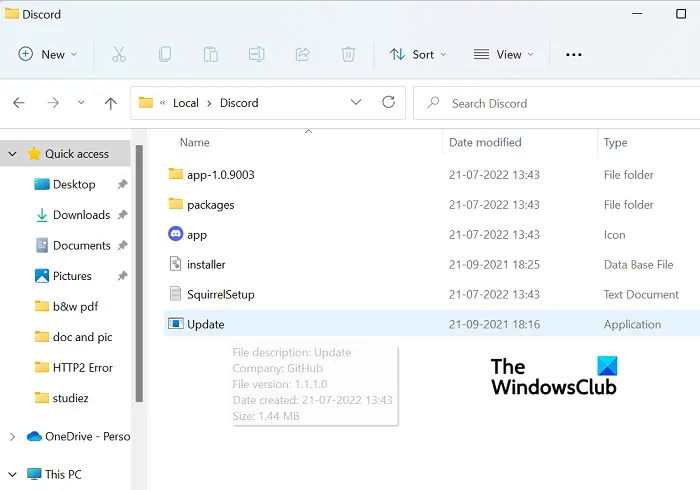 Like most apps, Discord rolls out updates regularly and running an outdated version of the app can cause all sorts of glitches, including screen flickering. Here's how you can update your app to a newer version, if one available:
Open the Run dialog box with the Win + 'R' key combination and enter the %localappdata% command
From the list of folders, open the Discord folder
Now, double tap on the Update.exe file
Relaunch Discord, stream something over a screen share and check if the issue persists.
3] Delete Discord's cache folder
If the issue lies with Discord's cache data, you can also try deleting them from the cache folder altogether.
Ensure that Discord is closed on your PC
Enter %appdata% in the Run dialog box
From the list of app folders, right-click on Discord and select the Delete option
Relaunch Discord and if the issue was with bad cache data, then it must've been resolved.
4] Switch to windowed mode on Discord
Screen sharing on Discord, at the moment, is only limited to Windowed apps, i.e., apps that are not full-screen and you may experience glitches or flickers if you attempt to stream an app that isn't windowed.
You can switch to a Windowed mode by pressing the F11 key, or can also find the relevant controls for it at the top-left corner of the Discord app.
5] Disable hardware acceleration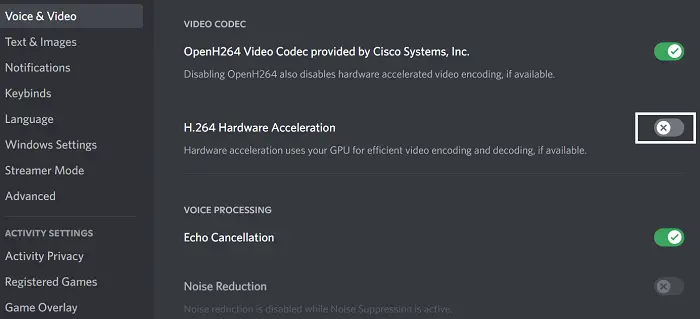 Hardware acceleration involves eating into the power of your graphics card to support CPU-intensive applications. If you find your screen to stutter or flicker while sharing it with people, it is possible that hardware acceleration is causing issues with loading graphics that are too heavy for it. In such a case, you're better off disabling the setting altogether. Screen flickering issues caused by this are mostly found in computers that are relatively older.
Open the Discord app
Click on the Settings icon available at the bottom-left corner of your screen
From the list of options to your left, select Voice and Video. Here, further, scroll down, and you'll find a 'H.264 Hardware Acceleration' option
Toggle it off and relaunch Discord to check if the issue has been resolved.
6] Update Graphics drivers
Update Graphics drivers and see if that helps.
7] Reinstall Discord
If none of the aforementioned solutions were of any help to you, then your last resort is to reinstall Discord on your PC. Much like any other Windows application, you can do this from the Uninstall a program option available from the Control Panel dashboard.
What causes a flickering screen?
A flickering screen on your computer is not an uncommon issue and can be caused by several reasons. The most common are a loose or scratched screen cable, inverter or backlight. It may also be caused by software shortcomings like app incompatibility or outdated display drivers on your PC.
Can BIOS cause screen flickering?
There are be a wide array of causes behind a screen flickering issue that your computer may be facing, and these problems may relate to your software or hardware. Another probable situation where you may experience some screen flickering on your PC can be while using BIOS. Several users have complained about screen flickering issues while updating or installing OS using BIOS, saying that this has gone on to occur even during Startup. If you are also experiencing the same issue, you can try enabling legacy support on.
This was our guide around the shared screen flickering issues you may face while using screen sharing on Discord. We hope you find it helpful.