Some Discord users have reported that they are not able to log in to their accounts and their screen says, "The owner of this website has banned your IP address." If this issue is applicable to you, don't worry, we got your back. In this post, we are going to talk about the Discord Error Code 1006 error and see what can be done to resolve the issue.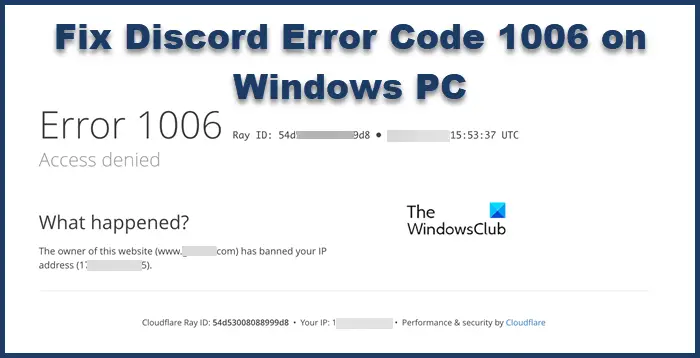 Fix Discord Error Code 1006 on Windows PC
If you see Discord Error Code 1006 on your Windows screen, follow the solutions mentioned below to resolve the issue:
Check the Discord Server Status
Enable Random Hardware Addresses
Check your Internet connection or use another network
Connect or Disconnect VPN
Delete Cache files
Contact Discord support
Reinstall Discord
Let's talk about them in detail.
1] Check the Discord server status
First of all, check Discord's server status and then look for other solutions, as doing so will save you time. The error indicates that Discord has banned your IP address, however, this error can be due to issues with Discord's server, either it is under maintenance or in downtime.
You can go to Discord's official website and see if others are facing the same issue or not. If they are, then you can only wait for the developers to acknowledge the issue and repair it.
2] Enable Random Hardware Addresses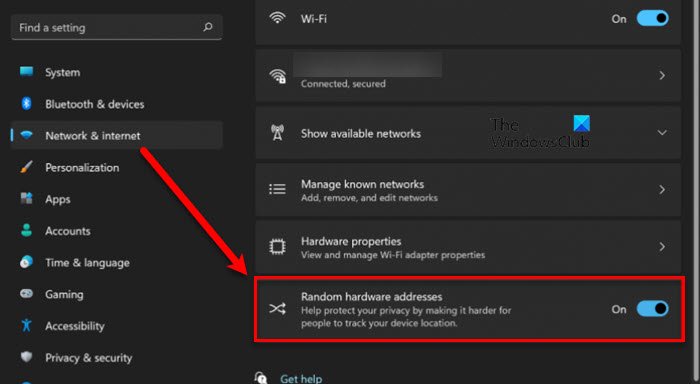 Discord code 1006 generally appears when you are not able to access your account and you can easily get rid of the error by enabling a dynamic IP address. Follow the steps prescribed below to do the same:
Click Win+I to open  Settings.
Select the Network & Internet option.
Now, turn on the toggle key of Random hardware addresses.
You can also enable random hardware addresses for specific networks. If you want you can do it by opening Settings and then going to Network & Internet > Wi-fi> Manage known networks. Now select the network that you want to enable the settings and then click on Properties. Finally, click on Random Hardware addresses for this network. Once you enable it, relaunch Discord and try to connect to your account. If the issue persists move on to the next solution.
3] Check your Internet connection or use another network
According to users, Internet connection also plays a role in the issue. Either theirs a problem with your router or Discord has limited your activities for a variety of reasons. You can check the Internet connection via Internet speed testers to make sure that your router is not the issue. You can also use some other network than the current one you are using as this seems to resolve the issue for other users.
4] Connect or Disconnect VPN
VPN is a tool that allows you to stay anonymous on the Internet by plotting different IP addresses.  The error occurs because of your banned IP addresses, therefore it can be resolved by using VPN. However, keep in mind that you are not using a VPN extension as that can become a problem in very little time. In case, you were previously connected to a VPN network, you should disable it as that could be a reason why you see such errors.
5] Delete cache files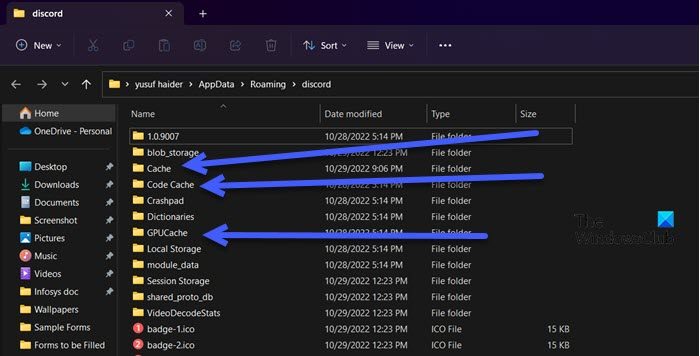 One of the most basic parts is cache files that lead to various issues. It is no surprise that your cache files and data can become corrupted and interfere with the app's functioning and cause the said error message. You can delete the Discord cache files to resolve the issue, and also make sure that there are no tasks running in the background before deleting the cache. For that, click Ctrl+Shift+Esc to open Task Manager, right-click on Discord, and select End Task. Once you are sure that Discord is not running, open Run(Win + R), paste the following string, and hit Enter.
%appdata%\discord
Now, delete Cache, Code Cache, and GPUCache folders. This will delete the cache and once you reopen Discord, they will be reproduced. Hopefully, this will do the job for you.
6] Contact Discord support
Deleting cache files generally resolves the issue, however, if the issue still persists, then you can reach out to Discord support via support.discord.com and tell them about the error code and ask them to resolve the issue. They'll look into the matter and resolve the issue. However, if you don't get any reasonable response back, see the next solution.
7] Reinstall Discord
If none of the solutions mentioned in this article did the job, you can either make a new account or delete Discord and reinstall it again. For the former one, log out and then create a new account, as for the latter solution, Click Win+I to open Settings and then click on Apps and then to Installed App or Apps & Features. Now right-click on Discord and select Uninstall button. Now, reinstall the app and log in to see if the same error is occurring or not.
Since Discord cannot be repaired your only option to fix corruption in the app is reinstalling it completely so go ahead, remove all of its files, and app data and then install the same. Hopefully, this will resolve the issue.