CoD Vanguard is one of the most popular games, but it is not error-free. Many are reporting that they are experiencing CoD Vanguaged Error Code 0x00001338 N, the full error code can be 0x00001338 (6328) N, 0x00001338 (5573) N, 0x00001338 (0) N, etc. No matter what the error code is, the error message and the solutions will be the same, and in this article, we are going to resolve it.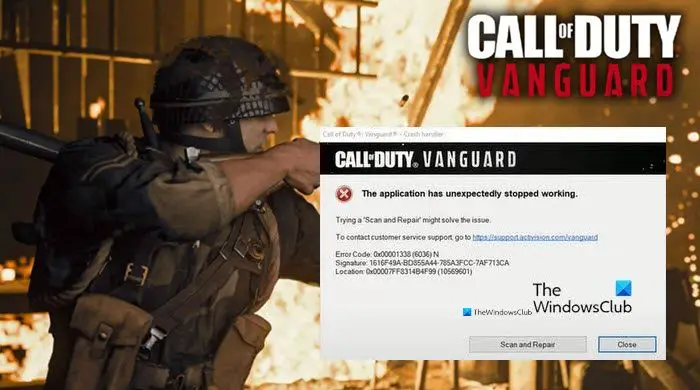 The following is the complete error message.
The application has unexpectedly stopped working.

Trying a 'Scan and Repair' might solve the problem.

To contact customer service support go to https://support.activison.com/vanguard.
Why am I seeing CoD Vanguard Error Code 0x00001338 N?
You may see this error when your game files or game cache are corrupt. Some of the files from the CoD Vanguard folder can be corrupted, some of them can be removed and rebuilt, whereas, some can't be fixed in this manner. However, it's not like you can not fix those files, we will see some solutions to fix that as well. The error can also occur because of outdated Graphics Drivers or may use a corrupted skin, we will be discussing them in detail later in this article.
Fix CoD Vanguard Error Code 0x00001338 N on PC
To fix CoD Vanguard Error Code 0x00001338 N on PC, the first thing you need to do is check for updates. Make sure that you are on the latest version before going for the mentioned fixes. Sometimes, the issue can be resolved by updating alone, even if it is of no avail, keeping your system up-to-date is a good practice.
If updating is not able to resolve the issue, these are the things you need to do to get back to the game.
Delete the Player folder
Clear Vanguard Cache
Update Graphics Driver
Use Base Skin
Update Visual C++ Redistribulates
Let us talk about them in detail.
1] Delete the Player folder
As mentioned earlier, one of the folders from the CoD Vanguard directory can be corrupted and as a result, can cause this error. According to many gamers, the folder we are talking about is the Players folder.
So, open File Explorer and go to the Documents folder. Look for CoD Vanguard and then delete the Players folder.
Finally, reopen the game and see if the issue is resolved.
2] Clear Vanguard Cache
The corrupted cache is another reason that can crash the game and can cause the error code in question. So, you need to remove the cache files in order to resolve the issue.
So, open Run by Win + R, type "%ProgramData%", and click Ok. Then go to Blizzard Entertainment > Battle.net > Cache.
Alternatively, you can navigate to the following location in the File Explorer.
C:\ProgramData\Blizzard Entertainment\Battle.net\Cache
There you can delete, all the content of the Cache folder.
3] Update Graphics Drivers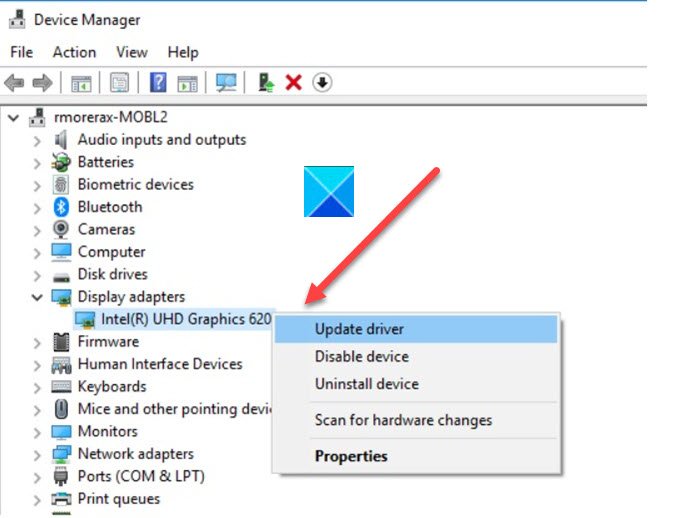 Outdated Graphics drivers can cause this error code 0x00001338 N. So, you need to check if there is an update available for your Graphics Driver and download it.
Therefore, update your Graphics (Display) drivers and see if the issue persists.
4] Use Base Skin
According to many victims of this error, there are many corrupted skins in Vanguard, and if you are using one of those skins, you may see this error. So, it is recommended to use a different skin or just go to the base skin. This way, the issue can be resolved easily. It's not like you can't use any skin, but wait until the developers fix this bug.
5] Update Visual C++ Redistribulates
Most of the PC games are programmed using the C++ language. So, keeping it up-to-date is necessary to have a smooth and crash-free gaming experience. You can update Visual C++ Redistribulates from microsoft.com and resolve the issue.
System Requirements to run CoD Vanguard
Your computer should meet the following requirement to play CoD Vanguard.
Operating System: Windows 10 64-bit or above
Processor: Intel Core i3-4340 or AMD FX-6300
RAM: 8GB
Video Memory: 2GB
Graphics Card: Nvidia GeForce GTX 960 or AMD Radeon RX 470
DirectX: Version 12
Storage Space: 36GB
Why can't I play Vanguard on PC yet?
You can't play Vanguard on your computer for several reasons. Anything could be the reason, from meeting the minimum system requirements to a faulty graphics driver. That is why you must follow the aforementioned tips and tricks to eliminate this problem on a Windows 11/10 PC.
That's it!
Read Next: COD Warzone Lagging or having FPS Drops on Windows.