Windows Update has always been a great way for Micorosft developed to add new features and fix problems. What if, the update itself is a problem. Well! This is something that's been happening for a lot of users. They are encountering error 0x800700a1 when trying to install the latest build or update. In this article, we are going to give solutions to fix this issue easily.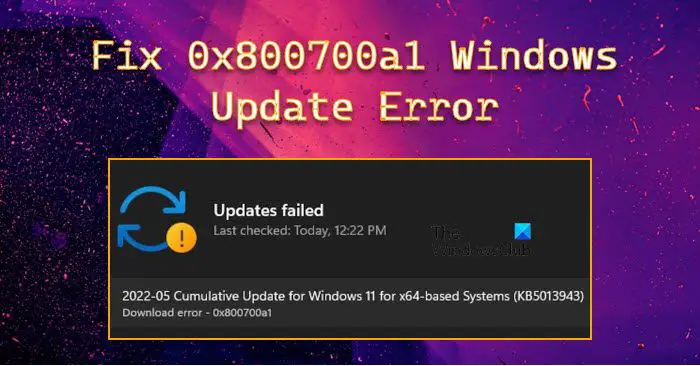 Fix 0x800700a1 Windows Update Error
If Windows Update Error 0x800700a1 is what concerns you, try the following solutions to rectify it.
Restart and Retry
Run Windows Update Troubleshooter
Reset Windows Update Components
Make sure you have enough space
Restart Windows Update Service
Reset Windows Update Agent to default
Run Windows Update in Clean Boot
Let us talk about them in detail.
1] Restart and Retry
Sometimes, the issue is nothing but a glitch that can be fixed automatically if you just restart the system and retry updating. So, go ahead and restart your computer, then go to Settings > Update & Security (Windows 10) or Windows Update (Windows 11) and Check for updates. If it doesn't work, move to the next solution.
2] Run Windows Update Troubleshooter
You can try running Windows Update Troubleshooter and see if it can detect and resolve the issue. It is a built-in utility, so, you don't have to download anything. To run the troubleshooter, follow the prescribed steps.
Windows 11
Open Settings from the Start Menu.
Click System > Troubleshoot > Other troubleshooters.
Look for the Windows Update troubleshooter, and click on the Run button.
Windows 10
Open Settings.
Go to Update & Security > Additional troubleshooter.
Click Windows Update > Run the troubleshooter.
Hopefully, this will do the job for you.
Related: Windows Update Troubleshooter not working 
3] Reset Windows Update Components to default
If the Windows Update Component got corrupted or has some other issue, you will various errors such as the one in question. So, you should try to reset Windows Update Component and see if that helps.
You may also use our portable freeware  FixWin to clear the Software Distribution and catroot2 folders.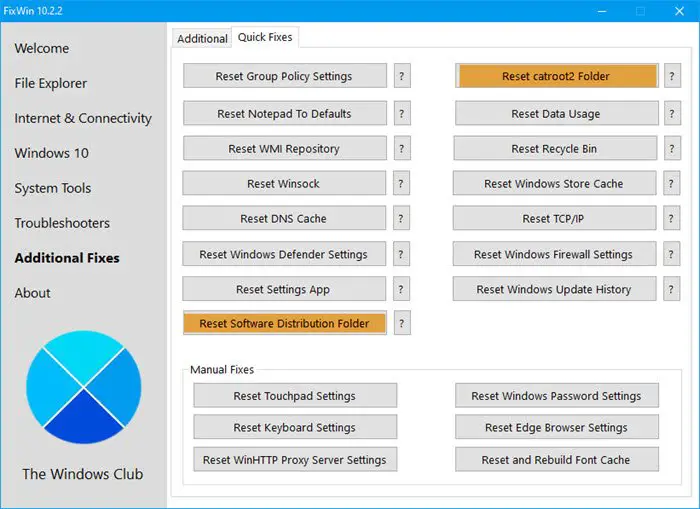 Just get the app, then Additional Fixes > Quick Fixes, then, click on the following buttons one after the other:
Reset Software Distribution folder
Reset Catroot2 folder.
Your issue should be fixed.
4] Make sure you have enough space
You have to make sure that you have enough space to download the Windows Update files. Since we are not sure how much space the update you are downloading required, a recommendation would be to keep at least 32 GB of storage before checking for updates. So, if you have redundant files, delete them, reset Windows Update Component, and restart. This should do the trick for you.
5] Restart Windows Update Service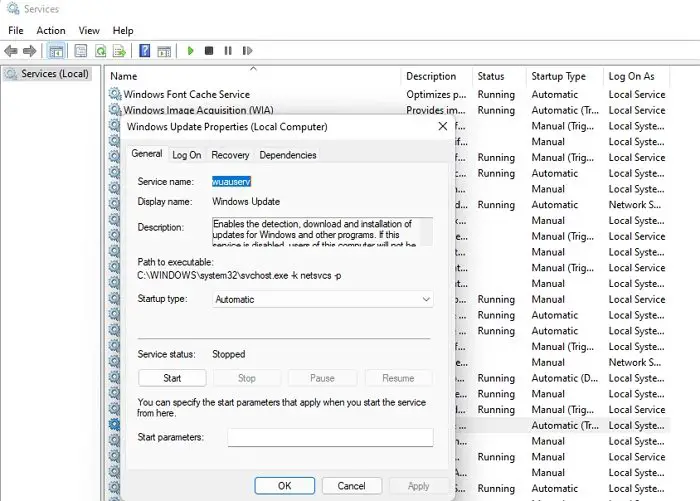 You may also see the error code in question if the Windows Update Service is facing some issues. The best solution, in this case, is to restart the service and see if that helps. To do that, open Services from the Start Menu, look for Windows Update Service, right-click on it and select Stop. Now, wait for a few seconds, and then start it. Hopefully, this will do the trick for you.
Also Read: Windows Update Service is missing
6] Reset Windows Update Agent to default
Next solution you can try resetting Windows Update Agent to default. This will reset everything that could have been the cause such as WU-related components & registry keys, detect corruptions, replace corrupted system files, fix corrupted system images, reset Winsock settings, and other things. So, do this and check if the issue persists.
7] Run Windows Update in Clean Boot
There are a lot of third-party apps that can cause trouble for you by interfering with your Windows Update service. You should perform Clean Boot and try downloading the update. If you are able to install the update, manually enable updates one by one and you will stumble upon the culprit, just remove that program and your issue will be fixed.
Hopefully, these solutions will do the job for you.
How do I fix a Windows Update error?
There are a lot of different Windows Updates, so, you should check the error code before looking for troubleshooting tips. But if you want a general, work-for-all solution, try running the Windows Update Troubleshooter, we have mentioned the steps to do the same in the second solution. However, it would be better if you use the error code to search for solutions. This guide offers useful tips on what to do if Windows Update fails to install.
Error Code 0x8007000d appears when trying to update, install or activate Windows 11/10. This means that the bootable installation media you are using is corrupt. We have a complete guide to fixing error 0x8007000d. All the solutions you need to fix the issue are written there.
That's it!
Read Next: