One of our readers suggested us to come up with a follow-up article on how to find the Firefox Profile,  describing some of the folders/files in the Firefox Profile folder on a Windows PC. Particularly, the ones required for an easy reinstall of extensions, passwords, etc. While attempting to oblige to his request, we also thought it necessary to clear up the air around those folders/files located under your Firefox browser profile.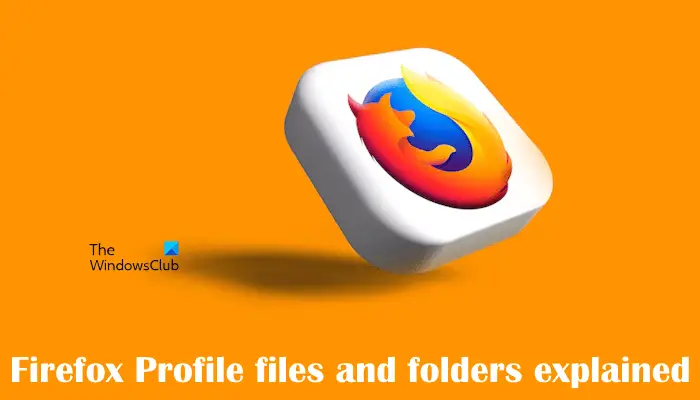 Firefox browser Profile files and folders
Any changes made by you to your Firefox browser like your home page, extensions installed, or passwords saved are readily stored in a special folder, called a profile. This profile folder is stored in a separate place from the Firefox program so that, if something ever goes wrong with Firefox, you can easily recover it.
Firefox browser, by default, stores your profile folder at this location on your computer –
C:\Users\<username>\AppData\Roaming\Mozilla\Firefox\Profiles
It further contains additional files and folders some of whose roles are described briefly below.
Bookmarkbackups
As the name suggests, the folder stores bookmark backup files, which can be used to restore your bookmarks. A file – favicons.sqlite file contains all of the favicons (a shortcut icon for your Firefox bookmarks). So, you should keep a backup of it if you are interested in saving your bookmarks
Secondly, all your passwords are stored in two different files. These include:
key4.db – This file is known to store your key database for your passwords. To transfer saved passwords, you must copy this file along with the following file.
logins.json – If you are aware, the Firefox browser supports a built-in password manager. This manager stores the encrypted credentials in a file called "logins.json." All the usernames and passwords saved to the logins.json file are encrypted with a key that is stored in the "key4.db" file.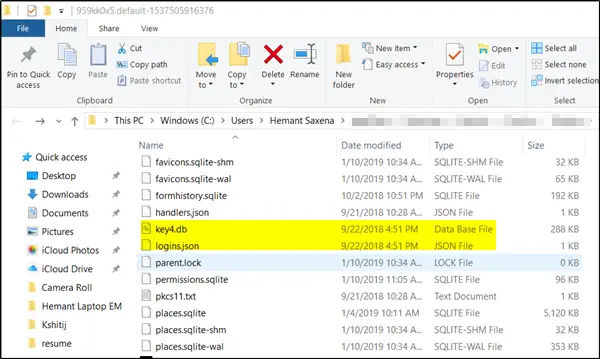 Both the logins.json and key4.db files can be found in the Windows directory.
Site-specific preferences
The site permission store is kept in an SQLite database called permissions.sqlite. It stores many of your Firefox permissions that are decided on a per-site basis. For instance, which sites should be allowed or prohibited from setting cookies, showing images, displaying popups, and installing extensions?
Search engines
This file search.json.mozlz4 stores user-installed search engines.
Personal dictionary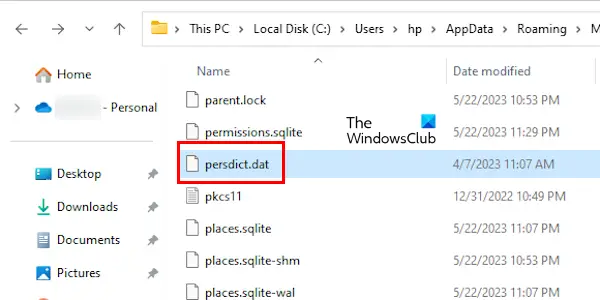 Firefox has a personal dictionary. It uses it for spell check. You can add words to your Firefox personal dictionary. All the custom words that you add to Firefox's dictionary are stored in the persdict.dat file.
Stored session

If you are a Firefox user, you probably know about the Session Restore feature of Firefox. This feature restores all the tabs in Firefox that were opened just before you closed the Firefox. Firefox stores this information in the sessionstore.jsonlz4 file. This file only appears in the Firefox profile folder when you exit Firefox completely.
While we recommend keeping a backup of all the files and folders in a profile, those that are particularly useful in the easy reinstallation of extensions and passwords, were of our interest and thus, covered.
Have two profiles in Firefox?
Firefox saves your information including your bookmarks, passwords, preferences, etc., in a folder called Profile folder. This Profile folder is located in a separate location from the Firefox installation location. You can have multiple profiles in Firefox. If you want to create multiple Firefox profiles, you can do so by using Firefox Profile Manager.
Where are Firefox extension files located?
The extensions you have installed on Firefox are stored inside the extensions folder. The extensions folder is also located inside the Profiles folder on your C drive.
That's it. I hope this helps.
Read next: Firefox Spell Checker not working on Windows 11/10.