FileVoyager is a dual-panel File Manager software for Windows systems. It is a freeware application that helps users manage their files in an organized way. As the user launches this application for the first time, he gets to see the complete details of his system, on its left panel and details of all connected drives on the right panel.
FileVoyager file manager software
This application includes support for a lot of extensions, that help organize and browse different types of files easily. It includes a ribbon-like GUI utility that provides easy switching among different files. By using this utility tool users can access two or more files at the same time.
The Multi Tab extension of FileVoyager allows users to lock particular tabs that they don't want to close accidentally. It also gives users the freedom to create their favorite folder location and save particular files and folders on it.
Its Wildcard feature allows users to search stored data by file names. Users can select multiple folders along with their sub-folders and filter them according to their thumbnails, modified dates, attributes, and sizes. It lets users compute the sizes of all directories and their current path.
This app includes a built-in Preview Mode that supports Unicode, text, RTF files, binary files, and hexadecimal files. It helps users to create different types of archived files such as ZIP, GZIP, BZIP2, TAR, XZ, and WIM.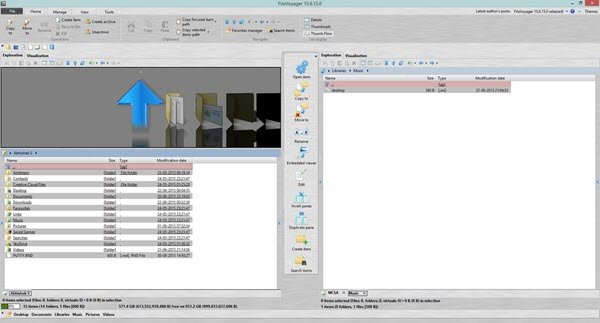 If a user wants to hide any folder from other users, he can use the password protection utility of this app. It uses the AES-256 algorithm to set a password and encrypt its content. This password-protected folder can be searched easily like other folders.
Users can stream different types of media files easily with this software. It uses audio and video codecs, provided by the default media players such as Windows Media Player, VLC, etc., to stream video and audio files. If any type of player or viewer is installed in the system, then users can stream and play any type of media file for long hours.
This user-friendly software gives users direct access to system utility tools as well as the Command Prompt. Other Windows utilities help users to connect or disconnect different types of available drives.  Its 'Edit' function opens the file in default text editor format. This tool can be used to create new items in different formats that can include various folders, images, texts, etc.
Conclusion
It is a simple and straightforward way to explore all the content of PCs. By using this application, users can even search for online shared, archived, and FTPS/ FTP files. This freeware program is available for Windows 11/10/8/7/Vista and can be downloaded from here.