After talking about many good and useful Microsoft Store apps, today I will write about very useful File Explorer apps for Windows 11 and Windows 10.
File manager & Explorer apps for Windows 11/10
While Windows OS has its own File Explorer and I am quite comfortable with it, I still would like to tell our readers about the new File Explorer apps I am presently checking out. These apps are useful for users who are not comfortable with the metro-style file explorer and help the users to manage their files and folders without even opening the File Explorer.
Although none of these apps are as futuristic as the native File Explorer of Windows but trust me these apps are really great.
1] File Brick
File Brick is a free file browser app available for download in the Windows store. While I was happy with the native File Explorer, File Brick helps me manage my files in a much easier way. I can open many files within the app.
For example, I can view the pictures and play my audio files simultaneously with this app. I can also access my Sky Drive, Google Drive and Dropbox files with just a single click.
File Brick has a very simple user interface. I can add the shortcuts of the folder I use frequently. Music, Photos, Videos, Skydrive, Dropbox, Google Drive, and Facebook are some shortcuts that you can use for the free version of File Brick. It also shows all the local drives. Other features like Twitter, Picasa, Flickr, and YouTube are accessible only for the paid version of the app. Just a click and you can access any of your folders and the files in those folders.
Honestly, when I read about File Brick on the Windows Store first, I did not feel that it would be so useful. But now when I have it installed on my laptop, I am loving it. It's like a one-stop for everything. I can access any of my folders right here. I can also access my Facebook profile directly from the File Brick app.
This is truly an awesome file explorer app in the Store and makes file browsing and file exchange operations quite easy for me.
While searching for File Brick in the Windows Store, I came across two more of the file manager apps – My Explorer and File Explorer. My Explorer is a free app but File Explorer is a paid app. Though it is affordable and is available in the Windows Store at $1.49.
2] My Explorer

My Explorer is a simple alternative to the native file explorer in Windows 8. You can add the desired folder here for easy navigation. This is a Modern UI version of the desktop's File Explorer.
My Explorer gives you access to manage all your folders and files with a single click and moreover, you can also make it personal by adding any files from the local drives making it easy to reach those locations in a few steps.
My Explorer has a few restrictions though, you cannot add the protected or hidden files from the system folder and neither can you launch the files that depend on other files.
3] File Explorer

This App is a paid app – but it can help the user browse the local files in a simple and hassle freeway. Similar to File Brick and My Explorer you can add files from any of the apps in your local folders.
4] Files – File Manager for Windows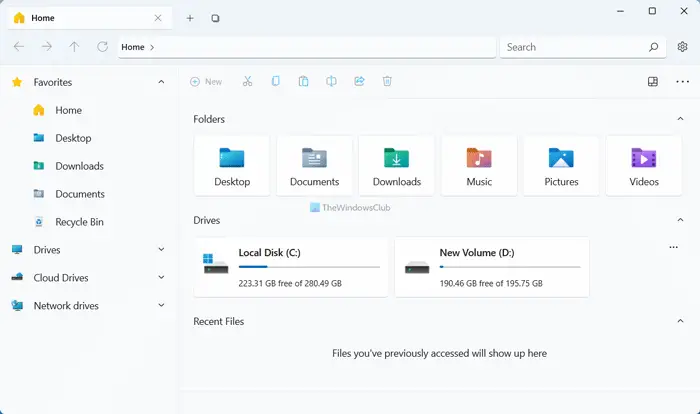 Files is one of the best file manager apps for Windows 11 and Windows 10. If you like the user interface of the in-built File Explorer but want to get more options or features, Files can help you do that. Whether you need to navigate to a specific path, open a file or do something else, you can perform that in the File app. On the other hand, it comes with a sidebar, where you can show or hide various icons such as Recycle Bin, library folders, drives, cloud storage, network, WSL, etc. Download from Microsoft.com.
5] File Commander – File Manager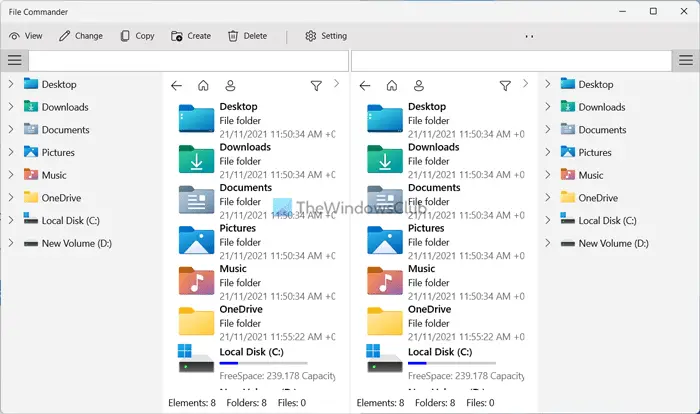 If you always browse multiple paths simultaneously to open different files from different locations, you can give File Commander a try. The latest version of File Commander comes with tons of new features, options, and improvements so that you can get the most out of a file explorer app. The user interface is uncluttered, but you can find almost all the essential options in one window. Like Files, you can find a sidebar on the left side, showing the library folders, cloud storage, drives, etc. Talking about the settings, it doesn't offer as many options as Files, but you can find options to enable dark mode and change the view. Download from Microsoft.com.
6] Factory File Manager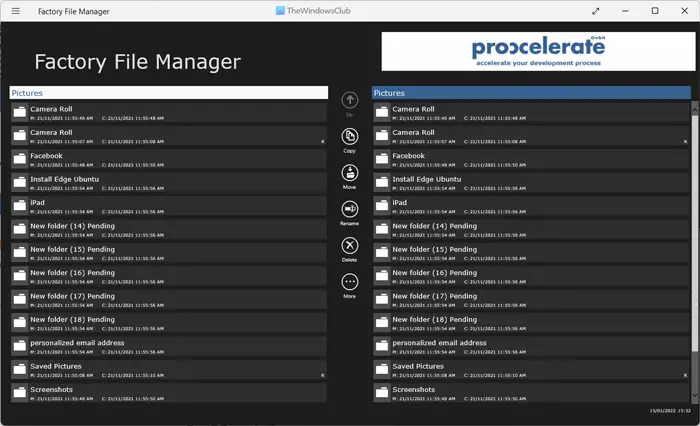 If you do not like to have countless options here and there, Factory File Manager can be a handy option for you. That being said, it is a minimal file explorer app that you can find on the Microsoft Store. The highlight of this app is that it comes with two integrated windows. In other words, if you want to browse two paths at the same time, you can do that without creating another window of Factory File Manager. Another useful thing about this file explorer app is that you can find some keyboards shortcuts so that you can perform various tasks quickly. Download from Microsoft.com.
Related: Windows File Explorer replacements and alternative software.
Is there a better File Manager than Windows Explorer?
There are many best free File Manager software for Windows 11/10 that you might actually find better than Windows native File Explorer. Explorer++, One Commander, Konverter, Multi-Commander, etc., are some examples you should use. The interface of third-party file manager software may look complicated, but for those who need feature-rich alternatives to Windows Explorer, these are good options.
Is File Explorer a Microsoft Store app?
No, File Explorer is not a Microsoft Store app. File Explorer in Windows 11/10 comes as an integrated utility that you cannot uninstall or reinstall from any source. Although it is possible to restart File Explorer or Windows Explorer, there is no option to install it from the Microsoft Store.