Microsoft keeps adding new functionalities as well as removing or replacing some older ones with every new version of the Windows operating system. For example, the MBAE service metadata feature was removed in the Windows 10 v20H2 October 2020 Update. Some features like taskbar settings roaming and PNRP API were deprecated in Windows 10 v1909. And, this goes on.
The same is with the latest Windows 10 v21H1 release. You can see many older features being deprecated and replaced by a new set of features in this version of Windows 10. Let's check out what are these features.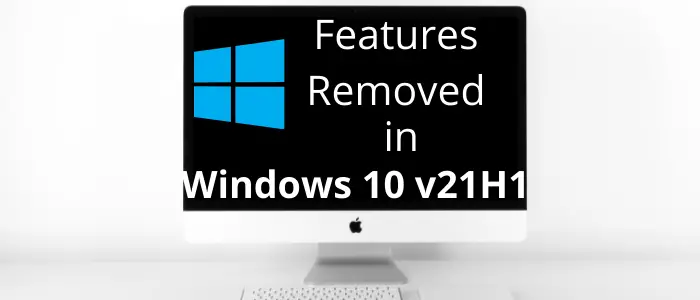 Features Removed in Windows 10 v 21H1
Here are the features that are deprecated or removed in Windows 10 v 21H1:
1] The legacy version of Microsoft Edge browser is no longer being developed or maintained and won't receive any security updates henceforth. To its replacement, the new Microsoft Edge based on Chromium source code is used which is suitable for modern users. This Microsoft Edge was released on January 15, 2020, and is now being used as the default browser in Windows 10 v 21H1.
Other than being based on Chromium source code, it has some enhancements which are developed by Microsoft. You can find a lot of good new features in it including password generator and monitor, sleeping tabs, support from Chrome extensions, sidebar search, tab syncing, and more.
2] Internet Explorer (IE) 11 is the last and final released version of Internet Explorer. From June 2022 onwards, the Internet Explorer (IE) 11 desktop application will terminate support for some operating systems including Windows 10 v 21H1.
The users who still prefer IE over other web browsers can use the new Microsoft Edge with Internet Explorer (IE) mode that allows backward compatibility. This feature basically enables individuals and organizations to access obsolete or outdated as well as modern apps or websites in one browser.
3] Windows Management Instrumentation Command line (WMIC) tool is another feature that is deprecated in Windows 10 v 21H1. You can no longer use WMI through the command line. Do note that this is applicable to the command-line management tool only and won't impact the WMI tool itself.
It is now replaced by Windows Powershell for WMI and you can use WMI via PowerShell cmdlets.
4] Personalization roaming feature that includes settings like slideshow, accent colors, wallpaper, and lock screen images is not being developed any longer. It might also be removed in further releases.
These above-discussed features are no longer being actively developed and might be completely removed in Windows 10 v 21H1 and coming versions of Windows.