If you encounter a message – Failure to display security and shut-down options while trying to open the Security and Sign-in Options window by pressing CTRL+ALT+DEL or attempting to Restart/Shut-down the system, then this article may be helpful for you.
Failure to display security and shut-down options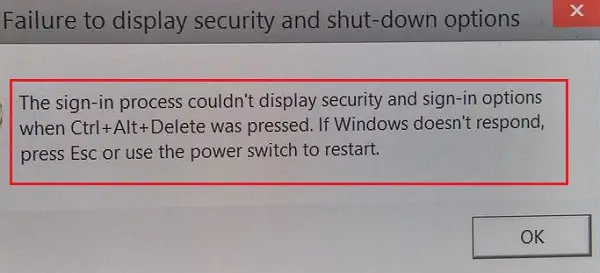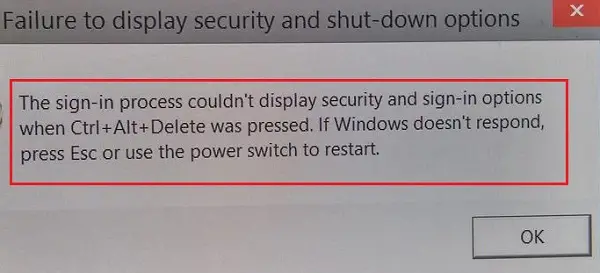 The probable causes for this issue on Windows 11/10 are as follows:
Corruption of system files.
Some third-party programs might be conflicting with the process.
Third-Party security software is preventing the process.
The error may be accompanied by the statement-
The logon process was unable to display security and logon options when Ctrl+Alt+Delete was pressed. If Windows doesnt respond, press ESC or use the power switch to restart.
You may try the following solutions to fix the problems:
Run an SFC and DISM scan
Run the System Maintenance troubleshooter
Troubleshoot the system in the Clean Boot State.
1] Run an SFC and DISM scan
The main cause of the issue is corrupt system files. In this case, running SFC and DISM scans can be helpful. These tools can help in detecting missing and corrupt files and replace them.
The System File Checker is integrated with Windows Resource Protection, which protects registry keys and folders as well as critical system files. If any changes are detected to a protected system file, the modified file is restored from a cached copy located in the Windows folder itself.
If the SFC scan doesn't help, you can run the DISM scan.
2] Run the System Maintenance troubleshooter
The System maintenance troubleshooter checks problems related to the system and troubleshoots them if possible. The procedure for running the System Maintenance Troubleshooter is as follows:
Press Win+R to open the Run window and type the command control panel. Hit Enter to open the Control Panel window. Change the View by option to Small icons (or Large icons, it shall not be Category).
Select Troubleshooting > System and Security. Choose the System Maintenance troubleshooter from the list and run it.
Restart the system once you are done.
3] Troubleshoot the system in the Clean Boot State
If third-party software is interfering with the processes, the possibility can be isolated by restarting the system in a clean boot state. This way, you could prevent third-party software from launching at the startup itself.
If the issue gets resolved after restarting the system in Clean Boot State, try identifying the troublesome program and uninstall it.
All the best!