Drivers are one of the most critical parts of the Operating System, allowing interfaces and hardware to talk. If you don't install the OEMs driver, Microsoft uses the generic drivers, but it will still miss the custom functionality. Along with this, many develop custom drivers for their hardware. That said, Windows offers a built-in way to export drivers using the DISM tool. It allows you to keep a backup and use it anytime. This post guides how you can export drivers using DISM in Windows 11.
Why Use DISM Tool to Backup Drivers?
It's a simple, straightforward tool that can backup all the drivers on a single command. You can also automate it by adding the command to a batch file and executing it with admin permission to take regular backups. The biggest advantage is that you don't have to deal with many options offered by driver backup software.
How to Export Drivers using DISM in Windows 11/10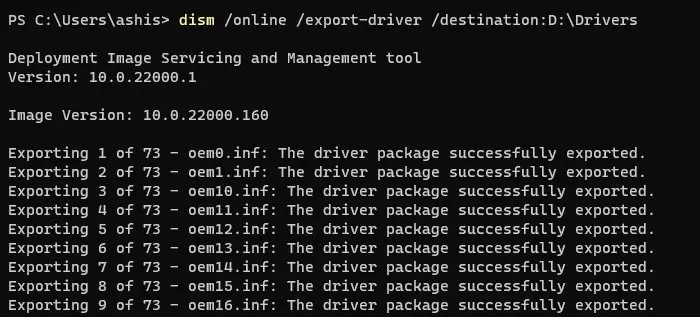 Select a location where you can save the driver backup.
Right-click on the Start menu, and click on Windows Terminal (Administrator).
Execute the following command to start exploring the drivers DISM /online /export-driver /destination:D:\Drivers
If you need to export drivers from an already created image, you can use the following command DISM /online /export-driver-Path c:\offline-image -Destination d:\drivers
The offline option works with a storage device that has Windows installed on it or a System Image backup
This command will only export third-party drivers. Also, the same command can be executed on PowerShell or Command Prompt with admin privileges.
Unable to Export Drivers using DISM
if you cannot export the drivers from both system image and live OS, you need to use the -LogPath and -LogLevel options to generate the log file. You can then further figure out what is stopping the export.
How do I Export Drivers from Device Manager?
Use WIN + X to open the Power menu, then select Device Manager,
Right-click on any device and select Properties.
Switch to the Driver tab, and then click on the Driver Details button.
This will reveal the list of all drivers attached to the driver. Make a note of the exact path.
Open File Explorer, navigate to the path, and copy it.
Make sure to save it somewhere.
Drivers' files end with SYS, but if the device manager shows anything else, you can copy that too.
What Folder Are Drivers Stored in Windows?
The default location of the drivers on Windows is at C:\windows\System32\drivers. You can also copy this folder to a safe destination. Once done, you can always install it from the saved location using the Device Manager.
DISM is a powerful command tool that you can use to mount and service Windows images before deployment. It is also used to install, uninstall, configure, and update Windows features, packages, and drivers in a Windows image.
Now that you know how to export the driver using the DISM tool, and if you backup often, make sure to save the command in a BAT file and make it run every day using Task Scheduler.