Today, online games have become the choice of many people, and many like to play them too. They know that the fast internet is vital for an excellent gaming experience. But the fast internet doesn't need to be available everywhere. To overcome this problem, many users use Exitlag to fix the connection and ping issues in their games. Despite this, Exitlag does not help in the connection problem and throws a no-connection issue. If you are also facing a no connection issue while playing the game, then in this article we have provided the solution on how to fix No connection issues after using ExitLag.
What is Exitlag?
Exitlag is a Virtual Private Network (VPN) for online gaming. It has a feature by using which you can optimize your internet connection, and decrease your ping. It is software that allows you to connect to game servers through its routes and servers. It improves the route used by internet service providers (ISP).
Exitlag not Working
If you are facing a no-connection issue while playing the online game despite using Exitlag, follow the below steps to fix this issue.
Change Exitlag Setting
Enable Exitlag after starting the game
Create a Firewall Exception for Exitlag
Fix No connection through ExitLag
1] Change the Exitlag Setting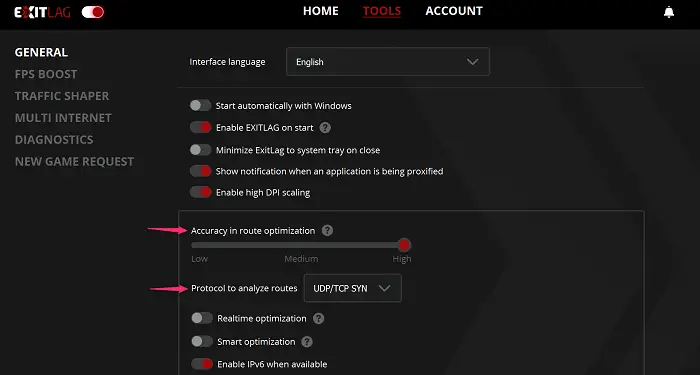 After the complete installation of Exitlag follows the below steps to modify the Exitlag settings.
Open the Exitlag and navigate to the Tools tab from the top.
Make sure that the Accuracy in the route optimization slider is set to High.
After that, click on the Protocol to analyze routes dropdown menu, and select UDP/TCP SYN from the list of options.
Also read: Fix Escape from Tarkov Server Connection Lost error.
2] Enable Exitlag After starting the game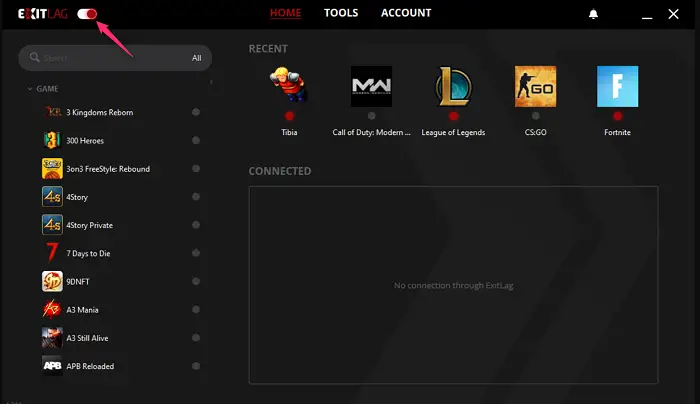 If you want to fix no connection through Exitleg, then you should enable the Exitlag after starting the game.
First of all, close the game which is not working well.
Go to the Exitlag and turn OFF the Toggle button by clicking on it.
Now, start the game again and click on the same Toggle button to turn ON the Exitlag.
3] Create a Firewall Exception for Exitlag
In some cases, the Windows firewall can prevent Exitlag from modifying the connections parameter, that's the reason why Exitlag is not working. In this case, you should create a firewall exception for Exitlag to fix this issue. Below are the steps on how to do it.
Navigate to the Windows search bar by pressing the Windows + S keys then type Control Panel into the text area.
Now, click on the relevant search result.
Set View by to the Large icons to show all the options.
Now, search the Windows Defender Firewall option and click on it.
Now, click on the option "Allow an app or feature through Windows Defender Firewall" shown in the top left corner.
Click on Change Settings > Allow another app.
Click on Browse in the Add an app Windows.
After that, navigate to the Exitlag launcher, select it and then click on Open.
Now the Exitlag launcher will add to the Add an app Windows now click on Add.
Finally, click on OK to save the changes.
After that, Restart your system and Exitlag will now work fine. Now you can play any favorite game in Exitlag.
Also read:
Does Exitlag work with bad internet?
Yes, Exitlag is advertised as a virtual private network (VPN) for online gaming. It is intended function is to optimize your internet connection. So, if you have a bad network or poor connection, then you can use Exitlag to get better performance. Exitlag also claims that it has access to a worldwide service network that is spread across various continents to optimize the most connection between players and game servers.
Also read: Not connected, No connections are available in Windows
Why is Exitlag not working?
Here is the following reason why your Exitlag is not working on your PC.
It can be likely a server-related issue.
It can be a misconfiguration issue.
And the game may have blocked its use.
Also read: Keyboard shortcuts and Hotkeys are not working
Can you get banned for using Exitlag?
You cannot be banned just for using Exitlag. Yes, epic games confirmed on Reddit that it does not issue bans for using Exitlag. So, if you are already using Exitlag or planning to start using it, make sure to read the game policies and the term of service agreement. Or you can confirm with the game's support team if they permit the use of Exitlag.
Also read: List of countries that have officially banned the use of VPN software.