People usually forget to lock their desktop when they leave their desk for some time and an open desktop could be a real threat and could have serious consequences. One should always lock the screen when leaving the computer and for added security, you should also set your Windows 8 PC to automatically lock when it goes to sleep. Eusing Maze Lock can help you in that.
Eusing

Maze Lock
Using the pattern lock is in trend these days and most of the Smartphone users today use the pattern lock instead of passwords. With Eusing Maze Lock you can safely lock and unlock your Windows PC, just by connecting some dots in a specific pattern. It is a tool which offers a new and a fun way for you to lock your computer. This Windows application is designed especially to help you lock your computer with an alternative and more secure method, by using a set maze or pattern. Windows Touch device users or Surface users too may find it useful.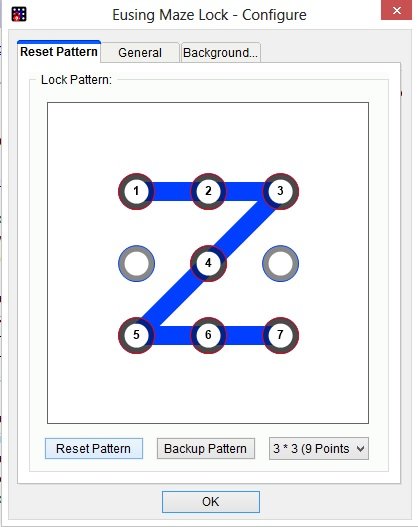 With a size of less than 1 MB, Eusing Maze Lock works with Windows XP, Windows Vista, Windows 7, and Windows 8.  The tool uses a pattern based technique to lock your Windows PC. It downloads and gets installed in your computer system within a few minutes and is ready to use. Right after installing and launching the program, you have to reset the pattern lock from default pattern to your own lock pattern.
The main overview of the program is very simple and says all. Just click on the 'Reset Pattern' button and set your preferred lock pattern by joining the dots.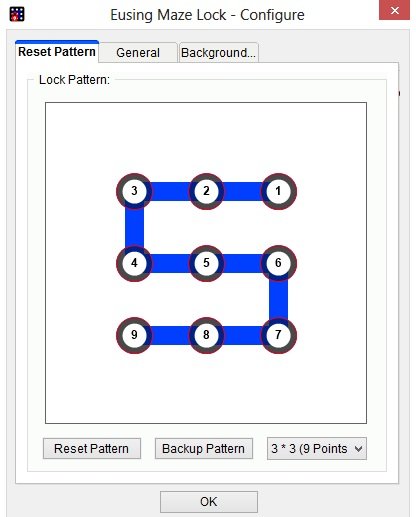 The program also lets you store a backup file for your lock pattern in case you forget it. Eusing Maze Lock locks your computer automatically when it is inactive.

Overall, Eusing Maze Lock is a wonderful tool designed to which helps you lock your Windows 8 computer with just a single click on the icon in your system tray. While it provides a different locking system, it also allows you to lock the machine instantly with a custom hot key. Just a single click and your PC is protected from any intrusion. The tool ensures that your computer is locked even if you forget.
You can download Eusing Maze Lock here. Although, I have tried this free software on my Windows 8.1, and it worked fine I recommend creating a system restore before you download and install this or any program on your PC, and take care while installing any freeware to ensure that it does not push any unwanted third-party software onto your computer.
Let us know how you like or dislike it!