You may see 'Error 16: The Sims has encountered a problem' if your PC does not have enough space to save the game files. The error is generally caused due to piled-up cache, corrupted mods, or due to the fact that the drive where your game files are being stored is full. In this article, we are going to learn more about the reasons and what should be done to resolve the issue.
Fix Error 16: The Sims has encountered a problem
If you encounter Error 16: the Sims has encountered a problem, execute the solutions mentioned below to resolve the issue.
Make sure you have enough space
Verify game files
Delete mods
Delete game cache
Temporarily disable third-party antivirus or Windows Defender
Let's get started.
1] Make sure you have enough space
This error, as we mentioned earlier, is due to low storage on your device. When you play the game, it stores its files and progress on your system, allowing you to start from where you left the game. However, if you have low storage, your progress won't be stored, and you'll see the error. That's why make sure that the drive where your program files are stored has space, and is not filled. If you want to know in detail what all files are taking up storage on your drive, just open Settings,  go to System > Storage, and there you can see all types of files stored in your drive giving you a better understanding of the
2] Verify game files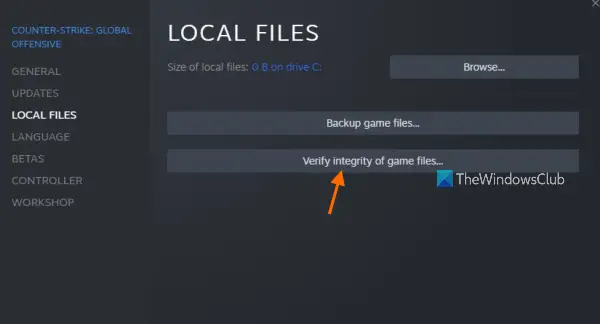 The error is likely to be caused if there's any issue with game files. So, it is important to check the integrity of game files to make sure that it is neither missing nor corrupted. If this is applicable to you, check out the steps mentioned below:
Launch Steam, and go to the Library.
Right-click on The Sims and then select the Properties option.
In the Local Files tab, select Verify integrity of game files.
This feature of Steam is one of the best, as it saves your time by not only detecting fault but also solving it. Now check if the issue is resolved or not.
3] Delete mods
Mod is what we call modification or customization that users add to the game in order to improve their gameplay or have some advantages. It's all good to customize the game, however, this can also create issues within the game, putting too much load on your computer. Also, there have been cases where the mod itself got corrupted or was malicious, as a result of which, Sims was unable to launch the game and shows the said error. In such scenarios, it is best that you delete mods, and see if the issue persists.
4] Delete game cache
According to some users, deleting the cache stored on your device resolves the issues. We are going to do the same and delete the game cache. To do the same, open File explorer, and click on Documents. Select The Sims 3 (or any other version) folder, and now delete the localthumbscache.package and delete all the file that ends with .cache.
After deleting the cache, restart your computer, open Steam, and verify the game files (check the second solution). Steam will scan and verify if any of the required files are missing. Once Steam completes its job, relaunch the game, and hopefully, this will do the job.
5] Temporarily disable third-party antivirus software or Windows Defender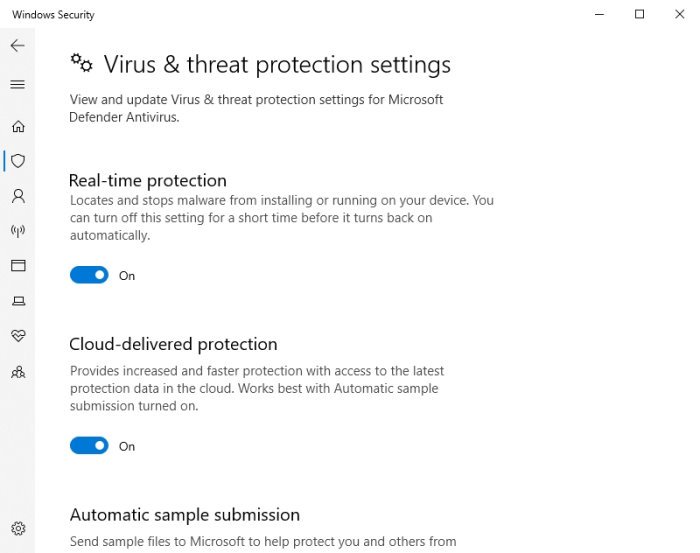 Antivirus and firewalls can make mistakes and stop your game from storing its file. In such cases, we recommend you disable third-party antivirus software for a particular time period and see the results. If you have Windows Real-time protection on, you can disable it as well using the following steps.
Hit Win+I to open Settings.
Go to Privacy & security.
Now, click on Windows security, open Virus & threat protection, and click on Manage settings under Virus & threat protection settings.
Finally, switch off the toggle key of the Real-time protection option.
If you are using any other antivirus software, then make sure you also disable that. After doing so, reboot your device, launch the game, and check if the issue persists or not.
If this worked, we can clearly say that your antivirus is the one causing this issue. Leaving the antivirus disabled at all times is not recommended as it will make your system vulnerable. In such cases, allow the game through the firewall or add an exception to your antivirus.
Read: Can't run The Sims 4 with the video card in this system.
How do I fix error code 16 on Steam?
You may encounter error code 16 in Steam as well due to incompatibility or conflicting apps. They are runtime error that stops Steam from launching on the user's computer and to fix them – Close all conflicting programs, Check your internet connection, Update your graphics drivers., Update Steam and Reinstall Runtime Libraries.
Also Read: Fix The Sims 4 not opening or launching on Windows PC.