When trying to log in to their Xbox console, some users face the error 0x89231022. Just a glance at the error message indicates that it is a result of your Xbox Live subscription being expired. However, as per the complaints, even users with subscriptions cannot log in. In this article, we are going to talk about every possible reason and solution that can help you in resolving error 0x89231022 in Xbox Live.
To join a party and chat, you'll need Xbox Live Gold. To update an existing subscription or get a new one, go to Settings > Account > Subscriptions.

[0x89231022]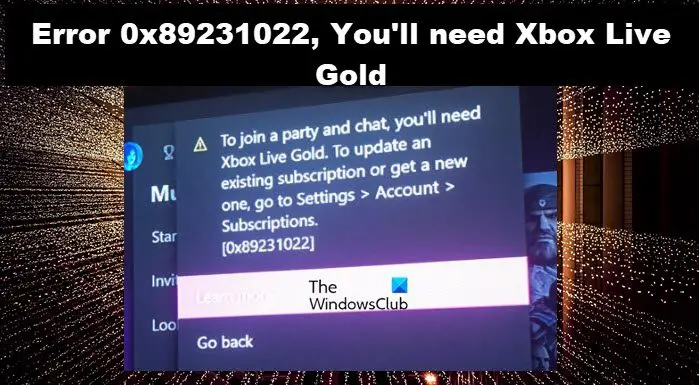 Why is my Xbox saying I don't have gold when I do?
Xbox will say you don't have gold membership when your profile gets corrupted. A corrupted profile is not something to be afraid of; we must remove and re-add your profile. However, there are some other network issues that have the potential to cause this issue. In this article, we are going to discuss all of them.
Fix Error 0x89231022, You'll need Xbox Live Gold
If you receive Error 0x89231022, which says 'You'll need Xbox Live Gold', execute the solutions mentioned below:
Check the Xbox Live Server's status
Update Xbox Live Gold and Update the Game Pass subscription
Use ethernet connection
Power cycle the console
Re-add the Xbox profile
Delete the alternate MAC address
Let's get this show on the road.
1] Check the Xbox Live Server's status
As per some users' reports, Error 0x89231022 was previously flashing on their screens due to some glitch with Xbox Live subcomponents. However, we can also see the error when the Xbox Live server is under maintenance or there's a server outage. In such a case, we can go to support.xbox.com to check its server's status, and if it's working fine, move on to the next solution. In case the server is down; there is nothing we can do other than wait for the issue to be resolved.
2] Update Xbox Live Gold Subscription
Having launching issues along with encountering error codes can also happen if Xbox Live Subscription is outdated. Therefore, we recommend checking whether it is updated or not. To do the same, click on the Xbox button and open the guide menu. In the System tab, click on Settings. Navigate to the Account tab, and on the right side, select Subscription. Now, if it is not updated, do it right away.
3] Power cycle the console and the device
Errors while logging can occur due to firmware-related issues. Nevertheless, this can be resolved by simple steps such as power cycling the PC. Restarting and power cycling the console is a different method, and the latter option is useful when dealing with such situations. Therefore, press and hold the Xbox button for at least 10 seconds, then wait for a minute and restart the console. Hopefully, the issue will not be stopping us from logging in now.
4] Use ethernet cable
Another reason for the occurrence of such types of errors is when the Internet is not stable and it disconnects and connects abruptly. This usually happens when the WiFi signal is weak; hence, we recommend checking the Internet connection and using an Ethernet cable instead of a wireless one, as it's a known fact that a wired connection is more stable than a wireless one. If an ethernet cable is not possible, make sure the connection is faster by sitting close to the router.
5] Re-add the Xbox profile
A corrupted profile is also the reason why we are facing such kind of issue; therefore, to resolve the issue, we are going to remove it, and re-add the profile. To do the same, follow the steps prescribed below:
Press the Xbox button on your controller to open the guide.
Go to Profile & system > Settings > Account.
Under Account, select Remove accounts and then select the account that must be removed.
Now, select Remove to confirm and then Close when done.

To now redownload and re-add your profile, do the following:
Press the Xbox button on your controller again.
Select Add new in Profile & system.
Note: You won't be creating a new account when you select this option. You're just adding your existing profile to the Xbox console.
Type the email address or phone number to sign in to the Microsoft account and enter the password.
Hopefully, this will resolve the issue.
6] Delete the alternate MAC address
If adding the Xbox profile did not help, clear the alternate MAC address on the Xbox Console. Clearing the MAC Address helps the console to clear out the cache and reset the alternate MAC settings. The following steps will guide you to do the same:
Open Xbox Guide and select Settings.
Go to Network and open Advanced settings.
Now, select the Alternate MAC address option.
Click Clear.
After clearing the alternate MAC address, restart the console and see if login to the account is possible or not.
Read: How to use multiplayer in Xbox Live games on Windows PC
Why can't I pay for my Xbox Live subscription?
If you are unable to pay for Xbox Live Subscription, check if the debit card has sufficient funds, your credit card has not expired, or your account is closed. If everything is in check, check if the Xbox server is down; if it is down, wait for some time and then try.
Read: Can't connect to Xbox Live; Fix Xbox Live Networking issue in Windows.