Instant Elevator Music is a program that automatically plays elevator music while you wait for programs to open, files to copy, and downloads to finish.
Elevator Music refers to the gentle instrumental arrangements of popular music designed for playing in malls, stores, cruise ships, airports, doctors,  dentists … and elevators.
Elevator Music for Windows PC
When you run Instant Elevator Music, it will sit in your notification area and play elevator music automatically when you do something that requires you to wait. Or, you can double-click the icon to start playing music.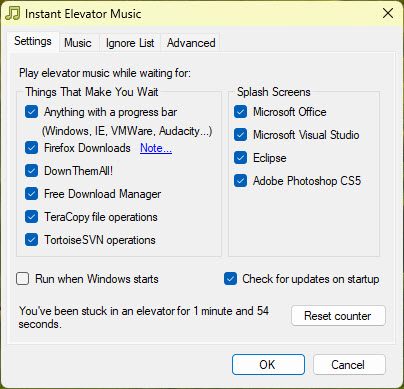 Instant Elevator Music works with a surprisingly large number of programs, including:
Windows Explorer: while copying/moving/deleting files
Browser: while waiting for downloads to finish
Microsoft Office and Visual Studio: while waiting for programs to load
7-Zip: while waiting for archives to extract
TeraCopy: while waiting for files to copy/move
Audacity: while waiting for music files to open/save
Eclipse: while waiting for it to load, complete a build or refresh the workspace
VMWare: while waiting for a virtual machine to resume
Virtual PC: also while waiting for a virtual machine to resume
In fact, Instant Elevator Music will work with anything that shows a progress bar
Download & Enjoy Instant Elevator Music. It works fine on Windows 11 too.