Do you want to join Wi-Fi using WPA3 security in Windows 11? The WPA3 security is the latest WiFi standard with far better security than its predecessors, created to protect users' WiFi from attacks and security threats. Many routers now support this security type, and you can easily enable it via the router's website. However, users have issues when trying to join Wi-Fi with WPA3 on their PCs as they probably don't know the requirements for using this security type on their Windows 11.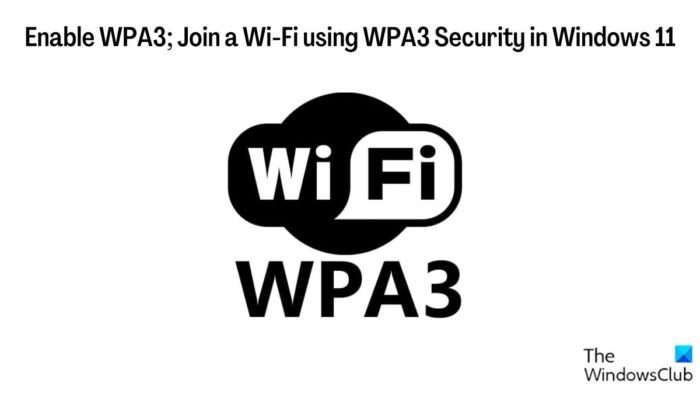 Hence, this article will discuss how to join WiFi using WPA3 security in Windows 11 and other details about the security type. Stay with us!
What is WPA3, and is it better than WPA2?
As mentioned above, WPA3 is a new iteration of the Wi-Fi Protected Access security standard built to enhance people's Wi-Fi security. As most of us know, hacking WiFi to access people's devices is now a common thing, and many people have fallen into this form of attack.
As long as you are using WiFi with a security type that runs with a shared password, you run the risk of being attacked by hackers who also have access to the WiFi password. This is the problem WPA3 is actually built to solve, as it doesn't run on a shared password arrangement.
Each new device that connects with WiFi using this security will do so through a process that doesn't require them to use a shared password, which is not the same as with WPA2.
How to join a Wi-Fi using WPA3 Security in Windows 11
Connecting to Wi-Fi using WPA3 is almost the same as connecting to Wi-Fi with other security types. However, there are a few requirements that need to be met before you can do so, and here are they:
Router with WPA3 support.
Windows 11 updates are installed on your PC.
PC must have a wireless network adapter that supports WPA3
1] Router with WPA3 support
It's important to know that most routers are just getting configured with WPA3 security. So if you want to use this security type on your Windows 11 PC, you must make sure that the router you are using supports it. This information is most times available of the device manual or its manufacturer's website. However, you may be required to make changes to the router's website to enable WPA3.
2] Have Windows 11 updates installed on your PC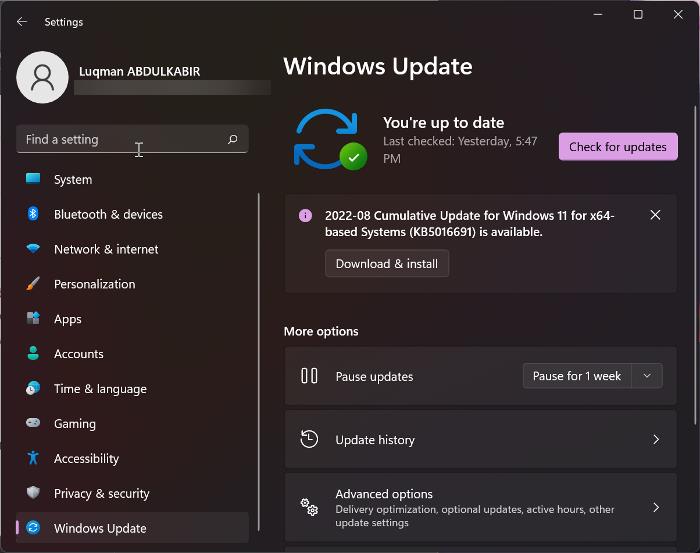 Currently, only Windows 10 (2004) and Windows 11 support WPA3. This means that if your computer doesn't have one of these Windows versions, it can't join Wi-Fi using WPA3 security. Moreover, if you are already using one of the Windows versions, you should ensure you have the latest updates installed. Here is how to check for updates on Windows 11:
Press Windows + I to open Settings.
Click on Windows Updates.
Select Check for Updates.
3] PC must have a wireless network adapter that supports WPA3
Every PC comes with a specific wireless network adapter, which may differ depending on the PC brand and mode. Each of these wireless network adapters has its own features and support. This means that if your wireless network adapter doesn't support WPA3, you won't be able to connect to Wi-Fi using the security type on your computer. To know if your wireless adapter supports WPA3, you can check its manufacturer's website or, better still, use this method:
Open Command Prompt.
Type netsh wlan show drivers and press Enter.
Then look under the Authentication and cipher supported in infrastructure mode and see if it has WPA3-Personal.
If you have a router and a network adapter with WPA3 support, the only thing needed to be able to use the security type is a Windows update. As long as all these requirements are met, you can easily join Wi-Fi using WPA3 Security in Windows 11.
Read: WPA3-Personal and WPA3-Enterprise Wi-Fi Encryption explained
How do I know if I'm connected to WiFi using WPA3 security?
To find out if you are connected to Wi-Fi using the WPA3 security type:
Connect to WiFi and right-click on the WiFi icon on the right-hand side of the taskbar.
Tap on Network and Internet Sharing.
In the resulting window, click on WiFi and select the WiFi network you are connected to.
Scroll down on the WiFi network page and check the value in front of the security type.
If it's WPA3, you are connected to WiFi using WPA3 security.
Read: How to scan a Wi-Fi QR Code on Windows 11/10?
Can my device connect to WPA3?
If all the requirements mentioned in the article are met, your device can connect to Wi-Fi with WPA3 security. Moreover, WPA3 works with all devices that support Wi-Fi 6.