You may have heard of Tobii, the technology that lets you control the mouse pointer, launch apps, open links, and do more, simply by moving your eyes. But nothing has been heard so far about the status of this would-be path-breaking software that would allow a computer user to move the mouse cursor simply by moving one's eyes. I suppose it is still under development.
Move the mouse pointer with your head movement
Till then I would like you to check out Enable Viacam, open-source software for Windows and Linux, that lets you control the mouse pointer by moving your head – something similar to Camera Mouse.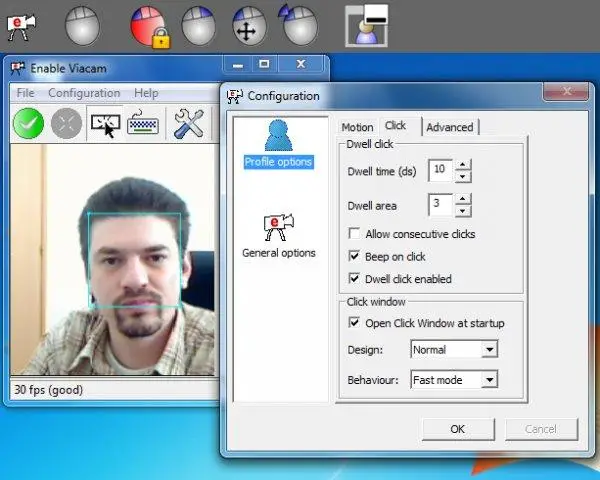 Enable Viacam for Windows PC
Enable Viacam is a mouse replacement software that lets you moves the mouse pointer, with the help of your head. Simply move your head – and the mouse pointer will move! It is based on the Facial Mouse software and works on standard PCs equipped with a web camera – without the need for any additional hardware.
Once you have downloaded and installed this software, run the configuration wizard. During the course of its run, you will be asked to set some settings and move your head in different directions. These screenshots will give you an idea about the configuration wizard's run
To begin with, it might be a good idea to leave all the values at their defaults. Later on, if you find the pointer movement too sensitive and fast, you may change the respective values.
A control bar appears at the top of your computer screen that lets you perform task like right-click, left-click, drag-and-drop and so on.
If you are physically challenged or suffer from Carpal Tunnel Syndrome or even suffer from inflation in the wrists, you definitely want to give this software a go and see if it suits you. You may have to adjust and calibrate the mouse speed to suit you and it may take some time getting used to – but if you can adapt to it, I think it may prove to be a boon to you.
The developers of Enable Viacom say that Windows users may need to disable the User Account Control (UAC) to run eViacam properly. With UAC enabled problems may arise, especially the inability to confirm elevation prompts or to open the on-screen keyboard shipped with the system (osk.exe). This issue is expected to be fixed in future updates.
You can download it from here. It works with Windows 11/10/8/7.
If you do decide to try it, let us know how it goes for you.
How can I control my mouse with my head?
If you want to control your mouse with your head, you need to use an app called Enable Viacam. As there is no in-built option in Windows 11 or Windows 10, you must use a third-party program, as said earlier. For your information, it is a freeware and compatible with Windows 11, Windows 10, and older versions.
How do I make my mouse pointer move automatically?
To make your mouse pointer move automatically, you can use the Enable Viacam app. It lets you control your mouse by moving your head. In other words, if you want to move your mouse pointer from left to right, you need to move the head in the same direction.