When installed on Windows, Apps can register themselves to launch as soon as you log in to your account. While this works for those apps which you need to be there, such as Screenshot taking tools, but apps that can be launched later can get annoying. The same is the case with the Xbox App, and this guide will show how you can enable or disable the Xbox App Automatic Startup on Windows 11/10.
If all you do is game on your Windows PC, keep it enabled as it is the center of your gaming and should become available as soon as possible.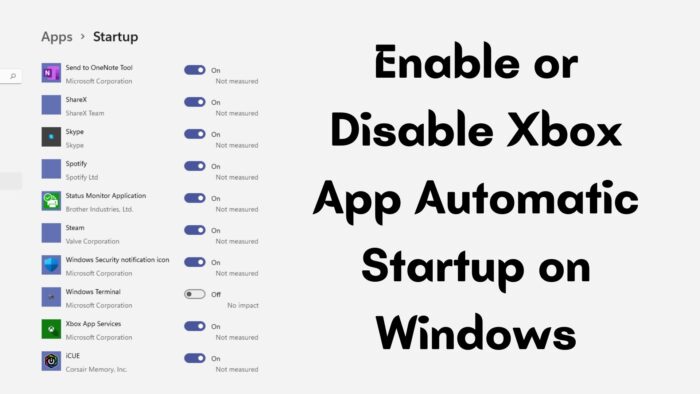 Enable or Disable Xbox App Automatic Startup on Windows PC
Similar to how you can disable any app from startup, Xbox App can also be removed. You have the following options:
Windows Startup
Launch App in Background
Uncheck from App Launch Settings
You do not need admin permission and only affect individual account settings.
1] Windows Startup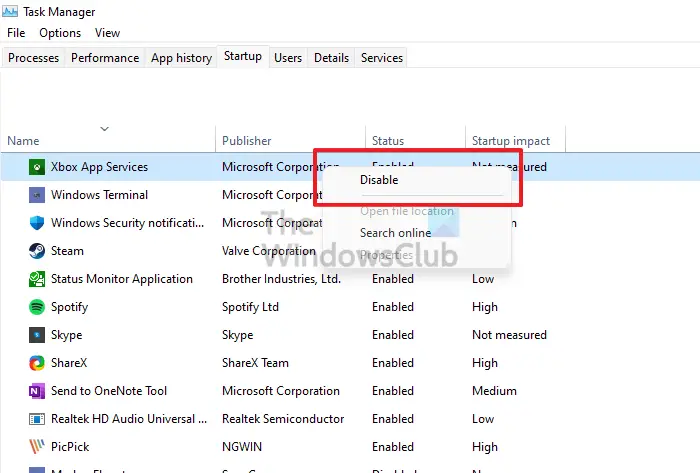 The easiest way to disable any app from the startup is using the Task Manager. Use Cntrl + Shift + Esc keys on the keyboard to launch the Task Manager. Please switch to the Startup tab, and then locate the Xbox App and right-click on it. Choose to disable it if it's enabled. If you want to enable, do the reverse.
2] Disable from App Launch Settings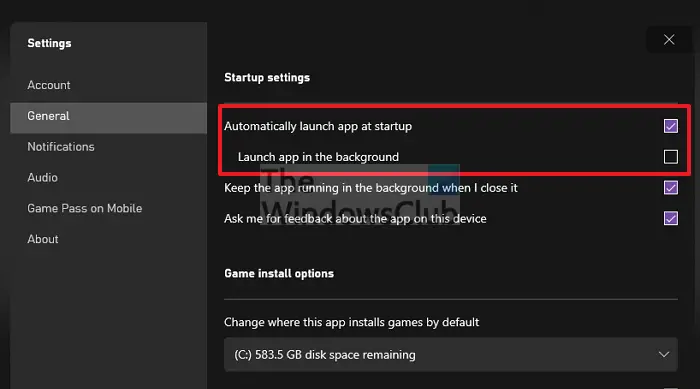 Open the Xbox App, and click on your Profile icon on top-right. Then click on Settings. Switch to the General section, and uncheck the Automatically launch the app at startup. Close the app. The next time you start your PC, you should not see the Xbox automatically loading.
3] Launch App in Background
If you want the app to launch but do not want to come up front and take away the focus, you can uncheck the Automatically launch app at startup but keep the Launch app in the background option. It will silently launch the Xbox App and will be ready when you need it.
How do I stop apps from auto-starting?
Open Windows Settings ( Win + I)
Navigate to Apps > Startup
Locate the App and toggle it off
You will need to repeat this for every app you don't want to launch.  Also, once you disable programs you don't need, it should help you speed up your PC.
What kind of apps should I disable?
Apps that you don't need right away can be removed from the Startup, but it will also depend on your work. For example, if you are using a screenshot tool, you may want it to be there if you use it most of the time. Apps such as Spotify need not be there as soon as you log in. So choose wisely
I hope the post was easy to follow, and you were able to enable or disable Xbox App from Automatic Startup on Windows 11/10. It all depends on your choice. Those who game would like to have this app right away; else, it can be disabled to save some startup time.