Many gamers have a TV that supports ALLM or Auto Low-Latency Mode aka variable refresh rate output, which helps to reduce latency during gaming and minimizes display stuttering. This makes sure to deliver a super-smooth visual gameplay experience in games. Xbox April update has enabled this, and this guide will tell you how to enable auto low-latency mode on Xbox One.
Enable Auto Low-Latency Mode on Xbox One
Many TVs have inbuilt "Game Mode" which optimizes refresh rate for such scenarios. ALLM enables the family of Xbox One devices to notify your display when you are playing a game, and it will force the TV to switch to low latency mode or "game mode" automatically. As soon as you switch back to normal TV viewing, it switches the TV to last display settings.
Go to Settings > Display & Sound > Advanced Video Modes
Select Allow variable refresh rate.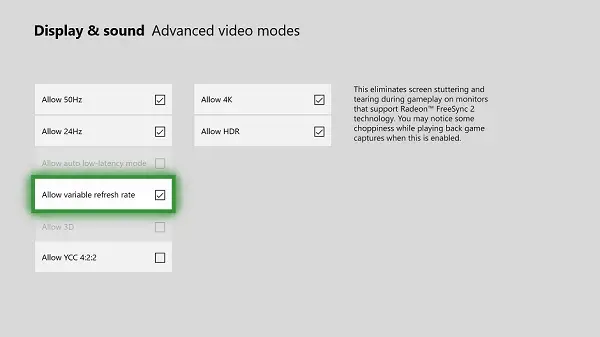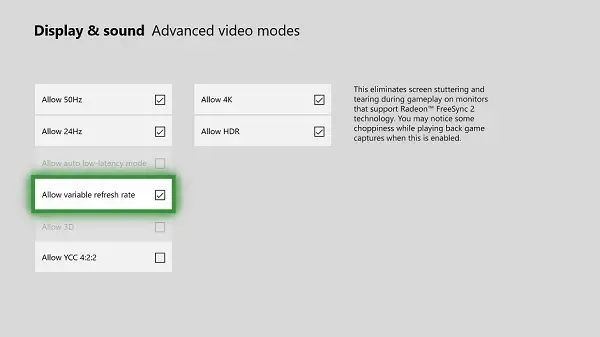 It supports  AMD Radeon FreeSync and FreeSync 2 compatible displays.  FreeSync is a form of variable refresh rate which helps to reduce input latency and minimize display stuttering. Microsoft claims that the entire Xbox One family of devices will work with FreeSync-certified displays. Xbox One S and Xbox One X will also support high dynamic range with AMD Radeon FreeSync 2.
On Free Sync 2: FreeSync 2  includes standards for things like color and dynamic range. It removes the minimum requirements for frame rate, and setting a maximum on screen latency. FreeSync 2 also doubles the color and brightness spaces, and communicating the screen's specifications to the driver, enabling automatic support for high dynamic range.
1440p Display Support
Windows has also enabled support output at 2560 x 1440 (1440p) resolution for games and media, i.e., a resolution which falls between Full HD and 4K which makes it a viable choice who cannot afford a 4K TV but have an option for 1440p resolution.
Microsoft has enabled this support for Media or Streaming apps, but they will have to update their apps to enable this. This applies to the games as well.
Go to Settings, and then navigate to "Display & Sound," then "Video Output."
Turn on the option for 1440P.
You'll only be able to turn on these settings if your TV or monitor supports them.