If you want a free tool with no to record your screen then there can be no better option than Electron Screen Capture. It is an open-source screen recording application with a minimalistic design. Its main advantage is its 'effortlessness'.
Electron Screen Recorder for Windows 11/10
Once you have downloaded and installed it, launch the tool.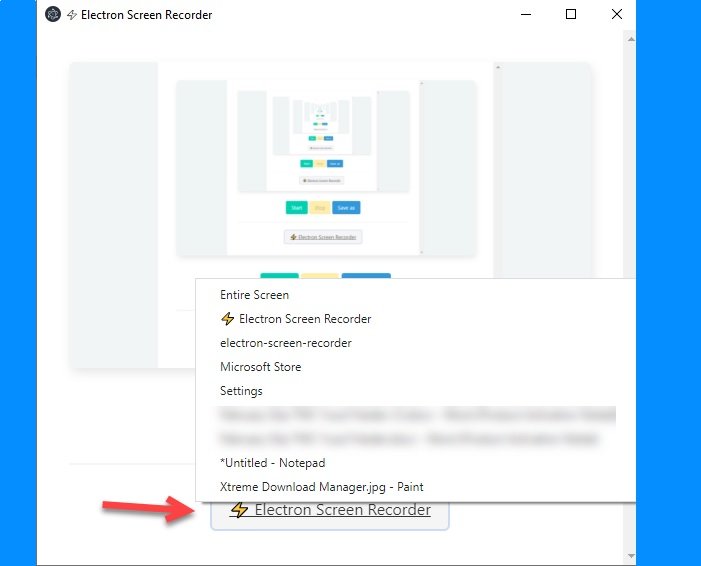 You just need to select the portion you are going to capture. If just want to record what's on your screen then select Entire Screen or select any of the open apps and click Start to begin recording.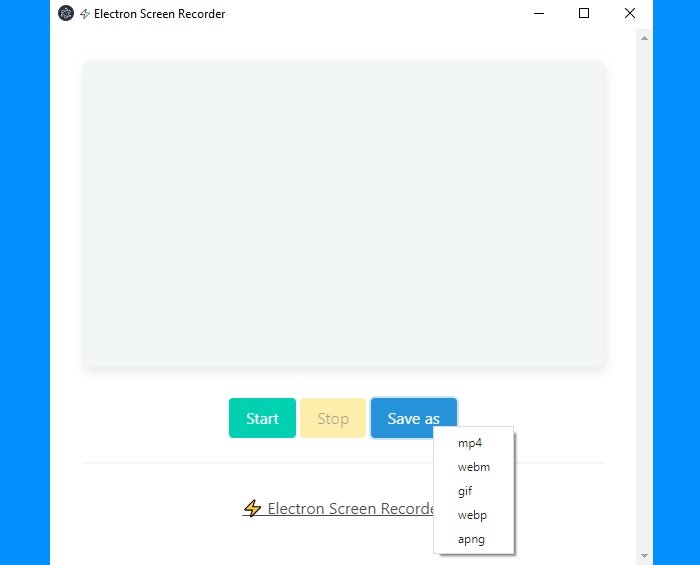 You can even save the video in your desired format by clicking on Stop > Save > select one from the given formats that include MP4, WebM, GIF, WebP, or APNG > save your file to your desired location.
All these formats are good in their ways. Comparing WebM, GIF, and WebP, we will see that all of them are good with WebM being the smallest, GIF being the largest, and WebP somewhere in the middle. However, one thing to note here, the size of the file is proportional to its quality.
Another format is APNG which is similar to GIF with a minimum loss but a smaller size. But if you want to make a proper video that you are going to upload on the Internet then go for MP4.
If you want a one-sentence review of this software then that would be it "it is a good free screen capturing tool". There is one drawback I feel. It doesn't ask you to set the video resolution or frame rate and it also doesn't have a video editor of its own.
Another thing we need to talk about the Electron Screen Recorder is its RAM management. It consumes an adequate amount of RAM as while recording it consumes 300-400 MB RAM but when saving, it cranks up the RAM usage to approximately 1 GB.
That being said, it is a really nice application to record your screen. For a free app, you are getting a simple solution that doesn't take a lot of time to set up the process and use it.
You can download the Electron Screen Recorder from the GitHub website. You need to click on the Check the latest release option from the "Download" section to download the updated version. You can download either the zip file or .exe file for both Windows and macOS. However, if you want an effortless installation download the .exe file.
If you need options, here are some other free screen capture tools and screen recorder software you can take a look at.