One of the numerous Blue Screen of Death errors Windows 10 users might encounter on their device is EFS_FATAL_ERROR. The error bug check has a value of 0x000001D7. It indicates that an EFS (Encrypting File System) error condition has occurred such that it cannot be handled without data loss or data corruption. In this post, we will provide the most suitable solutions you can try to resolve the issue successfully.
Fix EFS_FATAL_ERROR Blue Screen error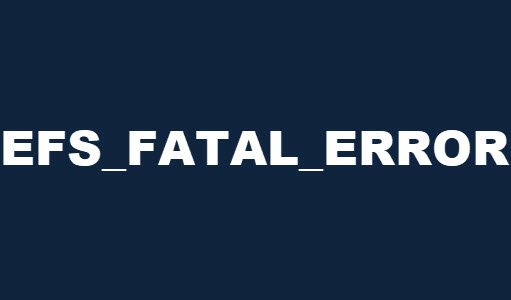 If you're faced with this issue, you can try our recommended solutions below in no particular order and see if that helps to resolve the issue.
Run the Blue Screen Online Troubleshooter
Run CHKDSK
Run SFC scan
Run DISM scan
Perform System Restore
Repair Windows installation.
Let's take a look at the description of the process involved concerning each of the listed solutions.
If you can log in normally, good; else you will have to boot into Safe Mode, enter Advanced Startup options screen, or use the Installation Media to boot to be able to carry out these instructions.
1] Run the Blue Screen Online Troubleshooter
Your first line of action with every BSOD error is to run the Blue Screen Online Troubleshooter from Microsoft. In more cases than not, the wizard will be able to fix the issue.
2] Run CHKDSK
Here, you can run CHKDSK and see if the issue will be resolved.
3] Run SFC scan
If there are corrupt system files, you might encounter this issue. This solution requires you run SFC scan and see if that helps.
4] Run DISM scan
This is another native tool for the Windows 10 operating system which can be used to fix system file corruption as well as Windows image. Since corruption in these files is known to cause blue screen errors, you can run DISM scan and see if that helps.
5] Perform System Restore
If this BSOD error started to occur recently, it's entirely possible that the issue was facilitated by a change that your system has gone through recently.
If you have no idea what changed, you can use System Restore (any changes like application install, user preferences and anything else made after the restore point will be lost) to revert to a date where you're certain that your device was working properly.
To perform System Restore, do the following:
Press Windows key + R to invoke the Run dialog.
In the Run dialog box, type rstrui and hit Enter to open up the System Restore Wizard.
Once you arrive at the initial screen of System Restore, click Next to advance to the next window.
At the next screen, start by checking the box associated with Show more restore points.
After you've done this, select a point that has an older date than the one in which you first started to notice the error.
Click Next to advance to the next menu.
Click Finish and confirm at the final prompt.
At the next system startup, your older computer state will be enforced.
6] Repair Windows installation
Repairing the Windows installation should be the last option in your attempt to fix this EFS FATAL ERROR Blue Screen error.
Hope this helps!