Some users are complaining that the settings on Microsoft Edge are resetting whenever they close and reopen the browser on Windows 11/10. They have to set and configure the browser again. Except for the data like favorites and saved logins synced through user accounts, the user has to configure everything. If you are facing the same issue with Microsoft Edge, this guide will help you fix it and use the browser without much trouble configuring everything again.
Edge keeps Auto-resetting on Restart
If Edge keeps auto-resetting when you reopen it, the following methods can help fix it:
Turn off running of background apps when Edge is closed
Repair Edge via Settings
Create New User Account
Let's see the fixes in a detailed way.
1] Turn off running of background apps when Edge is closed
By default, on Microsoft Edge, there is an option enabled that enables apps to run in the background even when Edge is closed. Apps are extensions and some Edge functions that run in the background to give you a seamless experience while browsing. Turning it off might fix your problem of automatic reset of settings on Edge.
To do so, click on the three-dot menu on the toolbar and select Settings from the context options. On the Settings page, click on System from the left sidebar.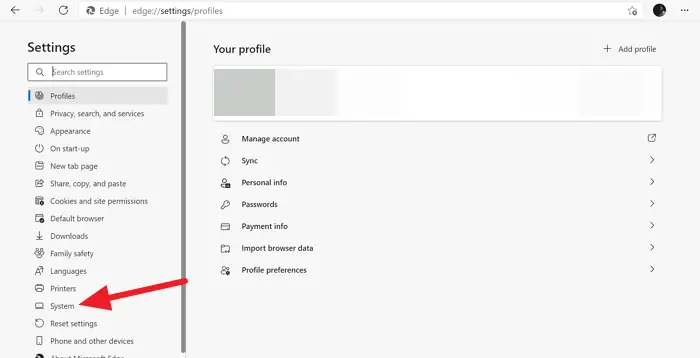 Now, you will see the System settings page on Edge. Disable Continue running background apps when Microsoft Edge is closed by toggling the button beside it.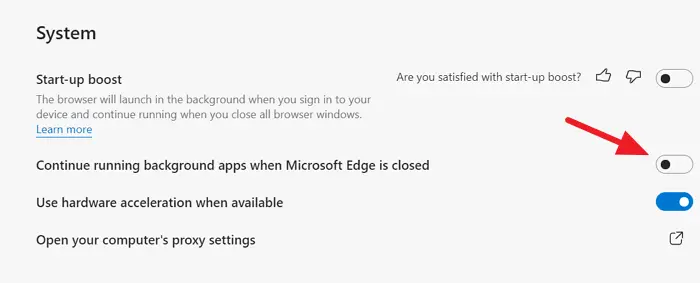 Your problem might have been resolved as you have turned off the background apps on Edge. If not, try the following method.
2] Reinstall Edge via Settings
You can reinstall Microsoft Edge via Settings as follows:
Open Settings
Click Apps > Apps and features and search for Edge.
Press Modify.
This will reinstall Edge, and you will see a new icon placed on the desktop.
Alternatively, if you wish, you can download Edge and fresh-install it, like any other program.
Related: Windows Settings reset to default after a reboot.
3] Create New User Account
If you are still facing the issue, creating a new user account on your PC with administrative rights and using it on Edge is recommended.
After creating the new user account with administrative privileges, use it to sign in to Edge and turn on sync. Remove the old account from Edge. It would fix your problem.
This is how you can fix Edge automatic reset problems on Windows 10. If you have doubts or suggestions, do comment below in the comments section.