Upon attempting to install a GOG game, you may encounter an error bearing the following message The drive or UNC share you selected does not exist or is not accessible, Please select another. Here's what you can do to fix the problem.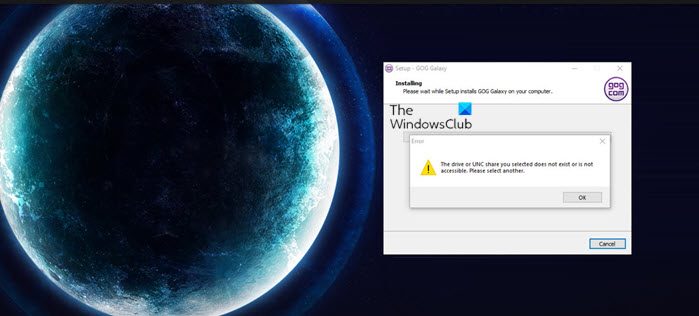 GOG Galaxy Game error The drive or UNC share you selected does not exist or is not accessible
Individuals who love playing GOG games on Windows 11/10 PCs sometimes report that while trying to install or reinstall a game they had previously installed, the external drive crashes. The real problem is that the error message appears even before choosing a destination for the gaming file to be saved. Fortunately, there's a simple fix for it.
Open the Run Dialog box.
Type appwiz.cpl and hit Enter.
Navigate to Programs and Features.
Uninstall GOG Galaxy.
Reinstall the game and launch it.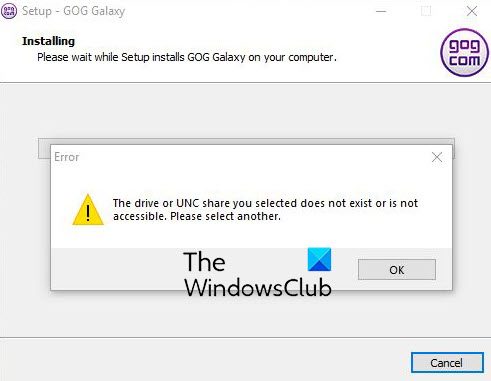 You can uninstall this program via Windows Settings or use the Control panel method as explained below:
Open the Run dialog box by pressing Win+R in combination. In the empty field of the box, type, appwiz.cpl and hit the Enter key.
This will open your list of currently installed programs on your computer where you can make selections to uninstall unwanted programs as needed.
Locate the GOG GALAXY entry. When found, right-click it and select Uninstall.
Instantly, you should see a notification mentioning that the uninstall file could not be found and if it should be removed from the list.
Grant the permission and then restart your PC.
Now try installing GOG Galaxy again. You shouldn't experience any issues this time.
FIX: GOG Galaxy game Corrupted data issue
Is GOG Galaxy better than Steam?
While GOG.com has its advantages, its game library isn't that big, especially when compared with Steam. Steam hosts over 50,000 games on its platform. GOG.com is just 10% of it. While there is some game overlap between the two platforms, GOG.com does not restrict its games with DRM.
Why is DRM important?
It's a way to protect copyrights for digital media through the use of technology that limits copying and selling copyrighted works. Most gaming companies use DRM to authenticate game purchases by buyers but it isn't limited to gaming only.
Hope it helps!