Want to download and add the missing Album Art of songs in Windows 11/10? This article will guide you on how to grab cover images of multiple songs and then embed them into the audio files on your Windows 11/10 PC.
For downloading cover art images of songs, we will be using a third-party freeware called Album Art Downloader. It is a dedicated software that lets you download cover images of all your songs within a few seconds. It uses a lot of online databases and services to fetch artwork for songs including Amazon, Bing Images, Discogs, Google Images, Google Play Music, iTunes, MusicBrainz, etc. It can also download cover art using just the artist and album info. After grabbing album art images using it, you can add them to your songs using the native music player app in Windows 11/10.
Although you can search for album arts and download cover images from the web, that would be really tiring. You will have to manually search for each and every song's cover image and then have to work on the cover image size also. With Album Art Downloader, you can skip all the manual hard work. It automatically downloads missing cover images of all songs from a directory that you can add to songs later.
Now, without much ado, let's check out the steps to download and add album art to songs in Windows 11/10.
How to download and add album art in Windows 11/10
These are the main steps using which you can download and add cover images to songs on Windows PC:
Download and install Album Art Downloader.
Launch the software.
Import your music library with multiple songs.
Click on the Get Artwork for Selection button and it will fetch and display available cover art images.
Save the desired album art locally.
Open Groove Music app.
Add and save the cover image to a song using the Edit Info option.
Let's check out these steps in detail.
Album Art Downloader for Windows PC
First and foremost, you will have to download Album Art Downloader from sourceforge.net and then install it on your Windows 10 PC. After that, simply launch this software.
Now, go to the File menu and click on the New > File Browser option. Next, simply provide the path to your music folder where you have saved your songs and click on the Search button. It will display a full list of all the available tracks in the given location.
Select all or the ones for which you want to download album arts and then click on the Get Artwork for Selection option.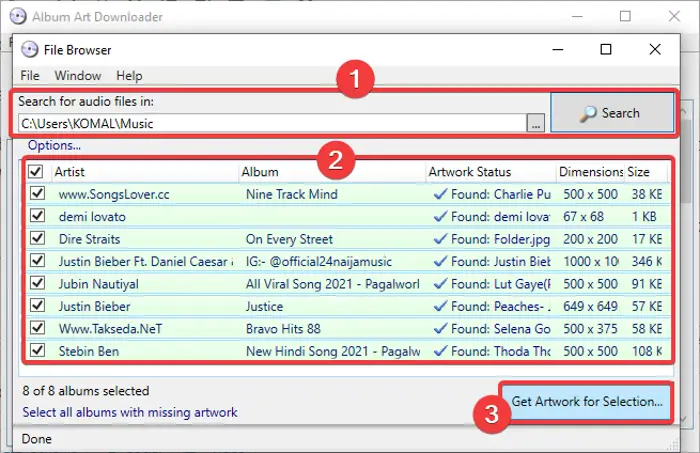 In just a few seconds, it will start showing you album art images of all the selected songs. Just select the Save As drop-down button below the cover image that you want to download. You will see various cover image options like Front, CD, Back, Inside, etc. Click on the type of album art you want and it will be saved in your source music directory.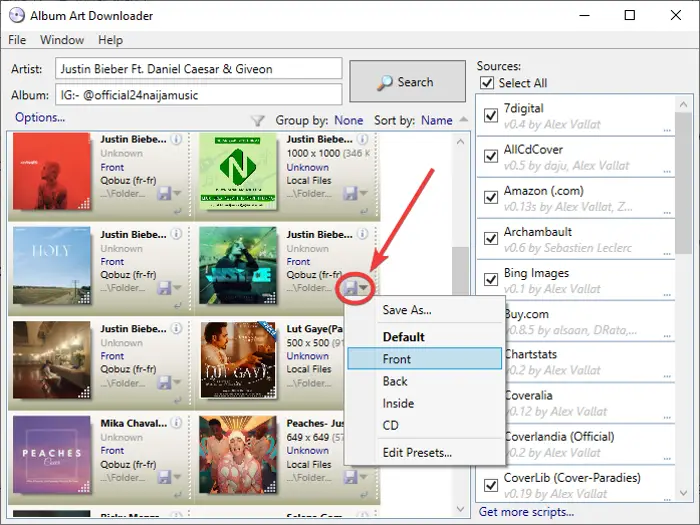 After downloading the album art, you need to add and save it to your song. For that, we will be using the native music player app of Windows 10 i.e., Groove Music. Simply add your music to this app and go to the My Music section and move to the Album tab.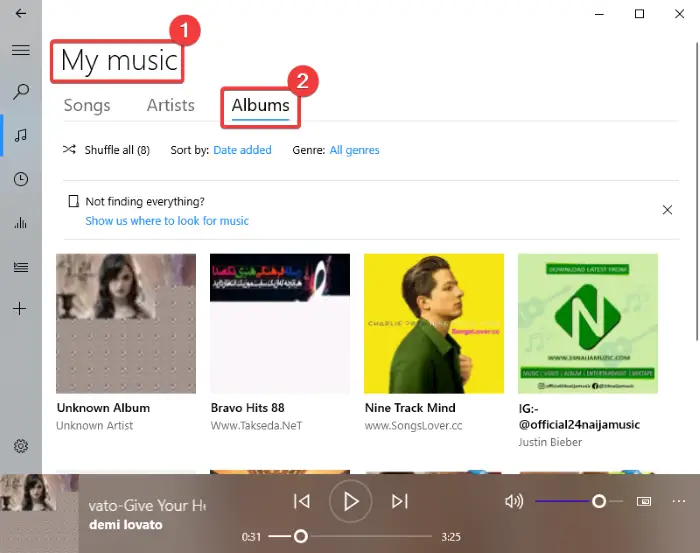 Right-click on the song to which you want to add a downloaded cover image and select the Edit Info option from the context menu.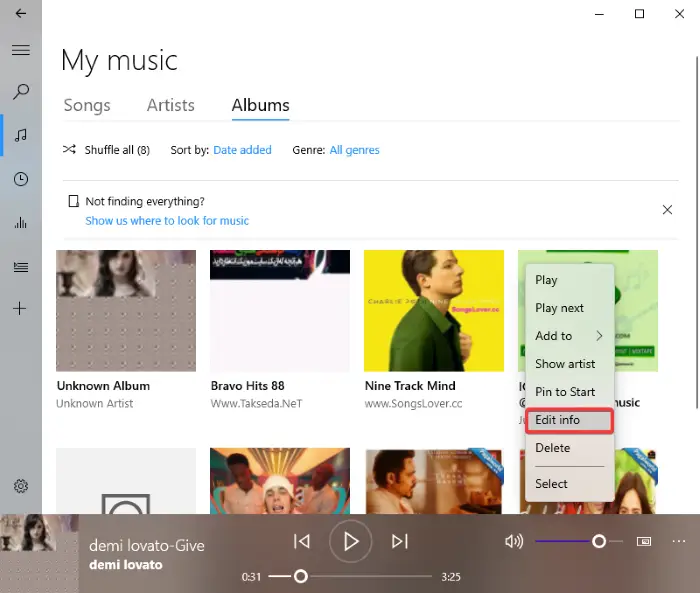 This will open up an Edit Album Info window where you want can see various tags including title, album, genre, and album art. Double click on the album art field, browse and select the downloaded cover image of the song, and then click on the Open button to add it to the song.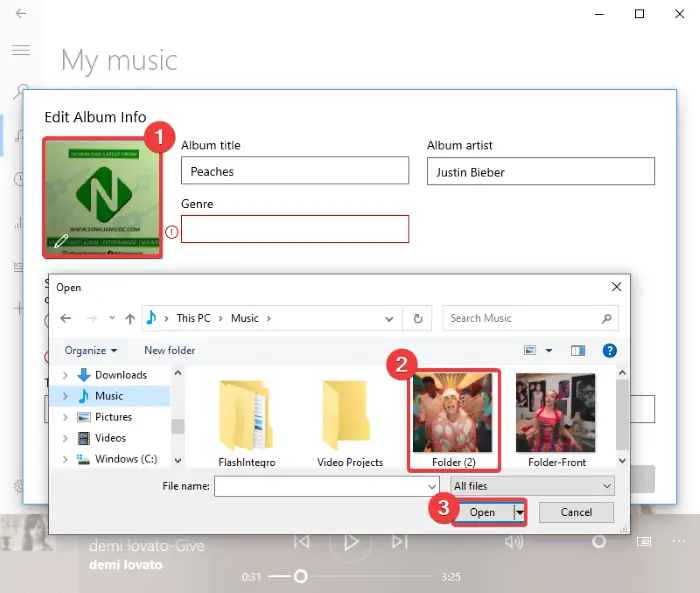 You will see the updated album art image. Simply click on the Save button to save and embed the cover image to the song.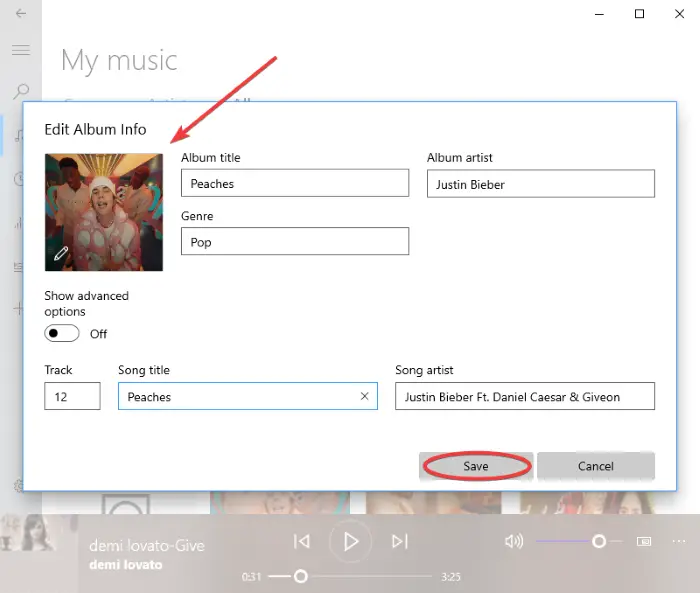 That's it! Hope this helps!
Now read: