In a recent update to Xbox One, Microsoft has rolled out two new features for all. While the first one allows you to get your "own time" using a Do Not Disturb mode, the second lets you have scheduled light, and dark theme.
While Xbox One still remains a gaming platform, but with so many features which lets you use it as Media Hub, get on Party chat with your friends, makes it a need of the day to have something which lets you have peace when you do not want to get disturbed, especially when watching movies through streaming services like Netflix.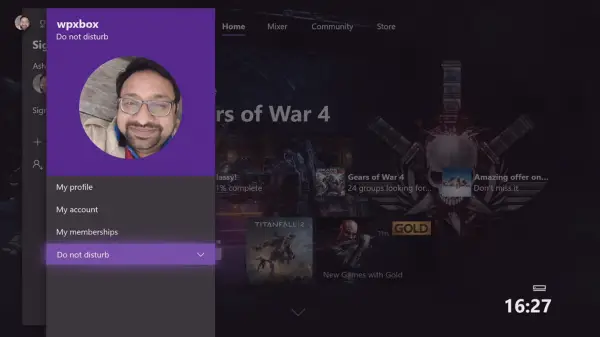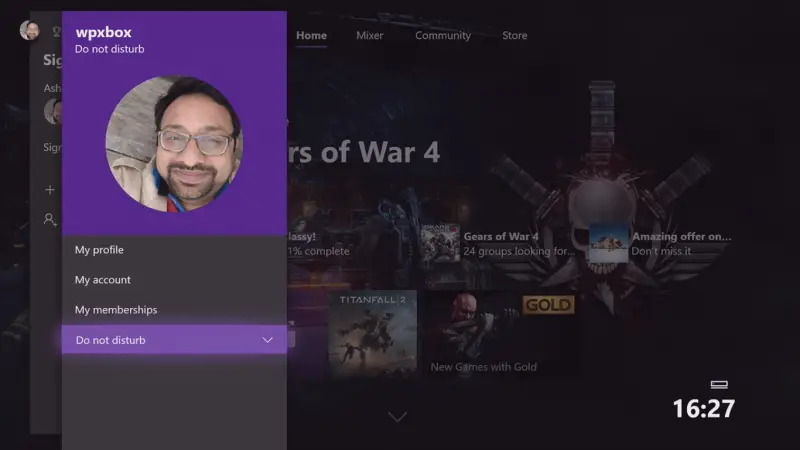 Enable Do Not Disturb on Xbox One
When you enable this DND feature, Xbox will stop sending you notifications from Games, new messages, party invites, and so on. However, Xbox makes sure that you don't miss out the important ones so any System level notifications will still be seen, especially when its time update your console.
Just like how quickly you can enable DND on your phone, Xbox team has made sure you don't have to go through a lot of steps to enable it. This option is available exactly available where you had enabled "Appear Offline". You got it right. It's under your Profile.
Hit the Guide or the Xbox One Button on your controller.
Next, navigate to the leftmost section which houses your profile. You will have to use the Left Bumper for this.
Select your profile, and scroll down to find the status option which could be either "Appear Online" or anything else you mostly use.
Press A to expand the drop-down and select Do Not Disturb.
Once you select DND mode, you will see the same on your profile as well. However, your friends will see the states as "Busy". However, if you restart your console, the stats go back to Appear Online. IMO, this is intentional else you will never look at your notifications.
Schedule Light & Dark Themes on Xbox One

Even though the majority of Xbox One Gamers prefer Dark theme, it offers both dark, and light theme. However, when you play in a dark environment, the light theme doesn't go well with your eyes. Keeping this in mind, Xbox One now allows you to switch from light to dark or vice versa based on your time.
So if you love Light theme in the daytime, and dark at night, it is possible to schedule it. To enable this, follow the steps as below:
Press the Guide or the Xbox Button on your controller.
Navigate to complete right-end and open settings.
Navigate to Personalization tab, and select Theme & Motion.
You should see a System Theme drop-down.
Select Scheduled from it, and then set Start, and End time for the theme.
This will make sure you get the right theme as those time. At this time, there is no way to map it with your regions Sunset, and Sunrise timing, but that would be lovely for sure. That said, this feature seems to be missing in for some of the users, and likely to show up a minor update.