dMaintenance is yet another free tool that is designed to maintain your computer invisibly – but with a difference. You can create your own custom system tool. dMaintenance runs in the background and automatically maintains your computer with its different tasks which are scheduled or are carried out automatically by Windows Task Scheduler.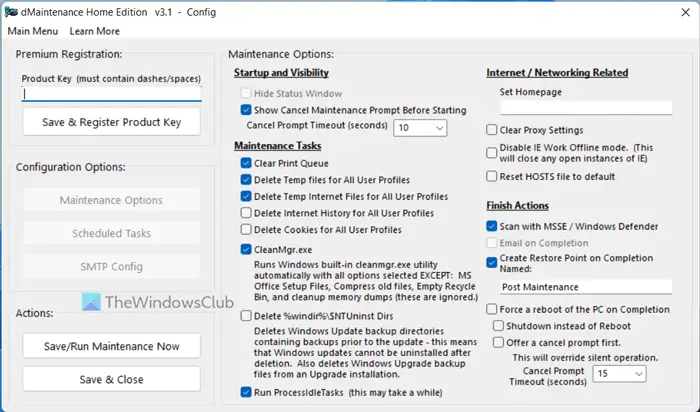 The program is efficiently built, keeping in mind all the required maintenance tasks by a normal user when his/her Windows PC becomes a bit slow. The application has a lot of features, which would help you optimize and maintain your PC's performance. Let's have a look at the features list:
Delete temporary internet files, web browser history, internet cookies
Delete $NTServicePackUninst$ packages
Delete temporary files in the partition
Delete 0-byte sized files
Correct Time Zone Settings
It can sync the system clock with an internet time
Clean up and improve the performance of browsers
Clear up proxy settings
Reset IP settings and more.
You will see that dMaintenance has a long list of feature list – and you will see the options, once you download it. It can totally optimize your system with its list of tasks. Talking about the interface of the program, dMaintenance has a nice interface with an easy to use design – it is very handy. There are four buttons at the top, which work as tabs that display different user options when we click on them.
Create your own Windows Maintenance tool
With this app, you can also create your own app that can perform the functions fast whenever you want (when the app is run). The first time you run dMaintenance.exe it will display the config screen, where you would need to select all the functions and controls you want to be executed when your app is run. When you will click on Save and exit, the app will create a configuration file in the folder itself – so that the next time you run dMaintenance, the configuration would be executed and all the functions you selected would be performed and executed. When you wish to change your settings, and you want to open the config window again, what you need to do is, first delete the configuration file. The program would then run without executing any configuration – and you will be able to see the config window again.
I say, that this is the best free application available that lets you create a custom system tool for you, your clients and your friends. If you need more personalization options, however, you will have to buy the paid version of dMaintenance.
dMaintenance free download
Click here to download dMaintenance and create your own custom system tool.
What is PC repair and optimizer tool?
A PC repair and optimization tool helps you improve the performance of your computer by removing junk files, cache, and other things. At times, you might need to do a spring cleaning on your computer. Such PC repair and optimization tools do that automatically.
What is the best Windows maintenance software?
When it comes to the best Windows maintenance software, you can take a look at the CCleaner. However, if you want to get an all-in-one tool, you can also opt for Glary Utilities Free, Iobit Advanced SystemCare, Comodo System Utilities, etc. These are some of the best options in the market you can install on Windows 11 and Windows computers.