Discord Music Bot allows you to stream music to your chat and other audiences. However, some users have complained that Discord Music Bot is lagging or stuttering only for them. The issue can be resolved by fixing a few key points. Let us go to the troubleshooting guide and how to do the same.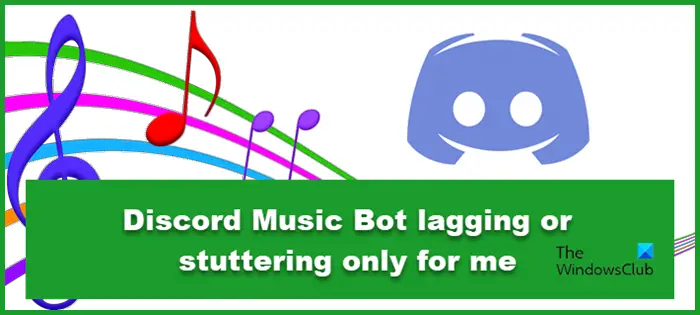 Why is Discord music bot choppy?
Discord Music Bot is choppy because of various reasons. We have mentioned some of the reasons below.
Your Hosting Plan is not adequate and is not able to handle the amount of data exchanged.
The Internet Connection that you using is facing some issues, either your bandwidth is low or there is no Internet.
Way too many apps are running in the background leaving little to no resources for Discord to use.
Your Audio Device is faulty.
Later in this article, we have tried resolving each one of these reasons using some simple solutions.
Fix Discord Music Bot lagging or stuttering only for me
If Discord Music Bot is lagging or stuttering only for you, try the following solutions.
Check your Internet Connection
Close redundant processes
Switch to a different Voice Server Region
Check your Audio Device
Run Playing Audio Troubleshooter
Check Hosting Plans
Let us talk about them in detail.
1] Check your Internet Connection
Let us start by checking your Internet Connection and make sure that you have proper bandwidth. Otherwise, due to the lack of network, the music bot will stutter. You can use any of the Internet Speed testers to know your bandwidth. In case your bandwidth is low, try connecting other devices to the same network and see if they are having the same Internet crises. If you conclude that all the devices connected to your network have this issue, contact your ISP. If it's just your device, fix the slow Internet issue.
Read: How to fix Drops and Lag issues in Discord on Windows
2] Close redundant processes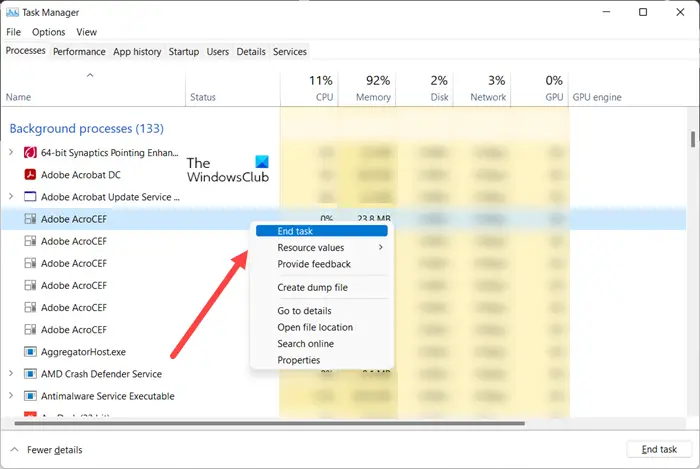 You may have heard that if you have a lot of processes in the background when doing a video call, the audio you speak and the one you hear will crackle as the app doesn't get the required resources. The same thing applies here as well,  if you don't give Discord a major chunk of your resources, including your RAM, CPU, GPU, and network, the Music Boot might stutter. That is why, open Task Manager, look for programs that are consuming your resources, right-click on them and select End Task, one by one. Once you do that, the issue should be resolved.
3] Switch to a different Voice Server Region
Next up, let us try and switch to a different Voice Server Region and see if that helps. This is quite easy, all you have to do is follow the prescribed steps.
Open Discord.
Click on the Gear button to enter settings.
Go to the Overview tab.
Go to Server Region and click on the Change button.
Select a different server and save your changes.
This should do the job for you.
4] Check your Audio Device
You may also face problems because of your audio device, whether it's the speaker or any headset that you might have attached. You should first try a different device, if you were using a speaker, plug in a headset and see if the lagging persists, and vice-versa. In case, Discord Music Bot is lagging in both cases, move to the next solution.
5] Run Playing Audio Troubleshooter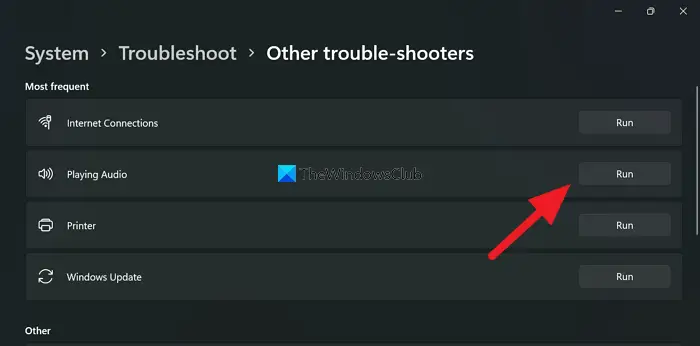 Playing Audio Troubleshooter is a built-in Windows utility that will scan and resolve issues regarding your speaker. To run the troubleshooter, follow the prescribed steps.
Windows 11
Launch Settings by Win + I.
Click System > Troubleshoot > Other troubleshooters.
Look for the Playing Audio troubleshooter, and click on the Run button associated with it.
Windows 10
Open Settings.
Go to Update & Security > Additional troubleshooter.
Click Playing Audio > Run the troubleshooter.
Let the troubleshooter run and resolve the issue for you.
6] Check Hosting Plans
Maybe the hosting that you are using is having a latency problem. If a lot of content is shared through the bot, chances are, it's unable to handle all of them and is stuttering. You should check your hosting plans and if needed upgrade your plan to make it meet your requirements, otherwise, you have to deal with all these issues.
Hopefully, you were able to resolve the issue with our solutions.
Read: How to Connect Spotify or Spotify Discord Bot to Discord 
Why are Discord music bots not working?
Discord Music Bot may not work because of some server issue. You can check one of our down detectors to know your server status. If it is down, all you have to do is wait as the developers will be working on the issue. However, it is by no means the only reason. You can try executing the solutions mentioned in this article to resolve the issue.
Also Read: How to add BOTS to Discord server on Mobile or PC.