We all know what Discord is all about since we have spoken about it several times already. Now, it is still the best place to communicate if you're a gamer, but things have gotten even better with the addition of bots.
What can Discord bots do for you?
Here's the thing, if you add bots to your server on Discord, it is possible for you to automate many mundane tasks. For example, you can use bots to generate memes, monitor the behavior of members, and much more.
How to add BOTS to Discord server
Knowing how to add a bot to your Discord is very beneficial in more ways than one, and were going to explain how. Still, we must first discuss how to enable this feature before going forward:
Open the native Discord app or web app
Navigate to Server Settings
Navigate to Roles
Turn on Managed Server
Find and add a Discord bot
1] Open the native Discord app or web app
Fire up the Discord app on your Windows 11/10 computer, then log in with your credentials. Alternatively, you could visit the official Discord website on the web and access your account from there.
2] Navigate to Server Settings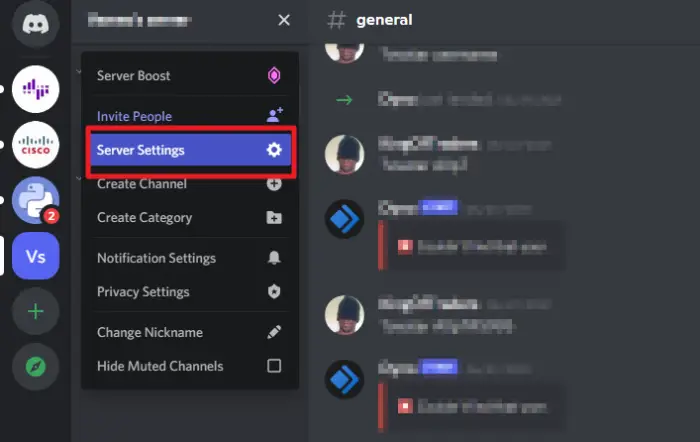 In order to reach the Server Settings area, you must first select your server from the left-pane. After that, click on the arrow icon pointing down, and once that is completed, select Server Settings from the dropdown menu.
3] Navigate to Roles
OK, after making it to the Server Settings area, you must now go to Roles from the left-pane. You cannot miss it because it is the second option after Overview, which means, it's at the top.
4] Turn on Managed Server
After selecting Roles from the left pane, you must finally, click the Permission tab, then enable Managed Server. Hit the Save button, and that's it for that.
5] Find and add a Discord bot
If you have yet to find a Discord bot, let us explain how to do it with relative ease.
Find bots: There are a few places you can get bots from. For example, we suggest visiting  Carbonitex, Top.gg, and GitHub to find new bots. Or, if you have the talent, simply create your own Discord bot.
Add the bot to the server: After finding the bot you want, click on the button designed for adding the bot to your Discord server. In a moment, Discord on the web will open in a small window. Please select the preferred server, then hit the Authorize button at the bottom. Let the bot know you're human, and that's it for that.
Why can't I add bots to my Discord server?
If you are having problems with adding a bot to your Discord server, we suggest checking your internet connection to see if things are running as intended. Should no problems arise on that end, then we believe it is best to see if you're logged in from multiple versions of Discord.
Now, if this is the case, you will need to log out of your computer and only use a single instance.
Rad Next: Fix Discord Error 1105 on Windows PC.