Most of the users must have seen the security warning, when you try to run a file downloaded from the Internet or an executable file – exe, bat, msi, cmd, js, etc – that is located in a Network shared folder. It usually occurs when the file is downloaded from a not-so-popular vendor. You can ignore this warning without worrying much. However, if you wish to disable Open File – Security Warning permanently, please go through this guide.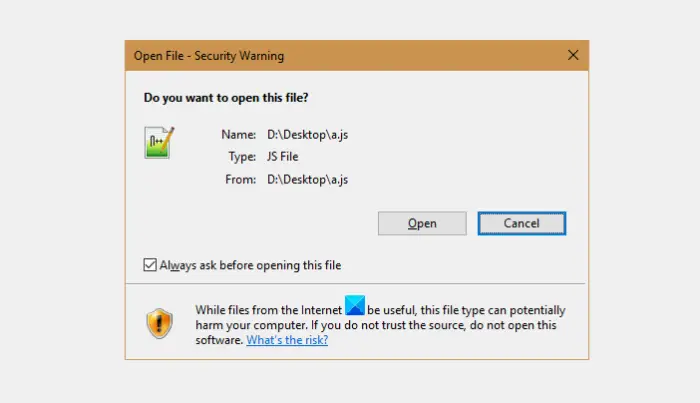 Disable Open File Security Warning for file in Windows 11/10
Publishers often pay Microsoft to have their installation files digitally signed. So, when the files are not digitally signed, you could get a warning message. Here's how you can disable the popup.
Open the Run dialog box.
Type inetcpl.cpl and press Enter.
Go to the Security tab.
Choose Custom level tab.
Go to Launching applications and unsafe files section.
Check the Enable (not secure) option under it.
Click OK then, Yes.
The untrusted file is blocked by Windows unless you specify the file can be run or opened. Please note unblocking unknown files can increase the risk of your computer being under attack by some malware or viruses.
Press Win+R in combination to open the Run dialog box.
In the empty field f the box, type inetcpl.cpl and press the Enter key.
Next, when the Internet Properties window opens up, switch to the Security tab.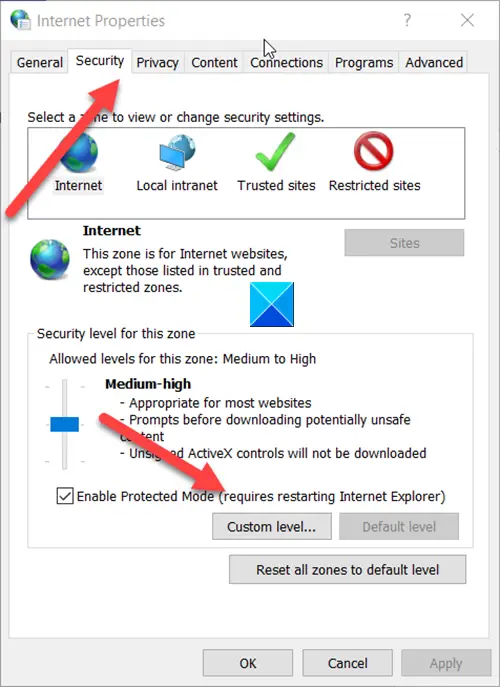 Here, choose the Custom level tab to go to Security Settings.
Then, under the Settings window, scroll down to Launch applications and unsafe files entry.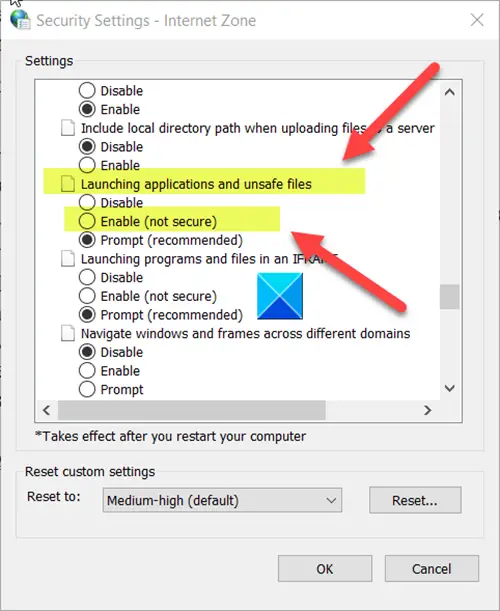 Under this entry, check the Enable option (not secure) to set the desired preference.
Once done, the Open File Security popup message will be disabled, and you will no more see the warning popup.
I hope it helps!
Reads that may interest you:
Clicking on Favorites opens the File Download Security Warning box
How to Unblock a file downloaded from the Internet.