When you launch the latest Firefox browser and open a new tab page, you'll notice that the address bar expands automatically. Plus, another change that is visible is the replacement of the classic Address bar with revamped Firefox Awesome bar. It features shorter URLs and does not include 'https://' and 'www' in the address bar. If you would like to change this behavior and replace the new Firefox address bar with the new one, read this post!
Restore the old Firefox address bar
The new address bar also shows larger fonts to display more meaningful content in the view. Mozilla says earlier, it did not truncate or hide https:// as the user would know beforehand whether they are navigating to an encrypted site or not. However, now, most sites use https secure protocol. As such, it made sense to flip that around (hide https://).
Go to Firefox Preferences page
Change value for browser.urlbar.update
Change value for valuebrowser.urlbar.openViewOnFocus
In the input, Firefox continues to show https://.
1] Go to Firefox Preferences page
Launch Firefox browser open a 'New Tab' Page address bar, type about:config and hit Enter key.
When prompted with a warning message, ignore it and proceed further.
Allow the Firefox Preferences page to load.
2] Change value for browser.urlbar.update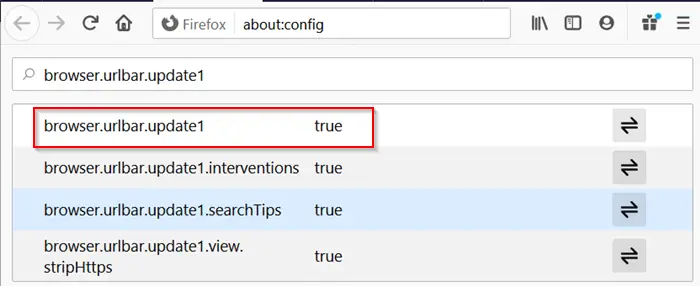 When the Firefox Preferences page loads, type or copy-paste this line browser.urlbar.update1 in the Search bar.
Select it, when seen and change the value from 'True' to 'False' by double-clicking the entry.
3] Change value for valuebrowser.urlbar.openViewOnFocus
Following the same procedure, look for 'valuebrowser.urlbar.openViewOnFocus' entry, and set it to 'False'.
After making the above changes, restart the Firefox browser to apply the changes.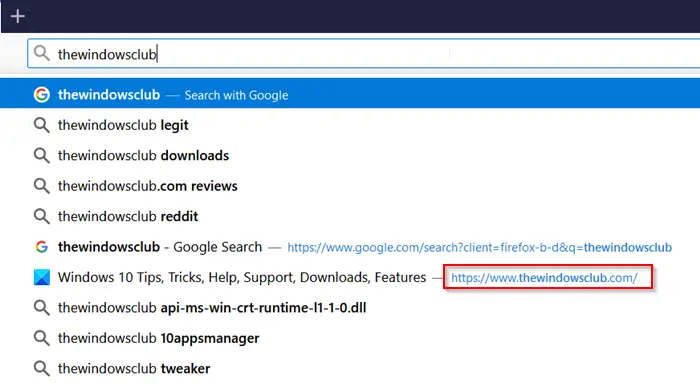 Upon completing the final step, the Firefox Awesome bar will be disabled and the Classic Address bar will be restored in Firefox.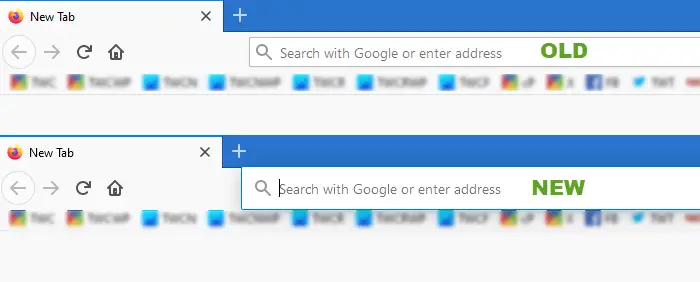 In addition to the above, you can set a few other preferences shown below to 'False' for disabling new redesigned address bar functionality –
browser.urlbar.trimURLs
browser.urlbar.update1.interventions
browser.urlbar.update1.searchTips
Hope this helps!