If you want to use AppLocker or Group Policy to remove or disable the Microsoft Store in the latest Windows 11/10, you must be running the Enterprise or Education editions. If you're running Windows 1011/10 Pro, you can no longer use Group Policy, and Pro doesn't feature AppLocker. In this post, we will show you how to use AskAdmin app to disable Microsoft Windows Store on all editions of Windows 11/10.
AskAdmin is a specialized program for Microsoft Windows devices that may block access to certain programs or system functions. It has been designed for situations where you hand over your computer (and user profile) to another user, e.g., a child, and want to prevent certain applications from being run.
The application is free, but some features are restricted to a premium version. The main limitations of the free version are that it limits blocked items to a maximum of 10, that you cannot use the Export feature, cannot protect the application itself with a password, and cannot block access for specific users of the operating system only.
AskAdmin does not need to run in the background for the blocking to be active. It is important that you are careful when selecting programs or folders to block as you may run into issues, e.g. Windows loading issues if you block the wrong files or folders.
Disable Microsoft Store in Windows 11/10 using AskAdmin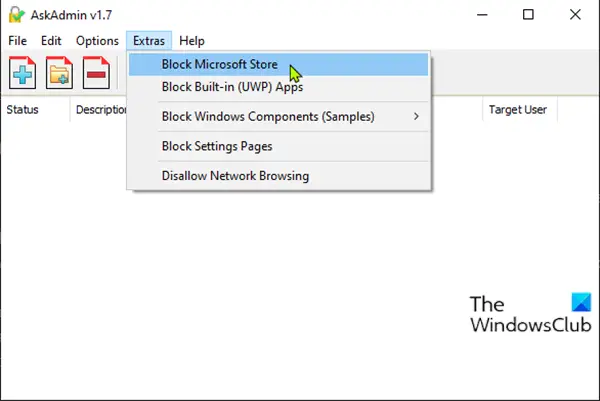 To use AskAdmin app to disable the Microsoft Store on Windows, follow the steps outlined below.
Download AskAdmin from the developer webpage and unzip it.
Then double click the AskAdmin_x64.exe or AskAdmin.exe file – depending on your system architecture.
Click Yes on the User Account Control (UAC) prompt to allow the program to run.
Accept the License Agreement.
On the software interface, click the Extras menu.
Click Block Microsoft Store to place a checkmark on the option.
That's it!
The next time any logged-on user attempts to open the Microsoft Store, the user will receive the prompt stating;
This app has been blocked by your system administrator. Contact your system administartor for more info.
AskAdmin is a great free tool that lets you block any program from running in Windows 11/10.