Windows 11 and Windows 10 collect various data including speech, text, handwriting,  apps, and device usage and health while you are using the system. It doesn't mean it logs all data, and work as a keylogger, it only collects data points to improve the OS to make sure to improve the next version. The good news is that you can disable inking and typing recognition on Windows 11/10 easily.
What is inking and typing on Windows 11/10?
Whatever you type or ink, the data is generalized, anonymized and sent to Microsoft to give you a better 'dictionary' experience. If you are wondering why it's a matter of concern because it does track what you type for next word prediction, spelling correction, and autocorrection that seems to act as a keylogger. That said, Microsoft has been pushed hard by Privacy Organizations including government to give users an option to opt out of this kind of recording.
Microsoft has rolled out an option using which you can disable inking and typing recognition from the user experience. You should also know that Windows 11/10 comes with extensive options in Privacy Settings which you can configure even before installing the OS. These options are also available post-Windows 11/10 installations.
Amidst all these security questions and data-stealing charges on many big corporations, users are not willing to share their data with companies. In all fairness, Microsoft allows its users to stop any and all forms of data sharing, and in this post, we are going to see one of them. We are going to disable Inking and Typing Data Collection in Windows 11/10 with some simple steps.
Disable Inking and Typing Data Collection in Windows 11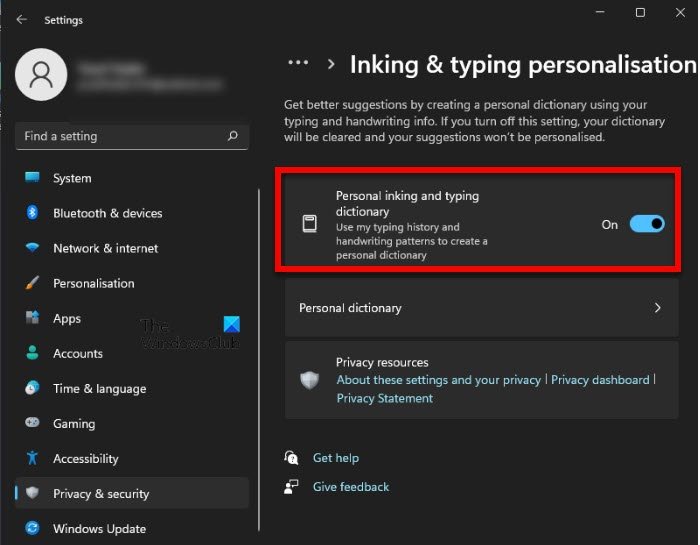 If you are a curious Windows 11 user, you may have noticed that the Settings app in Windows 11 is somewhat different from that of Windows 10. So, if you have to disable Inking and Typing Data Collection in Windows 11, you have to follow the prescribed procedure.
Open Settings, either from the Start Menu or by Keyboard shortcut, Win + I.
Look for Privacy & Security.
Click 'Inking and Typing Personalisation'.
Now, use the toggle to disable Personal inking and typing dictionary.
This way, you can add another layer of privacy and security to your system.
Turn off Inking and Typing Data Collection in Windows 10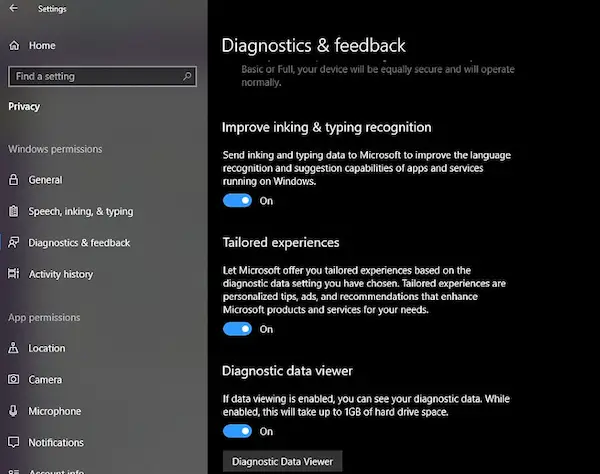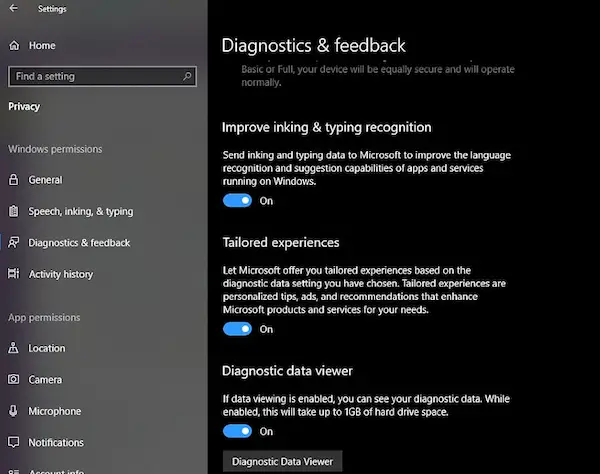 Open Settings > Click on Privacy > Click on Diagnostic & feedback.
Turn off the Improve inking & typing recognition toggle switch.
You can also choose to turn off "Tailored Experiences". This feature offers personalized Tips, ads, and recommendations that enhance Microsoft products and services for your needs.
How to disable Inking and Typing Personalisation using Group Policy
If you want to disable the feature with the help of Group Policy, you need to open the Group Policy Editor from the Start Menu and navigate to the following location.
Computer Configuration > Administrative Templates > Windows Components > Text Input
Look for Improve inking and typing recognition, double-click on it, select Disabled, and click Ok.
Now, navigate to the following location.
User Configuration > Administrative Templates > Control Panel > Regional and Language Options > Handwriting personalization
Look for Turn off automatic learning, open it, select Enabled, and click Ok.
This will work on Windows 11 and Windows 10 too.
Diagnostic data viewer from Microsoft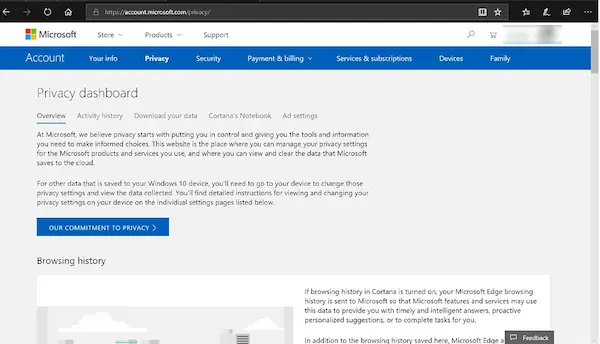 Once you do this, Windows will no longer collect and send your inking and typing data to Microsoft. However, you can use the Diagnostic data viewer to find out what data Microsoft has collected till now. It's an official app from Microsoft which opens up every data Microsoft has collected from you, and can be used to see, and then delete all the data. It usually takes up to 1 GB of your hard disk space.
This guide only covers disabling data collection through handwriting and typing. There are other types of Telemetry like speech which can not be controlled from here. You need to visit your Microsoft Account Portal Privacy settings to check each of the telemetries which include clear search history, browsing history, location activity, voice activity, media activity, product and service, performance, Cortana, and Microsoft Health Data.
Hope you find this feature useful!