One of the unpopular features in Windows 8 was the appearance of the Charms Bar, every time your mouse moved to the upper-right or bottom-right corners. Although the feature in Windows 8 lets you quickly access settings and perform searches while in the Metro environment, it popped open many a times when the mouse pointer accidentally went near the top or bottom right side corner of the screen.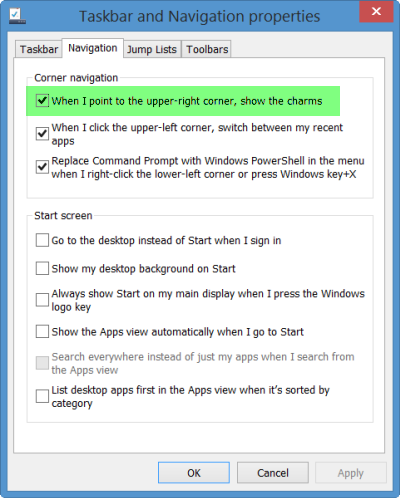 Disable Charms Bar in Windows 8.1
Windows 8 users needed to edit the registry to disable the Charms bar. Windows 8.1 users now have a UI that lets them disable Charms bar easily and quickly.
All you need to do is right-click on the Windows 8.1 taskbar and select Properties. This will open the Taskbar properties box.
Under the Navigation tab, you will see the option When I point to the upper-right corner, show the charms.
This setting is checked and enabled by default. Uncheck it, click Apply and Exit.
That's it!
How to Edit the Text of Items in Windows 8 Charms Bar may also interest some of you.