We have already seen how to upgrade Windows 8 to Windows 8.1, in our last post. Now we will see how to install Windows 8.1 on a separate partition. I did not want to upgrade my existing working Windows 8 installation to Windows 8.1, and yet wanted to check out Microsoft's latest offering. So I decided to install it instead on a separate partition so that I could dual boot Windows 8.1 with Windows 8.
Dual boot Windows 8.1 with another OS
First I created a separate partition using the built-in Disk Management tool. Next, I downloaded the Windows 8.1 Client ISO file with built-in apps.
Next, I burned the ISO file to a DVD. Once I had burned the image, and restarted my PC and booted from the DVD. The installation commenced. It was just then that I decided to take pictures on the installation process with my Nokia Lumia 920, so kindly excuse the quality of the images.
You will first see the betta fish for a while after which, it will check if any updates are available. Then you will be asked to input the Product Key, which is NTTX3-RV7VB-T7X7F-WQYYY-9Y92F.
Next, you will be required to select the Language, Time Format, etc.
Make your selection and click Next. You will now be presented with a screen that will require you to click on the Install Now button.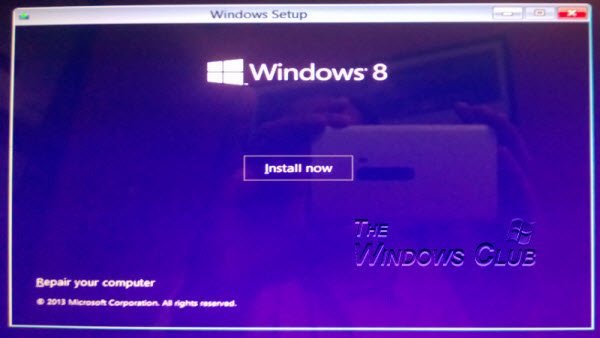 Accept the Microsoft Licensing Terms and click Next.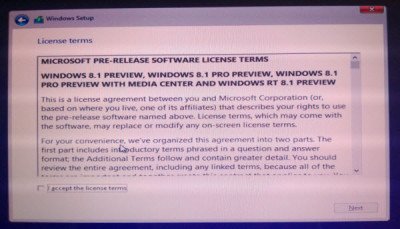 Since I wanted to install Windows 8.1 on a separate partition, I clicked on Custom Install.
Install Windows 8.1 on a separate partition
You will be asked to select the partition where you'd like to install Windows 8.1. I selected Drive D, which I had specially created. If you wish to format the partition, you can do so here, from the options given.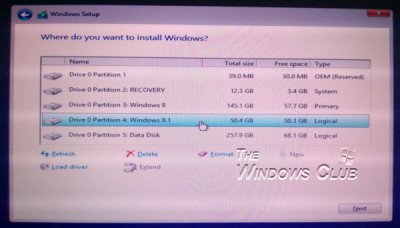 Once done, click on Next. The installation will commence and take a while.
Your computer will reboot twice during the Installation process. You will finally see the following screen which will show that Windows 8.1 Preview has been installed.
Select this option and boot into Windows 8.1 to get an all-new Windows experience!
See this post to learn how to install Windows 11/10 from USB.