Office apps like PowerPoint hide plenty of features underneath it. You can use these features to draw the audience's attention to specific content. For example, you can animate text to make it appear dim, enabling the audience to focus at the desired location. So, let's see how you can dim the text in PowerPoint.
How to dim text in PowerPoint
It is quite easy to highlight the topic of discussion and fade out other texts in PowerPoint. For this, you need to:
Add animation to the text/s
Use Effect Options
So, let us proceed and see how to go about it.
1] Add animation to the text
Open the PowerPoint presentation to which you would like to make the changes.
Next, highlight the line of text you want to dim in appearance by clicking and dragging the cursor over it.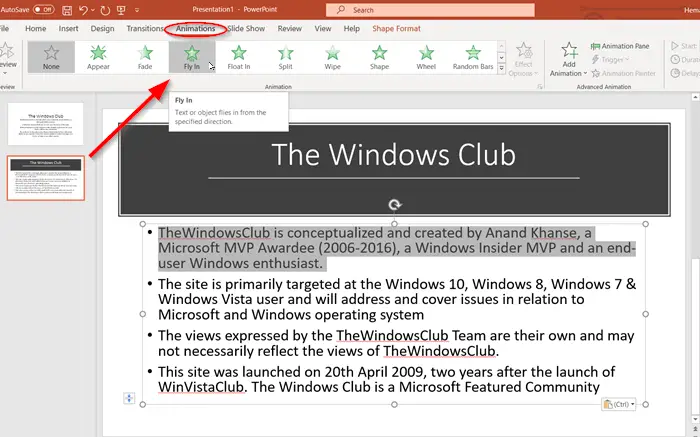 Now, go to the Ribbon menu, select the 'Animations' tab and choose your entrance animation from the 'Animation' group.
You'll realize the animation has been successfully added when you see a number preceding the line of text.
Repeat the above steps for all the bullet points to confirm you have successfully applied the animation.
2] Use Effect Options
After having completed the above steps, go to the 'Animation Pane' under 'Advanced Animation' section.
Instantly, the 'Animation' sidebar should appear in the right corner of the computer screen.
Choose all the animations by holding Ctrl on Windows and clicking each animation. Click the down-arrow adjacent to the right of the animations and select 'Effect Options'.
The 'Appear' window should pop-up, upon confirming the action.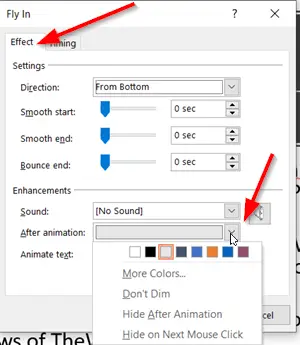 Switch to the 'Effect' tab. There, you should see 'Don't Dim' option selected by default (next to the 'After Animation' option).
Change the default setting by clicking the arrow next to the item and selecting a color that's a little different and dims the appearance of the text. If needed, you can select 'More Colors'.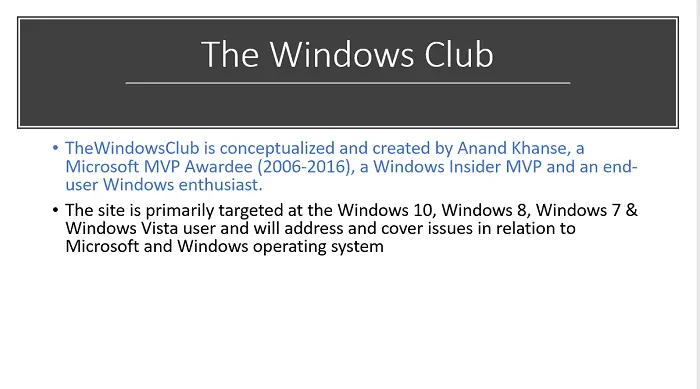 Hit 'OK' to save your changes.
This way, you can dim the appearance of text in Microsoft Office PowerPoint.
Read next: How to make a YouTube video with PowerPoint.