Microsoft has released a new Digital Rights Update Tool which removes DRM protection from WMA audio files. Digital Rights Management or DRM has always been a problem for the music lovers, especially those who download the music tracks or albums from the internet or rip them from CDs. The DRM protection is automatically added to the files you rip from the CD. DRM is all about the copyright protection of digital media files, may it be a music track, video files, eBooks, documents or games etc
Digital Rights Update Tool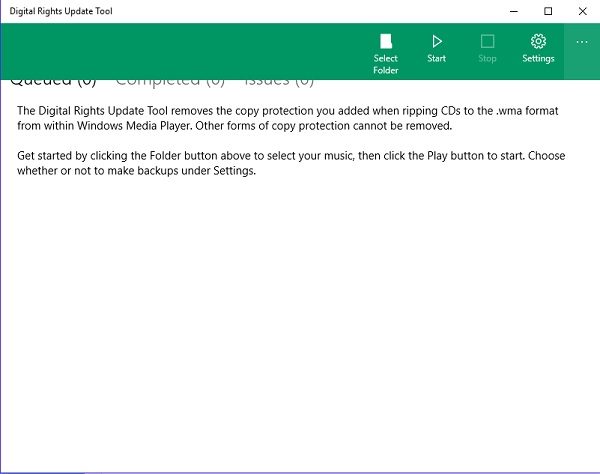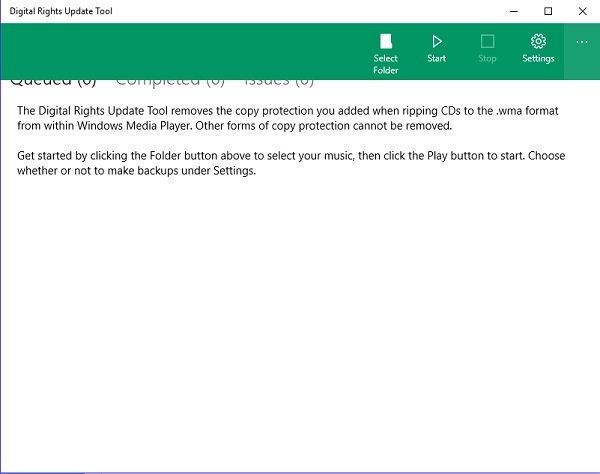 Many WMA audio files ripped from the CDs come with a DRM protection and you need a DRM capable player to play these files. Moreover, Windows machines also require a valid DRM certificate to use the files. The same stands true for the WMA files download from the internet.
DRM protected files can be played only on the DRM compatible players. While switching to the DRM-free files was the only options earlier, there is finally a solution now. Microsoft brings a new Digital Rights Update Tool which removes DRM protection from WMA audio files.
Microsoft has recently added this tool in the Windows Store. You can now download the Digital Rights Update Tool, remove the copy protection added to the .wma files and run them on your MP3 player. Remember that the tool removes the copyright protection only from the WMA files and not the other formats.
The tool comes with a very simple and user-friendly interface. The main overview has it all. To get started, click on the Folder icon on the menu ribbon, select the WMA file with DRM protection and play.
Make sure you adjust the backup settings before you start. Click on the Settings tab on the menu ribbon and enable the backup option.
Overall, the Digital Rights Update Tool is a nice, simple and useful tool for Windows 10 devices. Remember that it works exclusively on Windows 10 devices and machines running the older version of Windows won't support it.
If you are using Windows Media Player and often rip the audio files from a CD, you should download this tool free from the Windows Store.