Terms such as Freeware, Free software, Open source, Shareware, Trialware, Adware, Nagware, etc are often used to define programs. Does one really know the difference between freeware and free software – although both are used loosely and interchangeably? I guess most computer users don't! So, in this post, we will try to clarify subtle issues related to these terms, and explain the other "ware" terms.
Difference between Freeware, Free Software, Open Source, etc.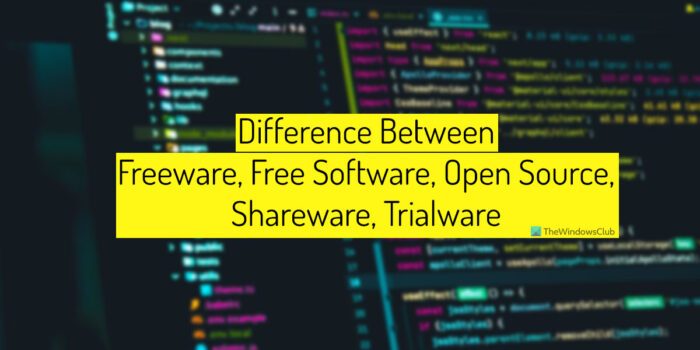 Freeware
Freeware is software that is distributed without demanding a fee for its usage. These programs are available either as fully functional software for an unlimited period.
Ownership of any freeware is retained by its developer. The developer can change future releases from freeware to a paid product (freeware) if he wishes so. Also, a freeware is typically distributed without its source code. This is done to prevent any sort of modification by its users. Plus, the license with which a free program is distributed may permit the software to be freely copied but not sold. In some cases, one may not be allowed to even distribute the software.
Crippleware
Some software are offered as freeware – but with very limited features – or with the major feature missing. These are referred to as Crippleware. The ones that provide fully functional version has all the functions enabled and is mostly available either as a commercial program or as shareware. In most cases, the free programs promote a commercial offering.
Donationware
Sometimes, freeware is distributed to users with a regular reminder or request to make a donation to the author or to some third-party such as a charity. In such cases, freeware is referred to as a Donationware.
Free Software
Many computer users aren't fully aware of this somewhat new and unrelated concept. Well, free software is software that gives a user freedom to run, copy, distribute, study, change, and improve the software. To be precise, free software is a matter of liberty, not the price!
It essentially means a user can freely use, modify, and distribute a program stipulated to one condition: any redistributed version of the software must be distributed with the original terms of free use, modification, and distribution (known as copyleft). And unlike freeware, free software may be distributed for a fee.
Please note, to modify a program you need to access its source code which free software offers whereas a freeware does not. Also, free software gives freedom to redistribute copies however to do this, a user must include binary or executable forms of the program, as well as source code, for both modified and unmodified versions.
It is particularly noteworthy to mention here that sometimes government export control regulations and trade sanctions too limit the freedom to distribute copies of programs internationally. In such cases, refuse and do not obey any export regulations as a condition of any of the essential freedoms since software developers do not have the power to override these restrictions. You can more details on the FSF.org website.
Open Source
The term 'Open Source' is very close to 'free software' but not identical to it. We say this because, the source code of open-source software is readily available to users 2 but under copyright, and one is freely allowed to redistribute the software.
The concept of the open-source programs relies on the fact that a user can review a source-code for eliminating possible bugs in it. This is something that we do not observe in commercially developed and packaged programs. Programmers on the internet read and modify the source-code by eliminating the possible bugs. Thus, in this way programmers helps in providing more useful and bug-free product for everyone to use. More details can be had at OpenSource.org.
Read: Microsoft loves Linux & Open Source now. Why?
Shareware
Shareware is demonstration software that is distributed for free but for a specific evaluation period only, say, 15-30 days (Trialware). After the evaluation period, the program gets expired and a user can no longer access the program. Only if you are interested in using the program further, the shareware provider may require you to purchase a license for the software.
So, basically it is distributed on trial basis and with an understanding that sometime later a user may be interested in paying for it. Also, some shareware are offered as 'Liteware'. In these programs i.e. 'Liteware' certain capabilities are disabled. One can access complete functions only after buying or upgrading to the complete version of the program. Thus, shareware software are used for marketing purposes.
Adware
Adware, better known as advertising software is software that automatically renders advertisements. Most of these advertisements appear in the form of annoying pop-ups. However, one can disable the ads by purchasing a registration key. It can even change your home page, default search, or install a toolbar. Like freeware, Adware too is available for computer users at no cost.
Bundleware
Bundleware gets its name from people 'bundling' different programs into one single installation program. The one installation for bundleware installs the main program that you want along with some other programs that you do not want.
Spyware
Spyware goes a few steps further and surreptitiously installs another software on your computer. The spyware may contain a code that sends information about the user's computer to the developer or to some other location whenever the user is connected to the Internet. This is done in order to display advertisements in the Web browser.
Nagware
This is a program that routinely issues a reminder to a user to purchase an application or by a product before its trial period gets expired. The term derives its name from the idea that reminders, commonly referred to as 'NAGS'  keep on appearing on a user's computer screen until he activates the desired application or quits it forcefully. While you would be able to use the program, it will continuously nag you to buy its full version or upgrade. In short, ff any program nags you constantly to upgrade to its full paid version or to donate, it is referred to as Nagware.
Malware
Typically referred to as 'Malicious Software', Malware is any program with malafide intentions and which exploits data of a computer without its user's consent. Once on a computer hard drive, it can hijack your browser and track the websites you visit – and cause even worse damage.
In addition to this, it can hide deep within Windows and even reinstall itself after being removed completely, making it the most difficult program to be removed or cleaned. Viruses, Trojans, etc may all be considered as malware.
Scareware
Malware that is designed to trick users into downloading and buying non-functional or dangerous software is referred to as Scareware or Rogue Software. How does it do this? Simple, it alarms scares a user by making him falsely believe that his computer is infected by potentially harmful viruses.
Once downloaded and installed, the program displays false virus alerts and instructs him to buy the 'full version' to remove the infections (fictional). Ultimately, a user buys the software and wastes his hard-earned money. In short, Malware that preys on a user's fear is called Scareware.
Abandonware
When the development of a software is abandoned by the Author and for whom no support is available, it is referred to as Abandonware. Abandonware could also include software whose copyright is unclear or in dispute.
Adds Jsg in the comments section: No support, updates, etc offered. Purchases no longer have any bearing and, in many cases, registration codes are openly available on the Internet. The legality of using a registration code available on the Internet for abandonware is questionable but generally requires the author to become active to do anything about it.
What is the difference between freeware and free software?
The main difference between freeware and free software is you can download, modify, and redistribute a free software without any limitation. However, you cannot do the same with freeware. A freeware can be downloaded on your computer and used accordingly without any modification in the core. On the other hand, you can modify and distribute the modified version of a free software without any problem.
Is shareware a free software?
No, Shareware is not a free software. Free software can be used at no extra cost for as long as you want – even with modifications. On the other hand, a shareware is a software that can be used only for a specific amount of time – let's say 30 days. After that, users need to pay some money to purchase the full version of the software.
Is shareware an open-source software?
No, shareware is not an open-source software. Open-source software can be downloaded and modified for free. On the other hand, users need to purchase a shareware after a certain amount of time when the trial period expires. In simple terms, shareware is not an open-source software.
Have I missed any "-ware" term? Have you any comment to make on the definitions? Or maybe some definition needs to be refined. Please do share it in the comments section.