Destiny 2 is a known game that has entertained and captured its gamer's attention. However, in recent times, several gamers are seeing Destiny 2 Error Codes like Centipede, Weasel, Baboon, Currant, Boar, BROCCOLI, Cat, etc. All these error codes mean that your computer is unable to connect to Destiny 2's server. In this post, we are going to give you solutions that can resolve Destiny 2 Error Codes Centipede, Weasel, and Baboon.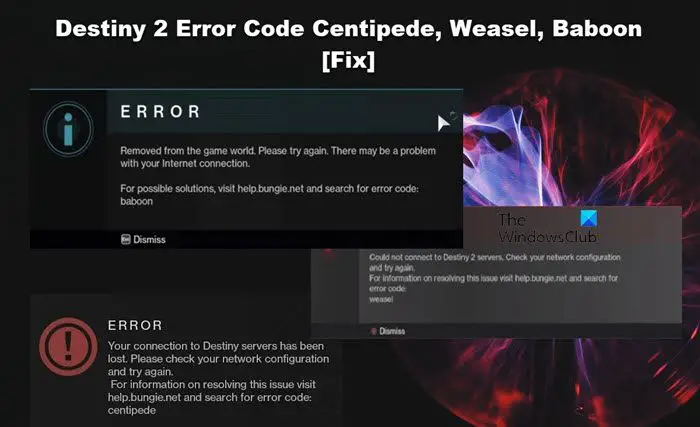 Baboon Error Message:
Removed from the game world. Please try again. There may be a problem with your Internet connection.

For possible solutions, visit help.bungie.net and search for error code: baboon
Centipede Error Message:
Your connection to Destiny servers has been lost. Please check your network configuration and try again.

For information on resolving this issue visit help.bungie.net and search for error code: centipede
Weasel Error Message:
Could not connect to Destiny 2 servers. Check your network configuration

and try again.

For information on resolving this issue visit help.bungie.net and search for error code: weasel.
 Fix Destiny 2 Error Code Centipede, Weasel, Baboon
Receiving Weasel, Baboon, and Centipede is a must if you are trying to log in to multiple platforms with enabled Cross to save. Also, make sure that you are not doing anything to get banned from the game, as this can also be the reason why gamers cannot enjoy a quality Destin 2 experience. There are other reasons for the same, that's why, we have mentioned every single solution that you can execute if you get Destiny 2 Error Code Centipede, Weasel, or Baboon.
Check Destiny 2 server status
Quit the game properly and then restart it
Power cycle your console
Use Wired Network
Use VPN
Check NAT settings
Reinstall Destiny 2
Let's talk about these solutions in detail.
1] Check Destiny 2 server status
It's necessary to rule out server status before going for hard troubleshooting guides to save time. This is because server outages can only be fixed by the developers, and we can't do anything in this scenario. There are various down detectors available in the market which can help us to know the status. Apart from this, users can also go to status.playstation.com for PlayStation, and support.xbox.com for Xbox or directly visit the Bungie site via help.bungie.net. In case the website is down, there is nothing you can do other than wait.
2] Quit the game properly and then restart it
According to the game developer, Bungie, the Weasel error code indicates issues with the network. So, after checking the server status, make sure that there are no network glitches. To do so, quit the game properly, restart it, and see if that helps. If the issue persists, restart the device, and check if that works. See the next solution if doing both things was of no help.
3] Power cycle your console
If you are no longer able to launch Destiny 2, then try the easiest thing to remove glitches, and power cycle your console as well as the router. This can be done by pressing the console's power button for approximately 10 seconds and turning off the router, letting it discharge, and then turning it on.
4] Use Wired Network
As mentioned earlier, these error codes generally stem from Internet issues, packet loss, and so on. So, to make sure that there is no issue from the users' side, we recommend using a wired connection instead of a wireless one.
5] Use VPN
Sometimes the Internet can be a barrier between the game and you, and when that happens, you'll most probably see one of the error codes. To avoid this from happening, we recommend using VPN, as this tool is known to keep the connection private. There are various VPNs available in the market and you can find some of them here.
6] Check NAT settings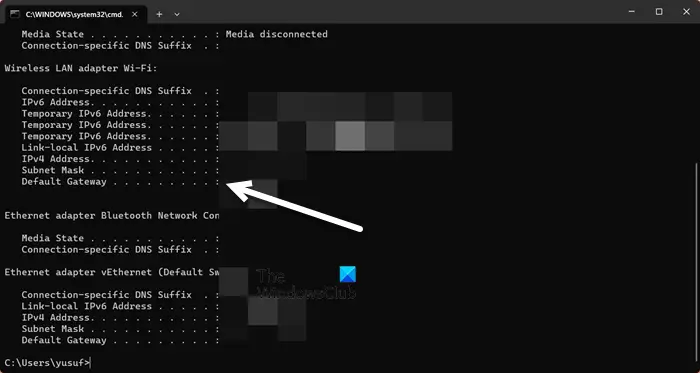 If your NAT is not set to Type 1/Open there your system will find it difficult to communicate with the server of Destiny 2. NAT or Network Address Translation allows a single IP address to present all devices in the real of your private network.
Do keep in mind, if possible, contact your ISP and ask them to configure your NAT settings as it is easy to configure the settings. However, in case, you decide to take matters into your own hands, follow the steps given below.
Open Command Prompt and run ipconfig.
Look for Default Gateway and copy its IP address.
Paste the IP address in your browser to open your router's settings.
Enter your network credentials.
Look for UPnP settings and enable it.
Hopefully, this will do the trick for you. In case, this doesn't work, ask your Internet Service Provider to enable Port Forwarding.
7] Reinstall Destiny 2
If an outdated game was not the issue, and the Internet is working absolutely fine, then uninstalling Destiny 2 is the last choice. Hence, delete all Destiny 2's files, and use Xbox or the Steam app to install Destiny 2 again. This is the only way when there's an issue in the installation itself.
Hopefully, your issue will be resolved.
Read: Fix You have lost connection to the Destiny 2 servers error.