Most of the websites these days concentrate on speed, and it has definitely become a metric to measure the quality of a website. While the images do make websites look beautiful, they increase the total loading time of a website, as images consume more data to load and display completely. And oversized images can also make your website unnecessarily heavy to load. So what is the solution? You should optimize your images before uploading them to your website. We have this wonderful tool that can help you create web friendly images and it is called 'Bzzt! Image Editor' for Windows PC.
Read: PNG vs JPG vs GIF vs BMP vs TIF image file formats.
Create web friendly images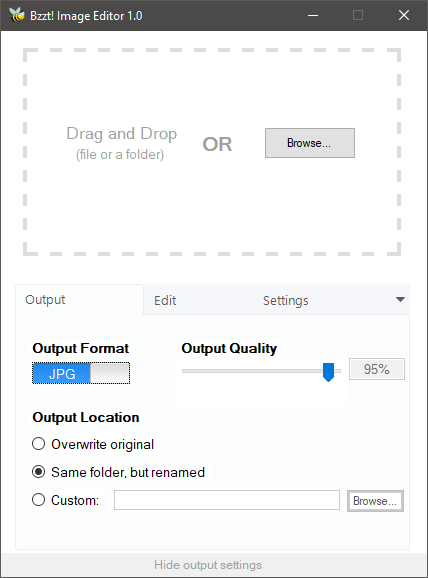 Bzzt! Image Editor is a simple tool that can quickly optimize your images before you actually post them on your website. Optimizing here means making your images smaller in resolution without actually distorting its visual appeal.
Generally, the images we capture on a DSLR camera or even on a phone's camera are in a very good resolution and have a large size. But you don't need to display a 16 MP photo on your website. For general purpose, you can shrink down these images, and they will almost look similar to the naked eye. 'Bzzt! Image Editor' does this for you.
The simple interface allows you to drag in your larger RAW images and take back the resized and optimized images. There are a few other Settings that can be changed to control the quality of the output image.
You can choose between two output formats, and select the desired output quality by adjusting the slider. By default, the program will overwrite the original image, but you can change it too. The second option lets you save the image in the same folder but renamed, and the third option lets you specify a custom location.
Under the Edit feature, you will find two basic image editing features that are a must in every editing tool. Bzzt! Image Editor also lets you resize and rotate the images before saving them. You can enter your dimensions and if the source image is large – the program will automatically resize it maintaining the aspect ratio at the same time. The Rotate feature can also be enabled, and the images will be rotated clockwise/counterclockwise before saving.
Bzzt! Image Editor download
Bzzt! Image Editor is a great tool if you are looking for a simple solution to resize & optimize your images for the web, before uploading them to your blog or website. Optimizing images will give your website a boost in speed, and your readers will be happy with the new load/response time. Also, you will save some disk space for other files or save some money on hosting space. Click here to download Bzzt! Image Editor. It is a quick tool that can easily make a place in the list of tools that you use daily.