If you do not have Microsoft Office installed on your computer but you want to make a presentation, check out these free tools that can help you create PowerPoint presentation (PPT) online free. All these tools allow users to create and edit PowerPoint presentation and download them to their computer.
Free tools to create PPT online
1] Office.com PowerPoint Online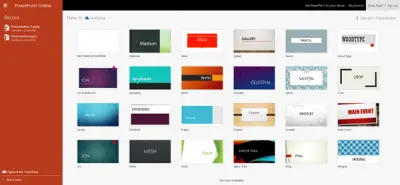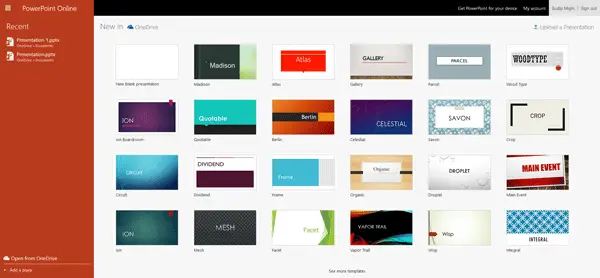 When you do not have the desktop version of Microsoft PowerPoint, you can use the web version of Office.com. It may not have all the options as the desktop version, but it does the job well. You can find loads of templates to customize your presentation. It is also possible to download the final product to the computer or save it to OneDrive so that you can access it from anywhere. The best part of this online tool is that you can share the presentation with anyone right from the same window where it shows options to make a PPT.
2] Google Slides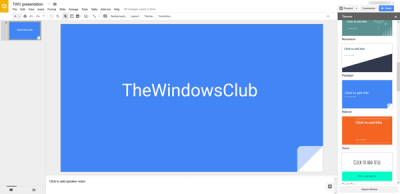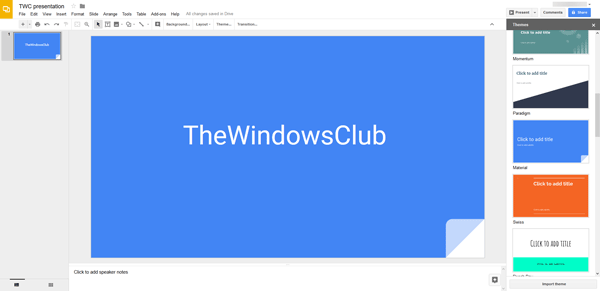 In case you do not like PowerPoint Online, or you want to get a new interface, or there is any other reason to try another online PowerPoint maker, you can opt for Google Slides. As this is directly linked to Google Drive, you can either download the presentation to your PC, or you can save it in the cloud storage. Like PowerPoint Online, it offers users various themes and loads of features to make or edit a presentation. Inserting a text box or video is very simple in Google Slides. This web tool from Google also comes with add-ons compatibility, and this implies that if you cannot find an option in the Google Slides interface, you can find that by installing an add-on.
3] Zoho Show
Zoho Show is another awesome online PPT creator you can use. Although the new version is still under development, you can try it out. It comes with some essential options such as theme selection, image/table/text/shape/chart/media file insertion, etc. You can also create an animation based on your preference. Apart from saving the presentation in PPTX format, you can share it directly from the Zoho Show interface. Also, you can find the presentation in Zoho Docs as well. The only disadvantage is Zoho Docs allows free account users to have 5GB storage. However, if you want to make two or three presentations, it would not be a problem.
4] OffiPPT Online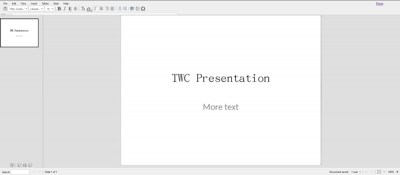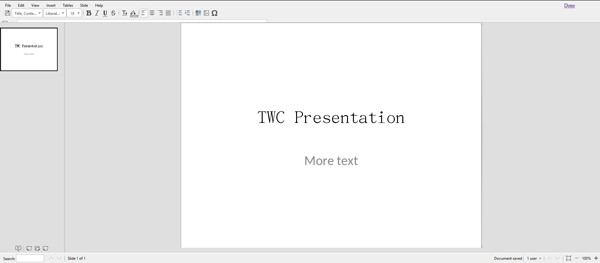 Although it doesn't offer a lot of options like other tools above, you can create a basic presentation with the help of OffiPPT Online. The user interface is neat and clean, and you can find some useful functionalities. You can insert a table, image, etc. in the presentation. Also, you can download the presentation in PPT as well as PPTX format. You can link your Dropbox account to this app, and hence you would be able to save your presentations in Dropbox.
5] Visme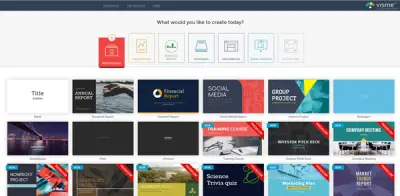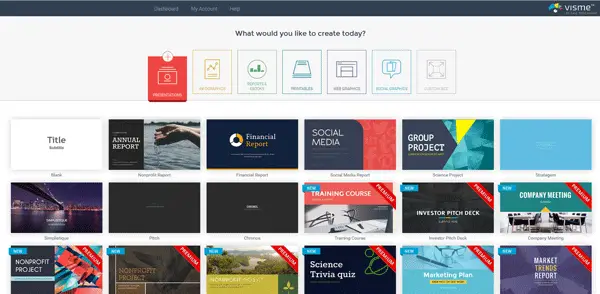 If you make a professional looking PowerPoint presentation with beautiful templates, Visme is one of the best options for you. From inserting image to shape, audio, pie chart, external content, everything is possible on Visme. The UI is quite different from others as well. However, the setback of this tool is you cannot download your presentation to your computer in PPT or PPTX format. Also, the free account holders can access limited templates and make only three projects at the most.
6] Prezi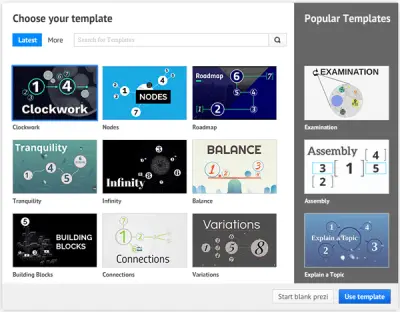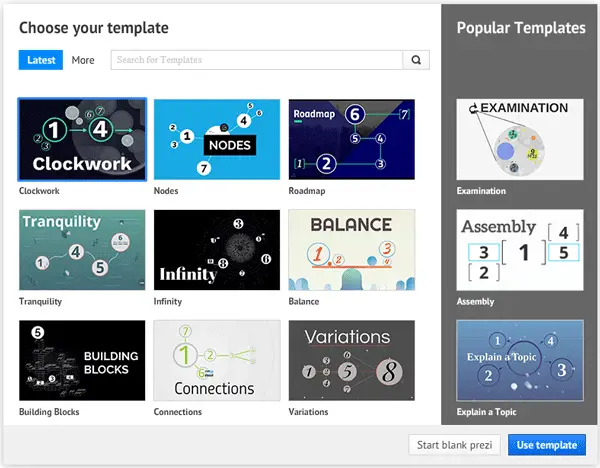 Prezi is another free online PPT maker that you can use when you need a more practical presentation instead of regular PPT slides. As it comes with professional looking and business class templates, you can create PPT for financial reports as well. When it comes to customizing the template, you can insert image, shapes, YouTube video, or draw lines, etc. The disadvantage of Prezi is that you cannot download the presentation to your computer. However, you can share it with anyone directly from the customization interface.
If you need complete free access to useful functionalities, you can choose either PowerPoint Online or Google Slides. Those two allow multiple creators to work on the same presentation as well.