Most IT professionals carry a bootable USB with recovery software, Antivirus scanners, Bootable Linux, etc. But the problem is that they need multiple USB drives for each image. Here is a solution – Use YUMI, a Universal Multiboot Installer. YUMI (Your Universal Multiboot Installer), is the successor to MultibootISOs. Using the tool you can create  Multiboot USB Flash Drive containing multiple operating systems, antivirus utilities, disc cloning, diagnostic tools, and more. You can also uninstall images too.
How to create a MultiBoot USB Flash Drive
Run YUMI and follow the onscreen instructions
Run the tool again to add more images to your Drive
Restart your PC setting it to boot from the USB device
Select a distribution to Boot from the Menu.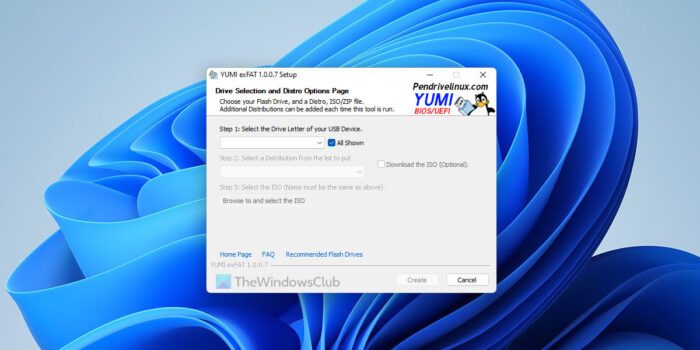 According to its developer, this is how it works:
YUMI (Your Universal Multiboot Installer) enables each user to create their own custom Multiboot UFD containing only the distributions they want, in the order by which they are installed. A new distribution can be added to the UFD each time the tool is run. If you run YUMI from the same location you store ISO downloads, they should be auto-detected, eliminating the need to browse for each ISO.
Windows Installers may cause Ubuntu or any remix based on Ubuntu (I.E. Linux Mint) to hang during boot. A quick fix is to temporarily rename the Windows SOURCES folder found at the root of the USB device.
For more information and support check out the official website.
How do I create a multiboot flash drive?
Although there is no direct option to create a multiboot flash drive, you can use YUMI Multiboot USB Creator. This app is available for free and compatible with Windows 11 as well as Windows 10. No matter which two OS you want to choose, you can select from the given list. However, it is highly recommended to have a 32GB flash drive in order to continue using this application.
How do you use Yumi multiboot?
The process of using the YUMI Multiboot USB Creator is very straightforward and less time-consuming. A detailed guide to using this program is mentioned above in the article. It is highly recommended not to skip any step and recommended to follow all the steps to create a multiboot USB flash drive on Windows 11/10 PC.
Hope it helped.