Creating custom fillable forms in Microsoft Office Word is not much of a task. It will work great for people who do not want to write code or do not want to spend time working on online solutions for creating a fillable form. We will be covering 6 steps that are to be followed in the given sequence in order to build and use the best possible form. So, without any further delay, let us just jump right in.
How to create a fillable form in Word
1. Show the Developer Tab
First of all, start by clicking on the File tab. Now, click on Options. Then, click on Customize Ribbon.
Under that section to customize the ribbon, select Main Tabs and then select Developer checkbox and finally click on OK.
2. Select a template for the form
For this, you will have to start from a template.
To select a template, you will have to click on the File tab. Then click on New.
Inside the Search online templates box, select the type of form that you want and then hit the ENTER key. Select your desired form and click on Create.
For the sake of this tutorial, I would recommend selecting the Blank Template as of now.
3. Add content to the form
Now, it is the time when we will be adding fields to the form.
For that, click on the Developer tab that we just made visible in step 1.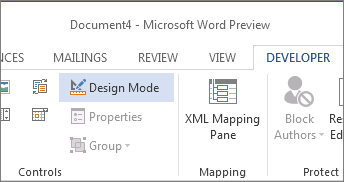 Then click on Design Mode. Now you can start designing the form.
3.1 Enter a text field
For the sake of getting a name, address and other things as an input, you might have to make use of the text field.
Start by selecting the place where you need to add this field.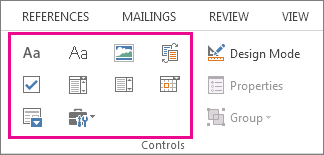 In the Developer tab, click on Rich Text Content Control or Plain Text Content Control.
3.2 Inserting a date picker
In the same section as we used in Step 3.1, click on Date Picker Content Control to add a Date Picker.
3.3 Inserting a checkbox
Now, in the same manner, you can also insert a checkbox by clicking on Check Box Content Control.
4. Define or modify properties for Content Controls
Now, just select and open the content control that you have just inserted inside of your form.
Then click on Properties in order to change the properties as per your wish.
5. Add instructional text
Inside the same Developer menu and the same Design Mode click on content control where you want to have the instructional text.
Edit the placeholder now.
Then turn off the design feature to save the instructional text.
6. Add protection to a form
Now, in order to lock or protect forms, you need not do anything fancy.
Click on Home. Then click on Select > Select All or just hit the CTRL + A combinations.
Click on Developer > Restrict Editing and then select all the protections that you need and then finally click on Yes, Start Enforcing Protection.
That is all there is to it!
Read next: How to create a fillable form in Google Docs.