Web designing and development are trending these days. For developing a stunning webpage that can attract more customers, you must pick out the most effective color combination. Colors matter quite a bit! Although, there are plenty of online color palate tools for web designers, yet sometimes, it becomes quite difficult to find the right color for the next project. Here is a tool called CP1, which helps users to find RGB and HTML color codes of any color that is positioned on the desktop.
CP1 Color Picker freeware
CP1 is the least complicated color picker software, which will allow you to pick up any color within moments. It merely requires the color picker wand and that's it. CP1 can be found in the portable version as well. The app size is quite small and supports Windows 10 too.
First, download CP1 and install it (if applicable). After opening it on your PC, you will get a screen that looks something like this: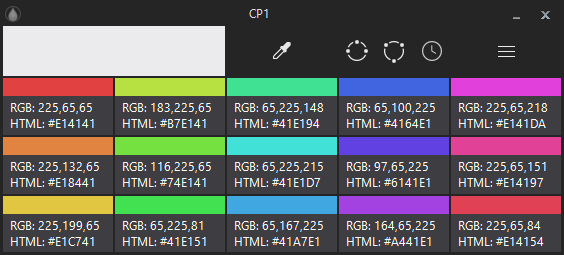 To pick up any color from desktop using CP1, just click on the color picker icon and click on the color that you want to use. Thereafter, you will get another window like this, which will contain RGB as well as HTML color code of all colors.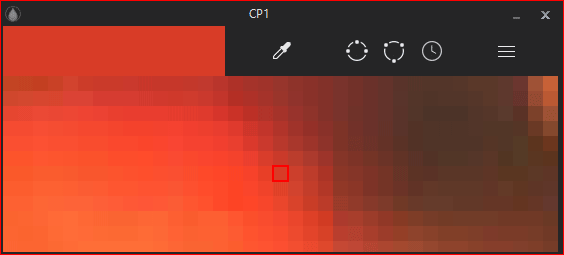 You can find 14 more colors even after choosing only one color. That implies CP1 provides more deep and light color according to your selected color.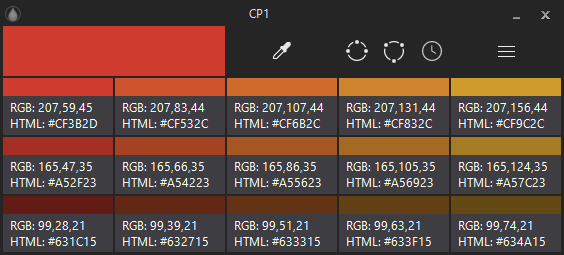 Now, to copy the HTML or RGB code, just click on any code and paste it somewhere in Notepad. By clicking, you can copy the code. CP1 comes with minimum features and it does not have loads of settings. Anyway, you can also check the history of picked up colors. To know previously selected codes, just click on the History Palette button that looks like the clock icon.
It has only two options in the Settings panel. You can include or exclude the hash(#) in HTML color code. Generally, Photoshop, Illustrator doesn't need to enter the hash. At such a moment, you can exclude it while picking up any color.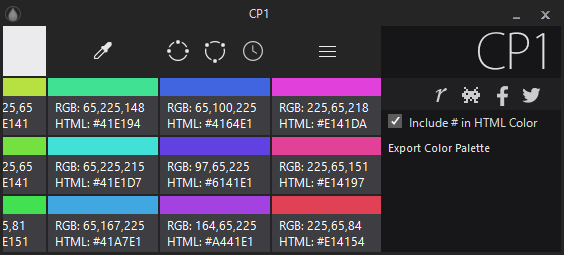 The second option will help you to export all the colors from the current window. Just click on the Export Color Palette button and save the .txt file.
Instead of executing tons of steps to pick up any color from the desktop, this is much better to use CP1 for the same. This is very easy and takes minimum time to get things done.
If you like it, you can download the software from here.
ColorPix and PicPick are other cool software that helps users to find the RGB, HEX, HSB color code of any color right from desktop.