If Windows 11/10 Updates throws out this error We couldn't install some updates because the PC was turned off, then here is what you need to do to get out of this mess. These updates usually happen for some basic reasons like power issues, invalid signatures, corrupt update files and so on.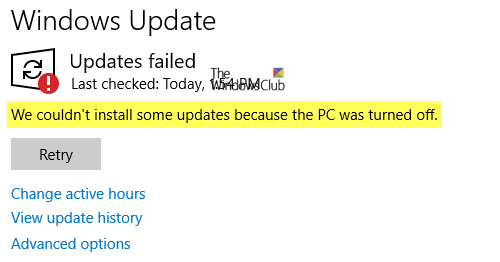 We couldn't install some updates because the PC was turned off
1] Basic PC Troubleshooting
If you are having this trouble with your Laptop, we would highly recommend you to connect to the power source and click on Install Update button. Also, make sure that the PC stays awake until Windows Update is complete. Both will make sure the computer doesn't enter into an idle state and interrupt the update process.
2] Delete Files from Software Distribution Folder
When Windows downloads the updates, they are kept in a dedicated folder called as Software Distribution. Files download here are automatically deleted once the installation is complete. However, if it doesn't clean up or if an installation is still pending, you have two choices. First, delete all the files in it after pausing Windows Update Service. Second, try restarting the computer multiple times to see if the update process automatically starts. Follow this procedure to clear the contents of the SoftwareDistribution folder. Once done try to install the Update again.
3] Reset catroot2 folder
Catroot and catroot2 are Windows operating system folders that are required for the Windows Update process. You can reset the catroot2 folder to reset the signatures of the Windows Update package.
4] Run Windows Update Troubleshooter
Run this inbuilt Windows Update troubleshooter to fix the most common Update problems on Windows 11/10.
5] Manually Download Updates from Microsoft Update Catalog website

Sometimes you have to download cumulative updates manually from the Microsoft Update Catalog website. To do this, first find out which update has failed from the Update History, and then visit the MS catalog, search and download the update. Once the download is complete, manually install it.
Also, check out this post which has some additional suggestions if Windows Update fails to install on your computer.
Let us know if these tips helped you to fix the issue 'We couldn't install some updates because the PC was turned off' message.